A new Broadway retail complex sold last week before half its tenants could ring up their first sales.
Van West Partners sold its 460 Broadway retail development for $4.93 million. The property is a former Dollar Store that Van West revamped into a multi-tenant retail strip. The sale closed before construction had wrapped up on two of the four storefronts.
"Our original intention wasn't to sell quite so quickly," said Wade Buxton, Van West principal. "But this deal came in the development process and we decided to go ahead and take it and hedge our risk there."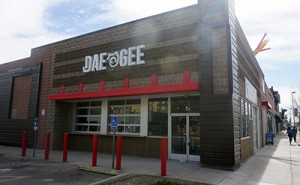 The property includes an 8,000-square-foot retail building along Broadway and a small garage building set back from the street. Fat Jack's Supersubs, Korean barbecue spot Dae Gee, a liquor store and a pet supply store will fill the larger building. Fat Jack's and Baker Wine and Spirits already have opened.
Banded Oak Brewing Co. is renovating the garage, with a planned opening this spring.
Brij and Alex Khandelwal were the buyers in the deal, an acquisition financed with a loan from Warren Federal Credit Union. Alex Khandelwal said Kevin Calame, a broker with Pinnacle Real Estate Advisors, brought the deal to the Khandelwals back in August.
"We were looking for Denver infill retail with parking and they brought us the deal when it was still in the development stage," Alex Khandelwal said. "We love the Baker neighborhood and thought the guys at Van West were doing a great job repositioning the asset."
Matt Lewallen of Pinnacle Real Estate also assisted the buyer. Pinnacle brokers Tom Ethington and Robert Edwards represented the sellers.
Van West bought the site, which covers about 0.64 acres, for $1.3 million last year. Buxton told BusinessDen at the time that Van West planned to spend about $600,000 to renovate the former Dollar Store, and that storefronts were leasing between $32 and $33 per square foot.
Khandelwal said he's looking for more acquisitions around Denver, with a preference for similar retail strips with parking onsite.
"We think that with all the new density and multifamily projects, built-in parking is a real advantage for tenants and a great convenience for customers as well," he said.
The Broadway deal was at least the second retail renovation Van West has pulled off in the last year or so, after turning a former DMV along Welton Street into Five Points Plaza. After a nearly $5 million payday, Buxton said it's time to find the next project.
"It's a tough market to find deals in right now; everything is so competitive," he said. "But we have a couple we're working on that we'll place this capital in next."