Five years after leaving an insurance company to jump into the beer business, a Denver bar manager is launching a brewery of his own.
Will Curtin plans to open Banded Oak Brewing on Broadway this spring. Curtin, whose family has been in the wine business for several years, plans to focus on beers aged in wine barrels. He said it's a slightly less boozy-tasting variation on the whiskey barrel aging trend.
"I decided to focus on wine barrels because of family relationships with wineries and being able to buy them direct," he said. "And wine barrels are a way to differentiate myself."
Curtin's brewery will fill a 2,000-square-foot garage at 470 Broadway. He has a five-year lease with a five-year extension option on the building, which is part of a retail redevelopment at a former Family Dollar store.
Curtin, 33, formerly managed the bar at downtown's Great Divide brewery. Before that he worked as an underwriter at Lexington Insurance Co. He's now working full time at Banded Oak.
Chris Kirk, currently a brewer at Moffat Station Brew Pub in Winter Park, will be the head brewer at Banded Oak. Curtin will run the bar.
Banded Oak will have a 10-barrel brewing system and 10 draft lines. When he opens in April or May, Curtin hopes to have five beers on tap. He said the brewery probably will open without any barrel-aged beers on tap because the aging process will take extra time.
"You have a lot of brewers that kind of pigeonhole themselves into styles," Curtin said. "And maybe I've done that in a way, but not everything will be barrel-aged."
Before even pouring a pint, Banded Oak already seeks more space. There isn't much room to store wine barrels at the Broadway brew house, Curtin said, so he needs warehouse space.
NAI Shames Makovsky broker Todd Snyder helped Curtin find his Broadway location. Arrow B Architecture is designing the space, and Foothills Commercial Builders is the general contractor. Curtin is funding startup costs with help from four outside investors, he said.
Banded Oak will have plenty of competition brewing on Broadway. Baere Brewing is one block over from Curtin's site and TRVE Brewing is two blocks away. Curtin said the other breweries were more a draw to the Broadway site than a cause for concern.
"There are breweries everywhere in RiNo," he said. "More often than not the business is very welcoming, very communal."
Banded Oak will sell only beer on draft at its own bar at the start, Curtin said. He said the company may eventually bottle one-off, specialty brews in larger bottles, but doubts Banded Oak will sell in 12-ounce cans or bottles at the bar or on liquor store shelves.
"I'm not in any way trying to take over the world with beer," he said. "I just want to run a bar."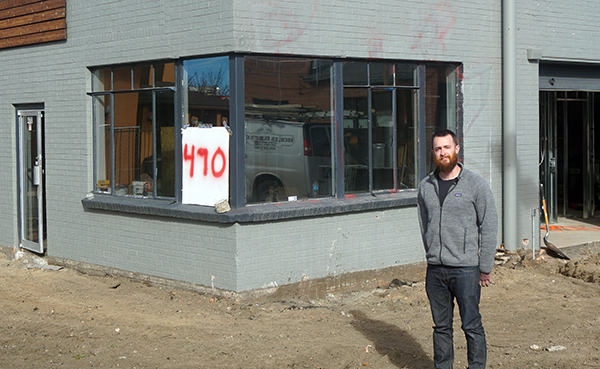 7622