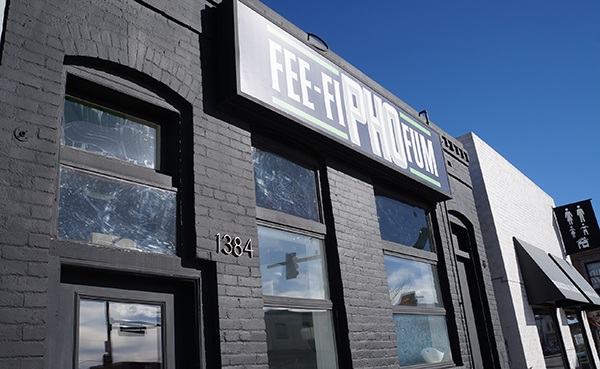 Pun-loving restaurateur Jason Tietjen has big plans for his newest venture, Vietnamese soup restaurant Fee Fi Pho Fum, which in February opened its first location at 1384 S. Broadway.
The 45-year-old, who opened the Dive Inn (Fee Fi Pho Fum is next to it) on Broadway four years ago and the Golden Triangle's Dulce Vida restaurant two years ago, thinks he can capitalize on the soup's moment in the spotlight.
"You used to only find pho in Denver along Federal Boulevard, but it's been infiltrating other neighborhoods, which shows me that its popularity is increasing," Tietjen said. "It's not just a fad. It hasn't hit mainstream yet but if it's more accessible, it will take off."
Tietjen said he was inspired by the recipes he saw at pho restaurants on Federal Boulevard. Pho soup combines
noodles, meat ingredients (such as steak, meatballs or brisket) and vegetables (such as bean sprouts or jalapeno peppers) in a meat broth.
He and his business partners purchased the land for the restaurant for $500,000 in 2007, according to public records. He said he's paying $1,300 per month to the company he founded to purchase the land, Tiny Terrains LLC, to rent the 1,000-square-foot restaurant, which has five employees. Tietjen estimated he spent about $39,000 to open it.
He chose the location because he already owned the land, and because it's on a busy thoroughfare.
"There's 25,000 people that drive past it every day and some of them are bound to be hungry," he said.
He plans to grow the restaurant's delivery revenue, Tietjen said. He's currently outsourcing delivery services to GrubHub, but plans to bring that in-house.
Tietjen said he's eager to see how big his new concept can become.
"We're going to get three to four locations running in the black before we franchise," Tietjen said. "We already have location No. 2 picked out in Wash Park and we're looking at a few spots up in Breckenridge, too. At the end of the day, I'd love to see 1,000 (stores) out there."
Tietjen said he's negotiating for that Wash Park space, which he hopes to open in June.
He believes the model eventually will attract franchisees because of its low startup costs of $50,000 per location.
"The math works out like this: Sell 80 bowls a day, you'll pay for half the franchise in your first year," Tietjen said. "Sell 100 bowls a day and you're in the black."
Tietjen said franchisees will need only between 600 and 800 square feet of space. That's because he's hired on a co-packing company, Whole Fresh Foods, to produce pho ingredients in a FDA-certified kitchen.
"Chipotle, for example, has all of their sauces made in big drum kettles to their specifications," Tietjen said. "Having a co-packer allows us to produce many of our ingredients off-site to specific standards, which we can then send to multiple restaurants in an area.
7798