Yoga studio meets bike shop: it's a match made for Denver.
Husband-and-wife duo Russ and Brittany Hopkins will invest $350,000 to buy the building that houses Container Collective, their shared Colfax Avenue yoga studio/bike workshop in Lakewood.
It opened in 2014 with a yoga studio at 1492 Ammons St. Then Russ began teaching bamboo bike-building workshops in September. The next step, they said, is to purchase the building and open a shop specializing in service and repairs for all bike types —  not just bamboo ones.
"We knew we didn't want to be in downtown Denver because the market is really saturated," Russ said. "This section of Colfax is going through gentrification, so we figured we'd be on the forefront of that."
They hope to close on the 3,000-square-foot property in March. They're one year into their lease-to-own contract, but after watching real estate prices skyrocket throughout the metro area, they'd rather have a mortgage instead of a lease.
They eventually want to buy a plat of land and build the Container Collective from the ground up in shipping containers. They hope to use their current location as collateral on the deal.
They plan to invest an additional $25,000 to renovate the building and outfit it with tools.
Brittany's yoga studio already is profitable and served 140 members in January, she said. She employs four teachers on a contract basis at the studio, where unlimited classes cost $75 per month.
The bamboo bike workshop is sprouting fast. Russ already has conducted two-day workshops for 31 clients, who learn how to build a bamboo bike frame for $450.
Russ said his clients aren't hardcore cyclists, but are do-it-yourself enthusiasts looking for a new project. He also builds bikes and engraves them for local breweries, such as Sloan's Lake-based Joyride Brewing.
Bamboo offers a light, durable alternative to aluminum or steel for bike frames. It has high torsional strength, which means it doesn't snap when rotated, and absorbs shock well, Russ said.
His business model shows extra promise because after he helps customers build the frame, they generally contract him to finish building the bike. Those buildouts run from $700 to $1,500, Russ said.
Though yoga and bikes may seem an odd match, Russ said they complement each other because they're popular in opposite seasons – bikes in the summer, yoga in the winter, when people spend most of their time inside.
Brittany met Russ when they lived in Chicago in 2004. One of Russ' roommates "hollered" at one of Brittany's roommates, Brittany said, which led to their introduction. Russ sealed the deal when he repaired Brittany's bike, she said.
Russ, 35, has worked on bikes since he was 15, he said. He continued to work as a mechanic through college until he and Brittany began teaching at Wasatch Academy, a boarding school in central Utah in 2005.
Brittany, 36, trained as a dancer and discovered yoga while teaching at Wasatch Academy in 2005. She became a certified yoga teacher in 2013. They were teaching in China that year when they came up with the idea to open the Container Collective.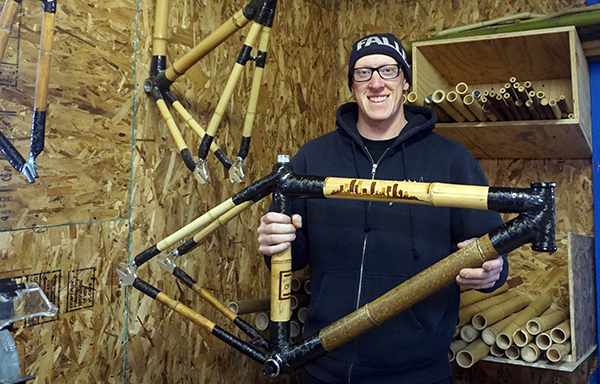 7612