Flylow, a Denver outdoor apparel manufacturer known for its winter wear, is hoping a new line of warmer-weather clothing will soar off the shelf.
Founder Dan Abrams described the clothing line as a 50-50 split between technical and lifestyle clothing, including windbreakers, water-resistant shorts, button-up shirts and corduroy pants. The clothing line is intended to generate revenue for the company outside of its peak winter sales months.
"We're trying to maximize our revenue this year, so instead of sitting on millions of dollars in the bank for six months, we decided to go and get a second turn on our money," Abrams said.
The clothing line, which has been in development for two years, will hit shelves on April 1.
Flylow is investing about $150,000 into producing the men's summer clothing line, Abrams said. That's dwarfed by the $2.5 million the company spends every year making winter gear. The entire clothing line is being financed by Flylow's existing cash flow, Abrams said.
Part of that price discrepancy is because it's "a hell of a lot cheaper to make summer stuff than winter stuff," Abrams said, and winter gear can cost 10 times as much to make as its warm-weather counterpart.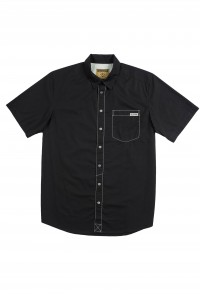 The initial summer inventory will only be about 5 percent the size of the winter gear stock, but Abrams said he hopes to see that figure rise to 30 percent.

The company manufactures its clothing in Asia and Denver, Abrams said.

Flylow reached out to its existing network of 250 distributors to sell the clothing line, and about 40 retailers answered the call, including independent shops and Backcountry.com. The company discovered that mountaineering stores were its primary summer customers, instead of ski shops that tend to focus on biking in the summer months, Abrams said.

Abrams, 38, was born in Boston but moved to Denver at age 7. After graduating from the University of Puget Sound outside of Seattle, he moved to Jackson, Wyoming, to work as a ski instructor at Jackson Hole Mountain Resort.

"I taught skiing and played bass in a band, but I didn't know that in Jackson being a ski instructor meant being a second-class citizen," he said. "I realized I could either be a ski bum or a ski professional."

He returned to Denver and studied marketing in graduate school at the University of Denver. After graduating in 2004, he founded Flylow with ski partner Greg Steen.

The company operates out of a 6,000-square-foot warehouse at 1132 Bannock St. that takes care of inventory and shipping and also maintains a marketing office at Lake Tahoe in California. It employs seven full-time staffers and 11 regional sales reps.

Its largest sales footprint is the Rocky Mountain region, followed by New England, the Pacific Northwest and California. Its top-selling items are ski jackets and pants, Abrams said.

The company's name came from a French girl observing Abrams and Steen's skiing style, who said, "You don't ski fast; you fly low."

"I thought, 'Man, that would look great on a T-shirt,'" Abrams said.

7065