After nearly 14 years, a Denver branding agency is rebranding itself.
Five Points-based Brand Iron has swapped out its long, loopy cursive signature logo of a decade and a half for a bold, circled letter "B." The agency forged its new look as it would a client's brand, said founder and owner Michael Doyle: by deciding on end goals and then molding a campaign to match them.
"If you want a logo – if that's all you want – we're probably not the right firm," Doyle said. "It's not only about coming up with a cool website … It's about executing their go-to-market strategy."
In addition to rolling out a new logo, Brand Iron has also revamped its website and tweaked its own strategy to try and get clients thinking less about specific marketing jobs and more about end goals – from "make us a new logo" to "help us boost sales by 20 percent."
For Brand Iron, the strategy for the past couple of years has been using data to show clients that the company is getting them closer to sales targets and other milestones.
Brand Iron spent the last six months ironing out a computer program that pools information from clients' accounting software, Salesforce.com profile and social media accounts. The program then crunches the numbers to track how a Brand Iron campaign is impacting sales or moving clients closer to goals.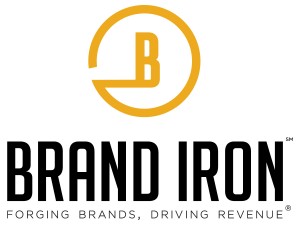 When Doyle started the agency in 2002 after selling his previous advertising company, he saw himself as bucking an ad model that focused exclusively on designing campaigns and visuals. He spurned the sleek logos in vogue at the time for a Western-inspired star and lasso-like script. But now, Doyle said the new circled "B" logo is meant to look industrial and modern.

Brand Iron clients include financial institutions and software companies that primarily work with other businesses, as well as restaurants and retailers looking to hook consumers off the street.

Projects can span months or years, Doyle said. He said a branding campaign for Lincoln Property Co.'s mixed-use Colorado Center development near Colorado Boulevard and Interstate 25, for example, has been running for a year and a half and will shift as construction at the site continues.

Doyle declined to discuss the company's recent revenue or profitability in detail but said revenue climbed about 20 percent in 2015 and is poised to grow another 30 percent this year.

Brand Iron has about 18 employees, Doyle said. At any given time, the agency is working with at least two dozen clients and pitching around 100 prospects, he said.

In September, Brand Iron moved into about 3,500 square feet at 821 22nd St. in Five Points, a 10-minute walk from the offices it called home for the past five years at 2450 Larimer St.

6824