An already massive airport industrial park just got a lot bigger.
CA-based Majestic Realty Co. bought 530 acres of land just west of E-470 in Adams County Wednesday for $5.75 million, according to Adams County records. Randy Hertel, Majestic executive vice president, said the land could host upwards of 7 million square feet of warehouse development.
"In every market we're in, we want to provide the largest space that market can absorb," Hertel said. "This land will be able to provide four or up to five buildings of 1 million square feet or more."
Majestic's newest piece of land sits just east of its Commercenter, an industrial park near Interstate 70 and Tower Road that Majestic bought in 1995. Right now Majestic is building its 14th warehouse at the Commercenter, a $15 million construction project scheduled to wrap up in November.
The original Commercenter still has about 600 acres of undeveloped land, but because it's split up into smaller development sites, Hertel said it can only handle one building of 1 million square feet or larger.
Majestic will continue to develop smaller, speculative warehouses at the original Commercenter while saving its newest acquisition to try and draw in bigger tenants at more than 1 million feet.
A major online retailer, for example, could need up to 75 acres to build a major warehouse building and enough parking for cars and trailers. Demand for that kind of space is relatively new, Hertel said, and Denver doesn't have many sites that accommodate mega-warehouses.
"E-commerce has been around a little while now but not to the level it has hit here recently," he said. "I think three or four years ago would be a little early for this, but now it's great timing and it will be interesting to see what groups end up coming around."
Cushman & Wakefield brokers Taylor Hazard and Kirk Vanino brought the deal for the 530-acre plot to Majestic. Hertel said he was very familiar with the property and the industrial market in the area, and Majestic was able to close a deal in short order.
"We were approached by them not too long ago, really only about 90 days ago," Hertel said. "We quickly negotiated terms and conditions, had a quick due diligence period and here we are."
The entire 530-acre plot was owned by Linda A. Grimm, Adams County property records show. Vanino said the property's owners emigrated from Germany in the late 1800s and held the land as a homestead ever since.
Now, he said, it will be a 530-acre anchor on the eastern edge of the Denver industrial real estate map.
"It's a major piece and kind of a bookend of our industrial corridor here in Denver," Vanino said. "We haven't seen anything like this in 20 years, to have such a big land play for industrial."
Vanino and Hazard marketed the property all over the country, Vanino said, because the project was large enough that only some of the biggest industrial developers would be able to make it work.
The sheer size of the parcel presents major infrastructure challenges for potential buyers, Vanino said. He estimated it could take between $25 million and $50 million just to prepare the entire park for warehouse construction. That meant any potential buyer needed access to big-time, institutional capital.
But national developers moving big money can't always be patient enough to build out a 530-acre industrial park. Vanino said many publicly traded companies can't keep land on the books for a park that could take between 10 and 20 years to build out.
Vanino and Hazard narrowed it down to three potential buyers before selecting Majestic.
"When you put them side by side, Majestic was most logical buyer given their experience in the area," Vanino said. "And being a private company, they have an outlook where they can hold land long term."
If Majestic can nab a couple big build-to-suit tenants and perhaps sell a few pad sites to other industrial developers, Hertel estimated the park could take between seven and 10 years to build out.
Hazard and Vanino will handle leasing at the expanded Commercenter, and Vanino said he's already started quietly marketing the park.
With enough room for a handful of 1 million-square-foot warehouses, Vanino is looking for big fish in the industrial real estate game. He particularly mentioned giants in online retail as potential targets.
"We know there are larger, 1 million-square-foot building users out there in the marketplace," Vanino said. "When the Amazons and the Walmart-type users come here they will need massive, specialized facilities and there's not many land sites in our industrial corridor than can accommodate that."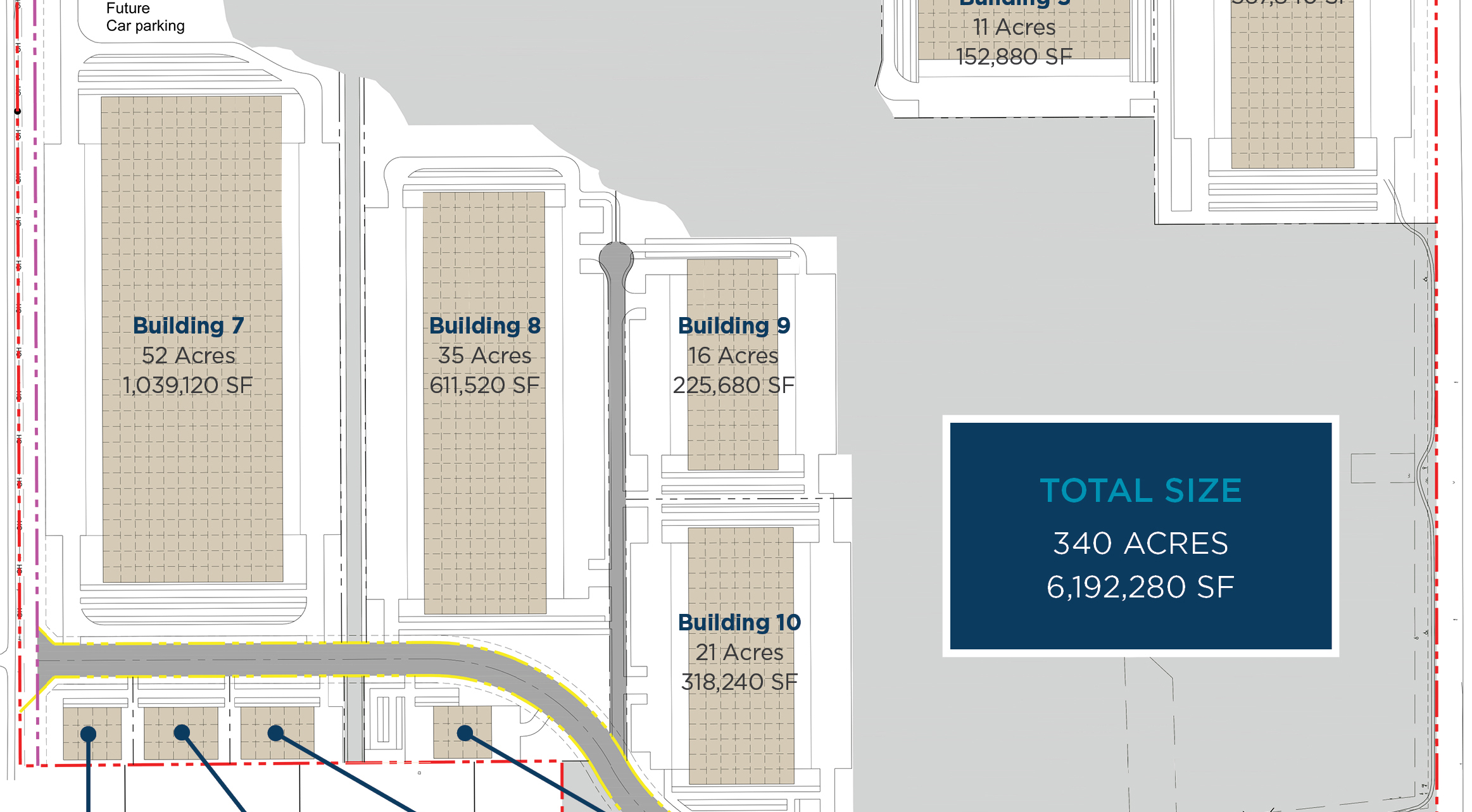 6050