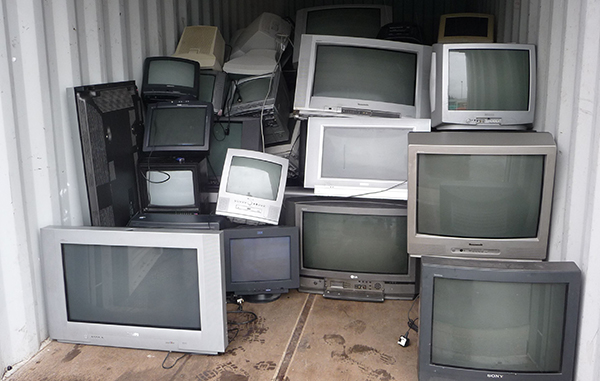 A Centennial electronics repairman is again being accused of defrauding customers, this time over an alleged in-home television repair scam.
The state of Colorado sued Muhammed Murib, owner of AAAA Television Electronics Vacuum & Appliance in Arapahoe County District Court earlier this month, accusing Murib of ripping off customers who hired him to repair TVs and other electronics and is seeking restitution of a few thousand dollars per aggrieved customer.
Deputy Attorney General Alissa Gardenswartz said Murib's advertising – at one point he ranked No. 1 in Google for search terms related to TV repair – was deceptive because he advertised in-home television repair, and he never repaired TVs at a customer's home.
"For the most part, his technicians were trained to bring the TVs back to the repair center no matter what, Gardenswartz said. "He overcharged consumers for repairs that were unneeded for many of the appliances he brought into the shop."
The suit also claims that Murib's technicians were really salespeople with no mechanical know-how who would visit a customer's home and try to look knowledgeable by taking off the back of the TV and poking around. Then they'd allegedly tell the customer the TV had to be repaired at the shop. Upon returning to the shop, Murib would charge customers $150 for "diagnostic fees" and exorbitant prices for repairs, the suit claims. If a customer refused to pay, the state says, Murib charged them an additional $90 to have the TV returned to their homes.
The Centennial Police were called more than 38 times to help settle disputes, the case says.
Murib's attorney Ben Hartford claims his client is innocent.
"Here's the thing: My client has done about 50,000 repairs in the time he's been in business, and he's received a total of 66 Better Business Bureau complaints," Hartford said. "When you look at the scale of it – 50,000 successful repairs and only 66 complaints – the statistics certainly favor my client's side of things."
AAAA TEVA reported revenues of $1.4 million in 2012, $1.8 million in 2013, and over $2 million in 2014, according to the complaint.
The complaint also alleges Murib has no technical expertise repairing electronics and that he would read from a script that included invented jargon like "aligning geometry" and "fine-tuning capacitors" to mislead customers about the complexity of pending repairs.
"Among the mobile technicians, there would be a little bit of discussion," testified one former repairman in a deposition quoted in the lawsuit. "It was generally more of joking and, I hate to say it, almost making fun of him, that he – the disbelief that this would work, that you could read this list of technical terms and have people believe that you knew what you're talking about and then cough up a few hundred dollars above and beyond what they'd paid already."
Murib is currently prohibited from repairing consumer items per a Nov. 6 court order, and AAAA TEVA's assets have been frozen until the case is closed, according to court documents.
The Attorney General's office began its investigation after a February Fox 31 story exposed Murib's practices, Gardenswartz said. The civil case filed earlier this month comes on the heels of a criminal case brought against Murib in June. That case is still ongoing.
According to the complaint, this isn't Murib's first time defrauding customers in Colorado. In the early 1990s, a District Attorney investigation found that Murib engaged in a similar scheme repairing VCRs. After luring customers into his shop with coupons for $24 VCR cleanings, he'd recommend customers replace components of the device – a service priced at $200.
The District Attorney assigned an undercover investigator to have Murib repair his VCR and later found that he was charging customers the $200 without replacing any components.
Murib was charged with 18 criminal offenses related to his business practices. He pleaded guilty to multiple thefts, according to the complaint, but spent no time in jail.
He was sentenced to six years of probation, according to the complaint, which he violated in 1997. The complaint says that a warrant was issued for his arrest, but it was cancelled in 2001 as part of a computer system purge.
Murib opened AAAA TEVA under the name County Line Vacuum and Appliance in 2007 at 8216 S. Holly St. in Centennial in 2007. He moved across the street to 8239 S. Holly St. and renamed the company AAAA TEVA in 2011.
5921