The History Colorado Center is taking stories of homelessness off the streets and housing them under its roof.
"Searching for Home" prompts visitors to learn about the history of homelessness in Colorado from the Gold Rush through the present. It opened last week.
The idea for the exhibit started when History Colorado staffers working on another exhibit discovered they had plenty of fancy dresses and artifacts from the 1930s in their collection, but no stories about the hardest-hit people during the Dust Bowl.
That revelation about the past prompted a new question for the present, said Alison Salutz, one of the staff members behind Searching for Home.
"If we failed to collect things then, is there anything we're failing to collect now?" she said.
James Peterson, assistant curator for artifacts, was passing homeless folks at the Occupy Denver encampment outside the Capitol regularly.
"I walked past them every day knowing that if the perfect storm hit, I, like so many of us who live from paycheck to paycheck, could easily be on the streets myself," he wrote in an email to BusinessDen.
The feeling stuck with him for two years. So eventually, Peterson started talking to the homeless people he passed on the streets. From January 2014 through September 2014, he interviewed and photographed 47 people, even purchasing some of their cardboard signs for the museum collection.
Peterson's collection gradually morphed into the exhibit, which is now peppered with the stories, pictures and signs he and interviewers from Colorado Coalition for the Homeless, Impact Denver and The Burnes Institute amassed. Some are tucked into a photo album, while others are stitched into ragged bedspreads or written on paper and wrapped around food pantry groceries.
History Colorado collected $48,000 in donations to fund the exhibit, the nonprofit said. It does not have a firm closing date, but Peterson estimated it will stay open for the next seven to nine months.
Salutz said the exhibition demonstrates how homelessness has been a recurring problem for Colorado during economic busts, dating as far back as unlucky Gold Rush miners unable to afford housing during the late 1800s.
"They found solutions, like sleeping in tents, or bunk homes or bars," Salutz said.
To tell the story of mining boom and bust, the center discovered an artifact belonging to one of the state's most mythologized rags-to-riches-to-rags figures, hidden in its own permanent collection.
Elizabeth "Baby Doe" Tabor is known today for the spectacular wedding dress she wore when she married Colorado silver baron Horace Tabor, an item History Colorado loans with frequency.
But now, for the first time, the center is displaying the evidence of Baby Doe's fall from grace: a humble pair of flannel long johns she wore after her family lost their fortune during the Panic of 1893.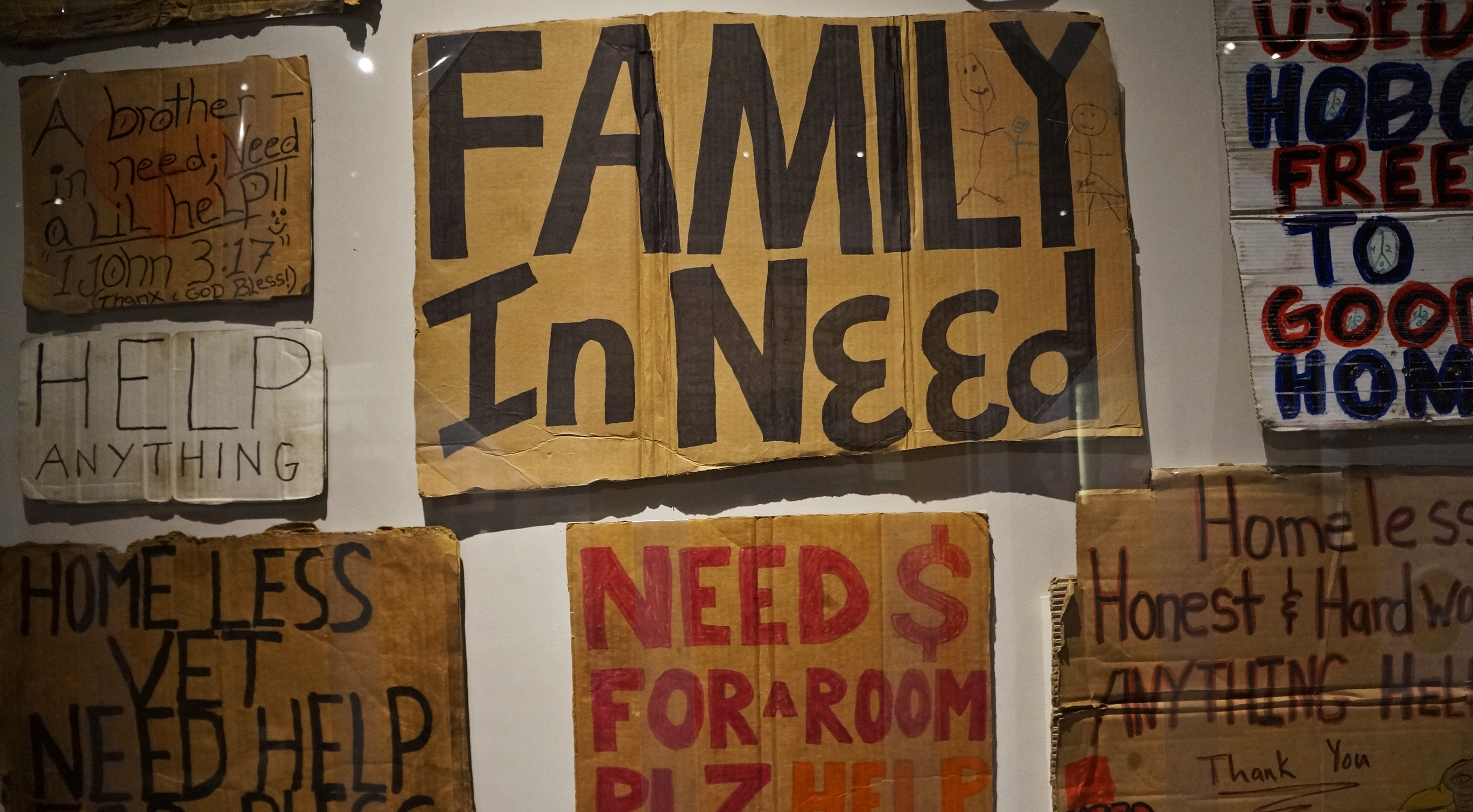 5898