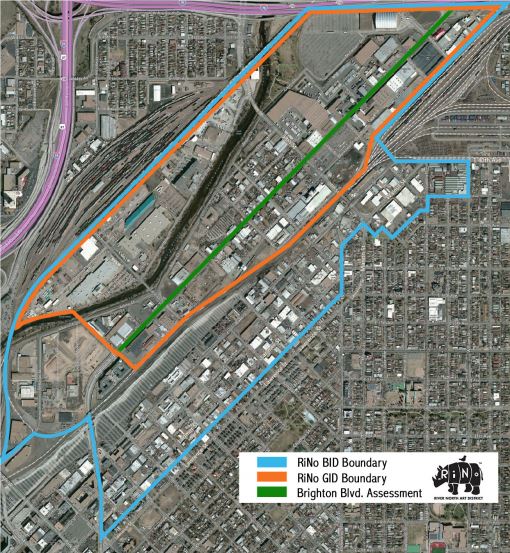 River North landowners will pitch in nearly $1 million in extra taxes to give the neighborhood a little more shine.
In Tuesday's election, RiNo landowners voted to start a 450-acre business improvement district that will bring in about $600,000 in new property tax revenue and a 300-acre general improvement district that will raise another $300,000 to help spruce up the fast-growing neighborhood.
RiNo Art District, a nonprofit that promotes RiNo and its artists, headed up the BID campaign. Executive Director Jamie Licko said the money will fund streetscape improvements along Brighton Boulevard, a parking and access study and a new set of design guidelines for development in the neighborhood.
"It's such an interesting time for this neighborhood; there's such a spirit of collaboration happening now with so many different people and a desire to not let development spiral so out of control that they lose what they built," Licko said. "And that was a bonding point for the artists, developers and businesses in the area."
In the larger business improvement district, commercial property owners will pay $4 on every $1,000 of assessed property value. That district runs from Larimer Street to the railroad tracks and from Broadway to Interstate 70.
And in the general improvement district, which covers more than half of the BID, both commercial and residential property owners will pay the $4 on every assessed $1,000. The district covers mainly the Brighton Boulevard side of the neighborhood but doesn't include Larimer, Blake or Walnut streets.
The city will distribute the additional tax money to the districts, which will each have a separate board of directors. Those boards will then work with the RiNo Arts District on distributing funding to different projects around the neighborhood.
Licko said Monday was the first time a BID with an overlapping GID has passed at the same time. River North's business improvement district is also the largest by land area in the city of Denver.
Licko said embedding one district into another made sense because the interests on the Larimer-to-Blake stretch of RiNo don't always line up perfectly with those along the Brighton Boulevard corridor.
"In size, the area is enormous and the number of stakeholders we were working with was enormous," Licko said. "Larmier, Walnut and Blake have a little different character than the west side of the tracks, which is very industrial and has very little infrastructure."
With nearly $1 million a year to work with, Licko said a new set of design guidelines for RiNo is a top priority for both districts. Licko said the business improvement district will also set aside money to fund grants or loans to help artists and small businesses keep their shops in RiNo as real estate prices continue to climb.
Those two initiatives will have to be funded out of BID money as opposed to the taxes raised by the GID, because by law GID proceeds can only pay for infrastructure-related projects.
Cash will also go toward pitching in on city-funded improvements on Brighton Boulevard and a new park the city is planning behind the Great Divide Brewery. Brighton Boulevard landowners will pay an additional $200 per linear foot of land to help cover enhancements along the street.
RiNo Art District board chair Tracy Weil lives and works at a property near Chestnut and 36th that he bought about 15 years ago. He said the district has also planned new signs to help visitors find their way around RiNo, and the BID money will get them on the streets.
"We have the signs and the plans ready to go, we just needed the dollars to create the signage," Weil said.
RiNo Art District started pushing for a new business improvement district last year, Licko said. Commercial property owners entered a petition for the project in the spring and City Council hosted a public hearing on the request in June.
In Tuesday's election, landowners voted 73-13 in favor of the new BID and 54-13 in favor of the new GID. Licko said getting landowners to pay higher taxes for a new business improvement district is usually difficult at first, but property owners began to come around to the idea.
"You face skepticism on the front end that's pretty heavy, but I think as you go through the process, slowly one person and then another person see the benefit," Licko said. "At 4 mills, it's not a throwaway number, but it's not a huge number for a lot of these people to pay.
"I don't want anybody to have to pay more taxes," he said. "But as we ran the idea across people to see if they were willing to pay to help us grow as a district, they were usually very excited."