After two years of market testing, a husband-and-wife team is aiming for the black with their hunting accessory business.
Andrew and Lindsey Reisbeck founded Denver-based Upland Sportsman in 2013 with one product – a specialized shotgun sling for hunters that makes it easier to schlep the weapon on long hunts.
The slings are sewn in Colorado.
"We've been doing this for a couple years, but this next one is really going to be where we dive into it," said Andrew Reisbeck, a full-time contractor. "The last two years has really been market research and product testing viability. We're trying to work our way out of the startup stage."
Upland Sportsman's flagship product, the Upland Sling, attaches to a shotgun and lets a hunter distribute the weapon's weight over his or her body. And the hunter can quickly ready the weapon and aim, should a target come into view. Reisbeck got the idea for the attachment when he was training his German shorthaired pointer puppies to hunt while carrying his shotgun over long distances.
Firearm slings are common weapon attachments, but they're generally used with rifles, not shotguns, Reisbeck said.
"There's a million different makes and models (of slings) that have been around since the 1800s," Reisbeck said. "The mindset is typically shotguns don't have slings, because in the past, slings have required you sacrifice the ability to shoulder and shoot a moving target."
The Upland Sling solves that problem, Reisbeck said, because it allows the shooter to keep a hand on the shotgun, making it easy to aim while transferring some of the gun's weight to the shoulders.
And the slings aren't just for comfort. Hunters generally hold shotguns upright when hunting to lessen the chances of accidentally shooting a companion. As hunters tire, they gradually lower the muzzle of the weapon, Reisbeck said, which can put friends in the line of fire. The sling is meant to reduce fatigue and help keep hunters safer in the field.
Reisbeck said the sling is especially popular among women and younger hunters who have more difficulty supporting a shotgun when on the move for long periods of time.
"Watching a lot of young and women hunters carry heavy shotguns through the day, you can see the majority of them becoming tired after several hours," he said. "It was an attempt to help them enjoy the outdoors and hunting and keep them safe."
Slings are made of Hypalon, a rubber and fiber material traditionally used to make inflatable rafts. Lafayette-based Sportwaves, which designs custom bags, manufactures the sling.
The Upland Sling retails for $45 on Upland Sportsman's website and on Amazon.
Reisbeck financed the company with $20,000 of personal savings, he said. The company isn't profitable yet, but Reisbeck said he expects to break even this year on revenue of $70,000.
Next year, Upland Sportsman will release a new product: an attachment that will use the Upland Sling's existing holster to create a hands-free sling to be used in case of emergency.
Andrew Reisbeck, 33, and Lindsey Reisbeck, 30, are both Colorado natives who attended Colorado State University.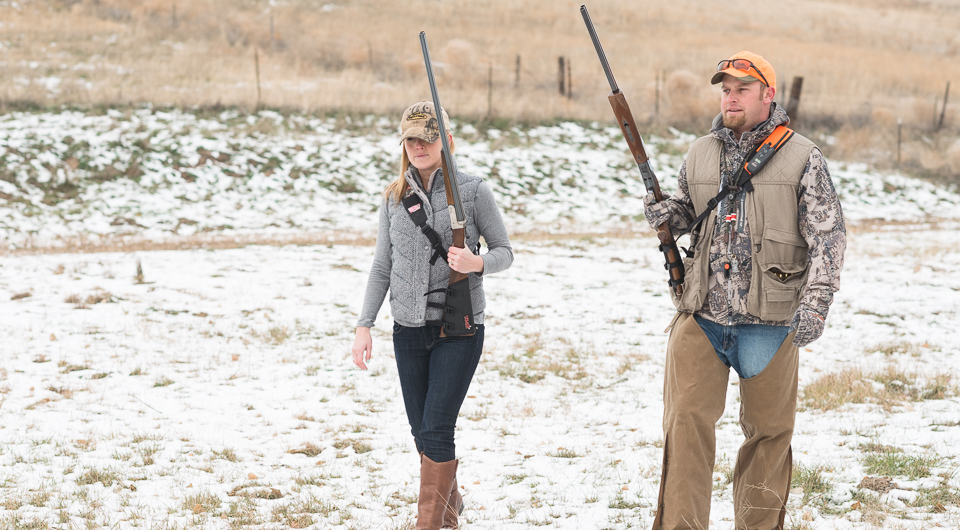 5493