Even weekend warriors sometimes need to visit the trainer's room.
Denver Sports Recovery, a team of sports chiropractors and massage therapists that aims to bring pro-level training and rehab equipment to the masses, is building up its Highlands facility and looking for two new locations.
"We need more space to add some new machines, and we want to open ourselves up to new markets," DSR co-founder Andria Hassler said. "We'll also have a company renting some space to do IV therapy."
The company operates a training and rehab office in the Highlands, with equipment like massage tables, cold water tanks and a hyperbaric chamber that resembles a university trainer's room. The company offers use of the equipment and services of chiropractors and nutritionists to the everyman for a monthly fee.
The business doesn't do physical therapy.
DSR is investing $50,000 to build a 1,200-square-foot addition to its facility at 2242 W. 29th Ave. The company hopes to have the project completed by April. Chad Holtzinger of Shopworks Architecture is the principal on the project.
The new space will include room for more equipment, Hassler said. She estimated it would cost around $100,000 to fully equip the new area. The construction and new equipment are being financed through an equity sale to an investor.
In an effort to expand into new markets and demographics, the company is also seeking space in Boulder and the south metro area. Hassler said that DSR has toured properties in both markets.
The company is seeking 3,500-square-foot facilities for both locations close to highways for easy client access, Hassler said.
"Boulder has a huge athletic population, and a southern location will have a lot of high school athletics," Hassler said. "Parents want their kids to make it to the big leagues and people down there tend to have disposable income."
The Highlands location currently serves about 200 members, and counts professional athletes like former Bronco Eric Decker among its clientele.
Members are generally between the ages of 25 and 35 and are evenly split between male and female, Hassler said. Memberships can cost between $85 and $190 per month.
DSR only employs two staffers full-time but also maintains a force of 15 independent contractors. Hassler said the company will soon hire on Dr. Andrew Hall so it can begin accepting insurance for membership payments.
Hassler founded Denver Sports Recovery with Marsha Prada, chiropractor to the CU Buffs, and Shawn Caldwell, chiropractor to the Colorado Rockies and Denver Broncos, in 2013.
The company is currently running in the black and has seen a 60 percent increase in memberships since opening, according to Hassler.
DSR is also looking to expand outside of Colorado. Hassler said facilities in Scottsdale, Arizona, and Nashville, Tennessee, are on the horizon, but the company will open its two additional Colorado locations first.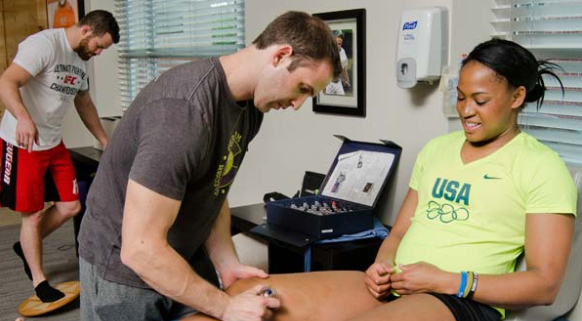 4817