Husband-and-wife duo Jake and Kim Crine have some lofty dreams.
The couple – who are in their 30s and began dating after a college hiking trip – want to open Stapleton's first climbing gym next summer.
Ubergrippen Climbing Crag – named after a term for the feeling of relief when a climber finds a good hold – will be a 20,400-square-foot facility that will appeal to kids and parents on the eastern side of Denver.
"Climbing's gone from just hardcore climbers to being more mainstream, like on 'American Ninja Warrior,'" Jake Crine said. "When I started doing it, it was just a bunch of die-hards. Now everyone with a college degree has some history with climbing and is looking for somewhere to do it."
It's the couple's first time opening a business together.
The Crines are under contract to purchase a 1.5-acre plot of land at 21st Avenue and Willow Court from Forest City Inc. for $580,000.
They plan to build a 45-foot building with a 16,000-square-foot climbing wall and 68 parking spaces.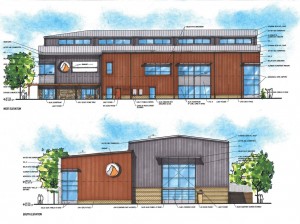 It'll also have a weight room and yoga classes. Membership prices haven't been decided yet.

But it won't be cheap to get the project off the ground – the pair estimates it'll cost around $4.3 million to complete, with an additional $500,000 for operating capital. The startup will finance the project with an SBA loan and with $1.25 million from investors.

The couple also hopes for a hand up from the Denver Office of Economic Development's JumpStart Biz Plan competition. Ubergrippen is one of three finalists in the contest vying for a $30,000 prize. The winner will be announced later this month.

Finding real estate wasn't an easy task. It took the Crines eight months to get the site approved by Stapleton and Denver's building authorities, Jake Crine said. The pair had their hearts set on 21st and Willow, but city officials weren't so receptive.

"The city suggested a spot near Havana and I-70, but that didn't work because it wasn't accessible to kids with bikes," Kim Crine said. "We wanted to be able to have that element."

The duo also looked at moving into the Stanley Marketplace but said their concept was too big to fit into the development.

"We kept talking to the city and someone finally proposed the lot (at 21st and Willow) again," Kim Crine said.

Brady Welsh, of Sherpa Commercial Real Estate, brokered the deal.

"I think the demographics for Stapleton are very conducive to the rock climbing and the active nature of the community," Welsh said. "We also like that spot because it draws from Lowry, Park Hill and other neighboring communities."

The idea for Ubergrippen first took hold three years ago when the Crines spotted a group of kids while driving through their section of Stapleton.

"We figured that in five years, they were all going to be teenagers and we were wondering what they'd be doing then," Jake Crine said. "We figured if there was a place for them to climb, they could do that."

Jake Crine, 39, moved to Colorado from New Mexico.

Kim Crine, 38, is a pharmacist and Denver native who grew up near Hampden and I-25.

The pair said they think they will close on the property by the end of this year.

"We're starting to feel really excited," Jake Crine said. "We're not going to let people down. We're going to deliver on what we're promising."

4798