The third time's the charm for a Denver startup that makes belts with built-in survival kits.
After two unsuccessful Kickstarter projects, Denver company Alpenlore tripled its $3,000 goal in a 30-day crowdfunding campaign over the weekend.
"I've been enamored with Kickstarter for quite a while," Alpenlore co-founder Thomas Reuter said. "I started pestering (co-founder) Scott (Palmer) and told him we had to get (the campaign) up. I figured it would be a good jump-start to get some exposure, and investors are easier to find if you have a successful Kickstarter under your belt."
Alpenlore's campaign served as a presale for its Hybrid Travel Adventure Belts, which carry a slew of survival necessities in hidden pockets.
The company hit its $3,000 goal in the campaign's first five days, and went on to raise over $9,000 in 30 days from more than 90 donors. Reuter said that although Alpenlore has been overrun with orders, the company plans to ship belts to customers by November.
The money Alpenlore raised will go toward setting up a shop in Colorado. Reuter currently works out of Steamboat Springs, and Palmer, Reuter's cousin, is in Tokyo. They're looking for a warehouse space as small as about 400 square feet.
"We're thinking Golden or Denver, or maybe even up in the mountains," Reuter said. "It doesn't take much. You could do it out of a bedroom."
The newest model of Alpenlore's Hybrid Travel Adventure Belt, which retails for $80, features hidden compartments for matches, a fire striker, hooks, surgical knife and 50 feet of rope strong enough to support 800 pounds.
"It's a great tool for someone who's doing a day hike and not planning on spending a night in the woods," Reuter said. "Say you break your leg or something, it'll give you everything you need to survive until help comes."
The belts are currently only available on Alpenlore's website and through Kickstarter, but Reuter said the company aims to eventually wholesale the product to retailers.
Reuter, 36, founded Alpenlore with Palmer, 44, in 2009. The company first planned to sell dog collars but soon moved into survival belts.
"We still make dog collars," Reuter said. "But people kept telling us that it would make a spectacular outdoors belt. (In 2009), the best you could find from a camping belt was a big canvas belt with a buckle. It wasn't special or cool at all."
The two have only seen each other once since launching Alpenlore, but being an ocean apart hasn't affected the company, Reuter said. He said the company started with a $3,000 investment six years ago and is currently running in the black.
Palmer makes each belt by hand with the help of a part-time employee from his Tokyo home, and then ships them to Reuter for distribution within the U.S. But the company will scale up its manufacturing in the future, Reuter said.
"To scale up, before we spread out, we need to find ways to automate the process to cut down on time," he said. "That's the plan as soon as Scott's back here. We'll get the shop up and running and go on the offensive."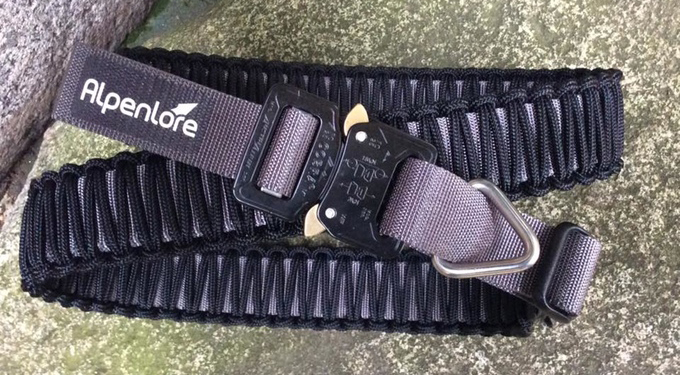 4548