Clarification: A previous version of this story reported that Rachio finished raising $3.4 million in August of 2015. That investment round was closed in the fall of 2014. BusinessDen regrets the error. 
A Denver startup is adding an investment from Amazon to the $3.4 million it raised in 2014 to improve and market a device that makes watering the lawn more efficient.
Rachio, a 3-year-old company that sells a smartphone-integrated system for controlling residential lawn sprinklers, received an undisclosed amount of funding from Amazon to integrate its product into Amazon's voice command technology Amazon Echo, also called Alexa.
Amazon announced that Rachio would receive the funding in an Aug. 27 press release.
"The funding gives us better access to create skills for Alexa," Rachio spokesman Ben Blackmer said. "So for example, you could say, 'Alexa, water the garden for 10 minutes,' and through our integration, we could make that happen."
The $3.4 million equity sale wrapped up in 2014, Blackmer said. That capital came from 27 investors including Denver-based Galvanize Ventures.
"It's a general growth round to continue to market the product," Blackmer said. "It's for product development, marketing and hiring."
Specifically, Rachio wants to add two new positions to its 20-person team: a web developer and a developer for mobile applications.
Rachio develops two components for controlling lawn water levels: the Iro, a Wi-Fi-enabled box that connects to a house's sprinkler system, and an app for controlling the box.
The Iro determines how much water a lawn should get based on a yard's sunlight, soil and slope, which a user enters at installation. Watering schedules are then uploaded onto a user's phone. The app will also gather local weather information and keep the sprinklers from turning on during rainstorms.
The Iro was released to market in May of 2014. It's available at Amazon, Best Buy, Home Depot, Apple Stores and Rachio's website and retails for between $250 and $300, depending on the model.
Rachio founder Chris Klein started the company in 2012, while watching Denver residents water their lawns during a three-year drought.
"That didn't make sense," Blackmer said. "In this day and age when everything lives on your phone, he thought it would be a good way for people to control their homes."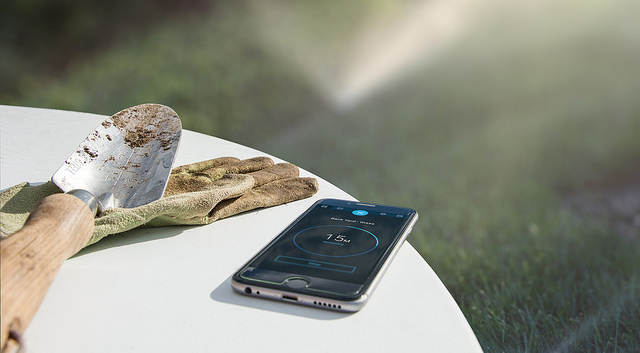 4498