With five years and 1 million burgers under its belt, a south-of-Denver restaurant chain is headed downtown.
Crave Real Burgers is launching its fourth restaurant this fall at 1550 Blake St. five years after the company opened its first store in Castle Rock. Co-owner Jeff Richard has since added spots in Colorado Springs and Highlands Ranch but has always had an eye toward Denver.
"We have been talking about it forever; we kind of wanted to work all the bugs and kinks out, make sure we had our act together before we went downtown to fight with the big boys," Richard said. "I think we're ready now."
Crave, which passed its 1 million burger mark last week, signed a lease for 2,500 square feet about five months ago. Richard is investing about $600,000 in the new store including inventory, equipment, renovations and administrative work. He said he hopes to have the LoDo shop open by October.
The Blake Street burger joint is taking the former Provisions ChopHaus & Drinkery space. Richard has a five-year lease, with a pair of five-year renewal options for the space, which he said is 1,000 feet bigger than the Castle Rock Crave but a bit smaller than the other two.
Richard plans to offer the same menu of burgers, ranging from $7.50 for a plain hamburger and fries up to about $12 for its most expensive and heavily topped patties. And Crave will expand the drink menu downtown.
"LoDo is its own entity down there," Richard said. "We don't really do a bar at any of our other restaurants. We started at Highlands Rand doing draft beer, so we're going to expand that in LoDo and offer a full bar."
Richard co-owns Crave Real Burgers with his wife Jeryn. The couple went to Cherry Creek High School and then Colorado State University, and they have owned Old Stone Church restaurant in Castle Rock for 25 years. Jeff has a culinary school degree, and Kelly handles front-of-house and accounting work.
Richard said the idea for Crave Real Burgers took root about six or seven years ago. His family had been watching lots of "Diners, Drive-Ins and Dives" – Triple D, he called it. Envious of Guy Fieri's culinary conquests, the Richard kids wanted to visit a burger joint like the ones on TV.
At the time, Richard said, there were places that might have one signature burger, but nowhere with the more expansive menus they were seeing on the Food Network.
Crave's most popular offering is its "Love Stinks" burger topped with garlic cream cheese, onion strings, bacon, red pepper, onion mayo and red pepper aioli. The jalapeno and cheese Popper burger and the onion, avocado and tempura-topped Sin City burger are second and third.
Jeff Baker of Design Parameters is the architect for the Blake Street Crave. Fine Construction is handling the renovations. The brand's owners are financing the project through personal cash and investment from a trio of silent partners, Richard said.
Richard doesn't yet have firm plans for any additional Crave restaurants but said he's looking toward trying more shops in Denver and pushing into nearby college towns if the downtown spot works out.
"We want to see how LoDo does," Richard said. "As long as it's doing well and we're taking care of business, we would love to try Fort Collins, would love to try Boulder and do some more in Denver."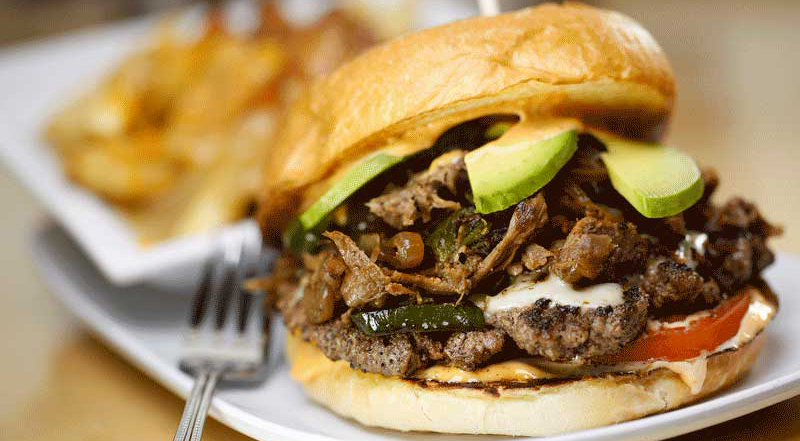 3468