Denver is no longer a one-horse town.
The Colorado Department of Transportation will open three new bus routes in March, but while one of the routes will traverse Interstate 70, skiers aren't the target customer.
The new bus system has been dubbed "Bustang" by CDOT.
"We had a team brainstorming the name," said Amy Ford, CDOT's director of communication. "Mustangs are associated with Colorado, and no bus system had actually used the word 'bus' yet."
The new routes will connect Glenwood Springs, Colorado Springs, Fort Collins and Denver. Bustang's goal is to connect established mass transit systems with others throughout the state, Ford said. Tickets will cost between $10 and $28.
Ford emphasized that Bustang will be a service for commuters. The service will not run on weekends and is not intended for skiers and snowboarders.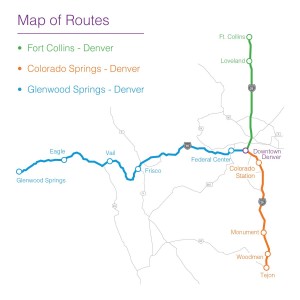 Plans for Bustang began in 2009 with the Funding Advancements for Surface Transportation and Economic Recovery Act (FASTER). The law established new vehicle registration fees for Colorado, resulting in about $200 million per year in revenue. About $10 million of that goes toward funding Bustang.

"Our goal is to cover about 40 percent of operating costs by 2018," Ford said.

The Bustang schedule is still a work in progress. CDOT will begin testing routes next month.

252