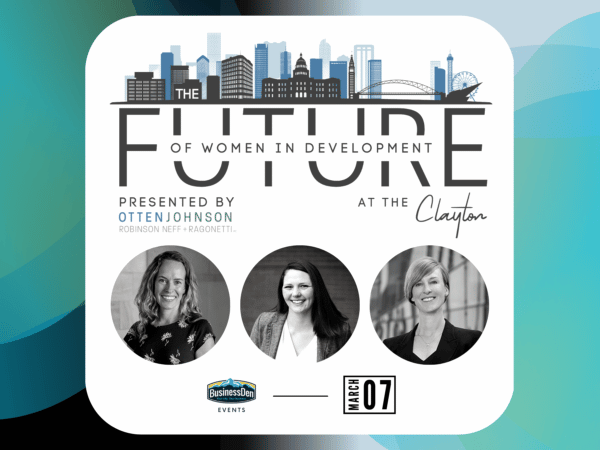 It's time to get together.
BusinessDen will kick off our 2023 event series on March 7 as we host "The Future of Women in Development," presented by Otten Johnson Robinson Neff + Ragonetti.
We hope you — both ladies and gentlemen — will join us at Clayton Members Club & Hotel in Cherry Creek for breakfast and a lively, important conversation with local women succeeding in a male-dominated industry.
Panelists will include:
Kimberly Martin, shareholder with Otten Johnson Robinson Neff + Ragonetti, represents developers, investors and owners and specializes in land-use law as well as municipal and early-stage negotiations with government and districts.
Melissa Rummel, development director for Nichols Partnership, has managed 1 million square feet of new construction and adaptive reuse office and multifamily projects. Nichols recently wrapped up the One Platte office building at 1701 Platte St., and is converting the former Art Institute of Colorado building in Cap Hill.
Catherine Bean, principal and director of development at Element Properties, has overseen projects that include the conversion of some 230 apartments from market rate to permanently affordable, the repositioning of a commercial building in Flatiron Park and the development of townhomes in Boulder.
Stay tuned for additional panelist announcements.
BusinessDen Event Director Samantha Sarine will moderate the conversation, which will focus on their take on navigating the industry as well as development market trends and things to watch.
Don't miss this one! The event starts with breakfast at 7:30 a.m. Tickets are available here. 
We'll see you there!
What: The Future of Women in Development
When: 7:30 to 10 a.m. on March 7
Where: Clayton Members Club & Hotel, 233 Clayton St., Denver
Tickets: Available here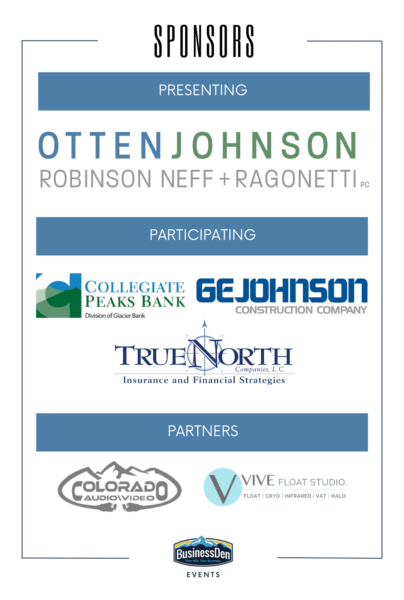 113785