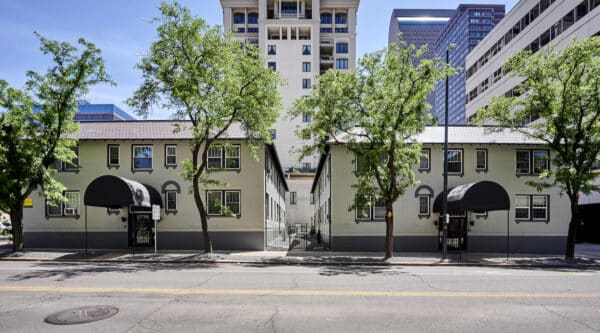 Deals of note:
Quantum Capital, using out-of-state exchange funds from a trust based in Florida, purchased the 34-unit Uptown Terrace apartment complex at 230-240 E. 19th Ave. in Denver for $8.4 million from Cohen Rojas Capital Partners. Erik Toll, Andy Hellman, Justin Hunt, Brad Schlafer and Jessica Graham of CBRE represented the seller.

AVP Newton Venture LLC purchased 1259 Newton St. in Denver for $17.5 million from 1253 Newton LLLP.
Landsberg Orora leased 61,873 square feet at 13450 Smith Road in Aurora. Mark Dwyer and Scott Caldwell of Lincoln Property Co. represented the landlord.
CBRE reports the following deal:

Quantum Capital, using out-of-state exchange funds from a trust based in Florida, purchased the 34-unit Uptown Terrace apartment complex at 230-240 E. 19th Ave. in Denver for $8.4 million from Cohen Rojas Capital Partners. Erik Toll, Andy Hellman, Justin Hunt, Brad Schlafer and Jessica Graham represented the seller.

Pinnacle Real Estate Advisors reports the following deals:

IH Holdings Twenty Three LLC purchased 34 total multifamily units at 801 N. Dahlia St., 830 N. Dexter St. and 4720 E. 8th Ave. in Denver for $6.3 million from Ariana 1 LLC. Quentin Shore, Jim Knowlton and Chris Knowlton represented both buyer and seller.

TFI Colorado LLC purchased 12,359 office square feet at 735 S. Xenon Court in Lakewood for $2.15 million from 735 S Xenon LLC. Eric Shaw represented the seller.

Jeffrey McCaffrey Jr. purchased eight multifamily units at 2348 and 2356 Emporia St. in Aurora for $1.4 million from The Whild Companies LLC. Barton Thompson and James Few represented the buyer.

Trailbreak Investment LLC purchased 4,144 office square feet at 1719 Emerson St. in Denver for $1.05 million from Eileen Charles Hyatt. Eric Shaw represented the seller.

Kaufman Hagan Commercial Real Estate reports the following deals:

RNGD Eliot LLC and 1920 Xanthia St LLC purchased 24 multifamily units at 2781, 2791, 2801 and 2831 Eliot Circle in Westminster for $5 million from Edward J Kaiser and Noreen E Kaiser Family Trust. Kevin Woolsey represented both buyer and seller.

2851 Eliot Circle TJC LLC purchased six multifamily units at 2851 Eliot Circle in Westminster for $1.31 million from 2851 Eliot Circle Investment Group LLC. Kevin Woolsey and Gunnar Wilson represented both buyer and seller.

Lincoln Property Co. reports the following deals:

Landsberg Orora leased 61,873 square feet at 13450 Smith Road in Aurora. Mark Dwyer and Scott Caldwell represented the landlord.

FactSet Research Systems leased 8,369 square feet at 165 Union Blvd. in Lakewood. Peter Thomas and Andrew Piepgras represented the landlord.

NexTier Completion Services leased 5,919 square feet at 475 17th St. in Denver. Andrew Piepgras, Peter Thomas and Scott Caldwell represented the landlord.

Deals from deeds:

AVP Newton Venture LLC purchased 1259 Newton St. in Denver for $17.5 million from 1253 Newton LLLP.

Milestone Conoca Holdings LLC purchased 13611 Colorado Blvd. in Thornton for $7.558 million from 13611 Thornton LLC.

Penn Lot LLC purchased 1556-1560 N. Pennsylvania St. in Denver for $1.644 million from Douglas C. Hall Company.

Skyline Principal Investors II LLC purchased 4981 E. 64th Ave. in Commerce City for $2.34 million from DCW Family Holdings LLC.

GKS LLC purchased 12500 E. Iliff Ave. in Aurora for $2.6 million from 12500 5p Iliff LP.

112838