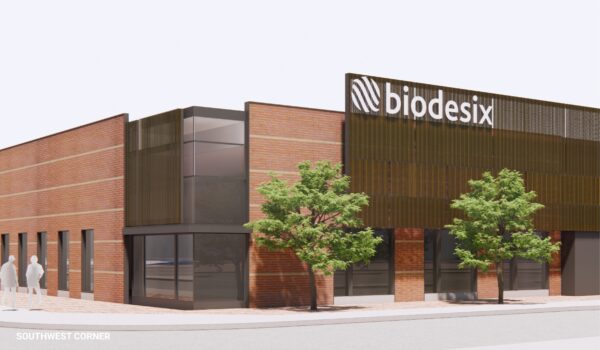 Deals of note:
Biodesix Inc leased an 80-square-foot former Kohl's building on 13 acres at 919 W. Dillon Road in Louisville. An extensive renovation is planned. Erik Abrahamson of CBRE represented the landlord. Steve Billingmeier of Cushman & Wakefield represented the tenant.

CPS Arbour Commons DST purchased the 394-unit Arbour Commons apartment complex at 663 W. 148th Ave. in Westminster for $150 million from OTC Two LLC. Dan Woodward, David Potarf, Matt Barnett and Jake Young of Walker & Dunlop represented the seller.
CSR-Lyra Holding LLC purchased the Lyra Apartments complex at 9641 E. Geddes Ave. in Centennial for $95 million from Doran-CSM Centennial LLC.
Walker & Dunlop reports the following deal:


CPS Arbour Commons DST purchased the 394-unit Arbour Commons apartment complex at 663 W. 148th Ave. in Westminster for $150 million from OTC Two LLC. Dan Woodward, David Potarf, Matt Barnett and Jake Young represented the seller.

Pinnacle Real Estate Advisors reports the following deal:

GS Holdings 2 LLC, JM Cedar LLC and 257 PMC LLC purchased the 39-unit apartment building and two adjacent single-family homes at 223, 227, 237-257 N. Pearl St. in Denver for $11 million from KM Denver Holdings LLC. Mark Knowlton, Jim Knowlton and Chris Knowlton represented both buyer and seller.

Capstone reports the following deals:

The Tekton Group purchased the 24-unit The Mile Apartments at 1598 Hooker St. in Denver for $10.5 million from The Mile LLC. Adam Riddle and Jason Koch represented the buyer and seller.

NorthPeak Commercial Advisors reports the following deal:

Chopper 7095 LLC purchased 14 multifamily units at 7095 W. 13th Ave. in Lakewood for $3.15 million from TCF Properties LLC. Scott Fetter and Joe Hornstein represented the seller.

Marcus & Millichap reports the following deal:

Apollo Management 47Ave LLC purchased six multifamily units at 4592 Everett Court in Wheat Ridge for $1.6 million from SG Investments LLC. Clayton Primm represented the seller.

Lee & Associates reports the following deal:

Creative Bus Sales Inc purchased the 4,215-square-foot truck maintenance facility on 0.82 acres at 4810 Olive St. in Commerce City for $1.475 million from Donald J. Hafer and Patricia A. Brown Family Living Trust. Ron Webert and Matt Nora represented the buyer. Kristen Miller of A Perfect Location Realty represented the seller.

Koelbel & Co. reports the following deal:

Biodesix Inc leased an 80-square-foot former Kohl's building on 13 acres at 919 W. Dillon Road in Louisville. An extensive renovation is planned. Erik Abrahamson of CBRE represented the landlord. Steve Billingmeier of Cushman & Wakefield represented the tenant.

Lincoln Property Co. reports the following deals:

Pearl Schneider leased 4,452 square feet at 165 S. Union Blvd. in Lakewood. Peter Thomas and Andrew Piepgras represented the landlord. 

University Corporation for Advanced Internet Development dba Internet 2 leased 3,643 square feet at 475 17th St. in Denver. Peter Thomas, Andrew Piepgras and Scott Caldwell represented the landlord.

Gray Solutions leased 6,496 square feet at 3851 N. Steele St. in Denver. Mark Dwyer and Andrew Piepgras represented the landlord.

Dahl, Fischer & Wilks leased 1,016 square feet at 4725 S. Monaco St. in Denver. Andrew Piepgras and Peter Thomas represented the landlord.

Stoneham Drilling leased 1,579 square feet at 1776 Lincoln St. in Denver. Scott Caldwell and

Peter Thomas represented the landlord.

Axio Commercial Real Estate reports the following deals:

Choice Market leased 4,833 retail square feet at 3463 Walnut St. in Denver. David Schneider and John Livaditis represented the landlord. Julie McBrearty of Sullivan Hayes and Sean Kulzer of Tether Advisors represented the tenant. 

KPOP Zone leased 1,180 retail square feet at Southgate Shopping Center at 6842 S. Yosemite St. in Centennial. David Schneider represented the landlord. Heather Taylor of Impact Commercial represented the tenant.

Deals from deeds:

575 Logan Bg LLC purchased 571-575 Logan St. in Denver for $2.35 million from 575 Logan LLC.

CCWOF1E LLC purchased 1995 S. Valentia St. in Denver for $15.5 million from KN Financial LLC.

CSR-Lyra Holding LLC purchased the Lyra Apartments complex at 9641 E. Geddes Ave. in Centennial for $95 million from Doran-CSM Centennial LLC.

East 68th Ave Properties LLC purchased 1707, 1721, 1757 and 1761 E. 68th Ave. in Denver for $6.7 million from 68th Ave Properties LLC.

1257 120th RE LLC purchased 1257 W. 120th Ave. in Westminster for $2.65 million from Five T Corp. as qualified intermediary for HD Alameda LLC.

112573