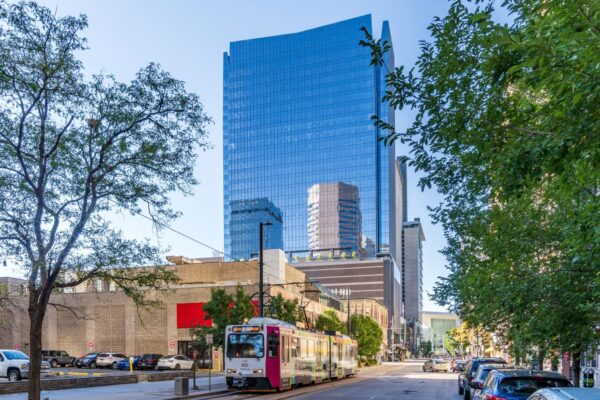 Deals of note:
Bain & Co. leased an undisclosed amount of office space at Block 162, the office tower at 675 15th St. developed by Patrinely Group and USAA Real Estate. Nicholas Weld and Will Hightower of CBRE represented the tenant. Doug Wulf and Todd Wheeler of Cushman & Wakefield, directed by Dannis Tarro of Patrinely, represented the landlord.

Parker 336 Owner LLC purchased the Axis at Nine Mile Station apartment complex at 3257 S. Parker Road in Denver for $99.5 million from Laramar Nine Mile Station Associates LLC.

Gart Properties purchased 49,812 retail square feet at Arbor Village Shopping Center Phase ll at Wadsworth and 88th Avenue in Arvada for $8.8 million from Arbor Village Phase II LLC. Tenants include Westerra Credit Union, Carpet Mill, Play It Again Sports and F-45 Training.
Berkadia reports the following deal:

Cohen Rojas Capital Partners purchased 68 multifamily units at 757 Grant St. in Denver for $21.25 million from LCP Development. Nick Steele, John Laratta, Tyler King and Nate Moyer represented the seller.

Kentwood Commercial reports the following deal:

The True Life Companies purchased seven acres at 6501 Lowell Blvd. in Adams County for $9 million from Linette Brozovich. David Morrison and Karen Landers represented the buyer.

Gart Properties reports the following deal:

Gart Properties purchased 49,812 retail square feet at Arbor Village Shopping Center Phase ll at Wadsworth and 88th Avenue in Arvada for $8.8 million from Arbor Village Phase II LLC. Tenants include Westerra Credit Union, Carpet Mill, Play It Again Sports and F-45 Training.

The Nesbitt Commercial Group reports the following deal:

Parker Shoppe Inc purchased 24,972 retail square feet at 18551 E. Mainstreet in Parker for $6.85 million from 20 Mile Mott St LLC. Eric L. Nesbitt represented the seller.

Pinnacle Real Estate Advisors reports the following deal:

7461 Quitman Street LLC purchased 23 multifamily units at 5502 Newland Way in Arvada for $4.95 million from 5NA LLC. Luke Salazar, Jim Knowlton and Robert Lawson represented the seller.

NorthPeak Commercial Advisors reports the following deals:

W71P purchased the 20 multifamily units at 1420 W. 71st Place in Denver for $4.1 million from IH Holdings Eighteen LLC. Kevin Calame and Matt Lewallen represented the buyer and seller.

Beth A. Hill Revocable Trust purchased three multifamily units at 375 S. Nelson St. in Lakewood for $905,000 from Michael Montana and Patricia Montana. Jack Sherman and Dan Hawthorne represented the buyer.

Madison Commercial Properties reports the following deal:

Smoky Hill KC Acquisition LLC purchased the 9,258-square-foot Montessori School of Aurora building at 18585 E. Smoky Hill Road in Aurora for $3.8 million from MLJ Investments LLC. Brian Costello and Nick Jurgens represented the seller. Patrick McGlinchey and Sam Bell of SRS Real Estate Partners represented the buyer.

Marcus & Millichap reports the following deal:

10610 7th Pl LLC purchased 10610 W. 7th in Lakewood for $2.595 million from Rockland Investments LLC. Boomer Beatty, Jason Hornik, Greg Parker and Kent Guerin were involved in the transaction.

John Propp Commercial Group reports the following deals:

Colorado Realty Holdings LLC purchased 15,284 medical office square feet at 10895 W. Asbury Ave. in Lakewood for $2.049 million from RW Properties LLC. Joshua Cohen.

Mint Holdings Ltd purchased a 1,744-square-foot office condo at 8191 Southpark Lane, #209/210, in Littleton for $345,000 from Fokker Investments LLC. Joshua Cohen represented the seller.

Lincoln Property Company reports the following deals:

BAM Advisory leased 2,941 square feet at 165 S. Union Blvd. in Lakewood. Peter Thomas and Andrew Piepgras represented the landlord.

Plog & Stein PC leased 2,316 square feet at 6021 S. Syracuse Way in Greenwood Village. Andrew Piepgras represented the tenant.

Kuiper Law Firm leased 1,185 square feet at 165 S. Union Blvd. in Lakewood. Peter Thomas and Andrew Piepgras represented the landlord.

Inceed leased 4,832 square feet at 303 17th Ave. in Denver. Peter Thomas and Andrew Piepgras represented the Landlord.

Patrinely Group and USAA Real Estate report the following deal:

Bain & Co. leased an undisclosed amount of office space at Block 162, the office tower at 675 15th St. developed by Patrinely Group and USAA Real Estate.

Legend Partners reports the following deals:

Howdy Ice Cream leased 1,200 square feet at Arapahoe Crossings at 6400-6700 S. Parker Road in Aurora. Blake Larson represented the landlord.

Carbon Health leased 2,502 square feet at Arapahoe Crossings at 6400-6700 S. Parker Road in Aurora. Blake Larson represented the landlord.

Image Studios leased 4,133 square feet at Arapahoe Crossings at 6400-6700 S. Parker Road in Aurora. Blake Larson represented the landlord.

Hydrate IV leased 1,500 square feet at Highlands Ranch Shopping Center at 9245 S. Broadway in Highlands Ranch. Blake Larson, Lara Silversmith, and Brett Haskins represented the landlord.

School Of Rock leased 2,330 square feet at Highlands Ranch Shopping Center at 9245 S. Broadway in Highlands Ranch. Blake Larson, Lara Silversmith, and Brett Haskins represented the landlord.

Facial Aesthetics leased 3,870 square feet at Superior Marketplace at 600 Center Drive in Superior. Blake Larson represented the landlord.

D1 Sports leased 5,760 square feet at Yosemite Crossing at 6570 S. Yosemite St. in Greenwood Village. Blake Larson, Lara Silversmith, and Brett Haskins represented the landlord.

Crisp & Green leased 2,700 square feet at Belleview Station at 4882 S. Newport St. in Denver. Blake Larson represented the tenant.

 Image Studios leased 8,690 square feet at 13750 Grant St. in Thornton. Blake Larson represented the tenant.

Malman Commercial Real Estate reports the following deal:

Purple Haze Inc leased 3,825 retail square feet at 3398 S. Broadway in Englewood. Jake Malman represented the tenant.

Deals from deeds:

Stout Street Properties LLC purchased 800 Park Avenue West in Denver for $2.625 million from SKI-Park Avenue LLC and RGP-Park Avenue LLC.

Grammercy Owner LLC purchased 9600 E. Girard Ave. in Denver for $45 million from New Grammercy LLC.

Neo at Baker LLC purchased 520 Cherokee St. in Denver for $1.35 million from Andrea and Mike LLC.

Denver Construction Management LLC purchased 3301 Williams St. in Denver for $2.975 from HDC 2531 Ogden Street LLLP.

National Pavement Partners LLC purchased 4985 Ironton St. in Denver for $2.5 million from Ironton Properties LLC.

Auto Sale 21 LLC purchased 823 Federal Blvd. in Denver for $1.15 million from SS Connections LLC.

638 Colfax LLC purchased 638 E. Colfax Ave. in Denver for $1.8 million from Sina Inc.

112390