Moonshine Golf doesn't sell liquor, but it certainly pairs well with a glass of your favorite alcohol.
The startup with Colorado connections has been in business for two years and focuses on making golf-centric apparel that can be worn in a variety of situations, from the green to the brewery to the river.
"The average person in Colorado is getting up in the morning on a weekend and they're going out for an early morning hike with their dog. On the way back they're stopping at the newest brewery that just opened up, they're meeting up with friends, and then they're going to Wash Park to play frisbee golf. Maybe they're going to play the par three course, and then they're going to a concert. That's the normal Colorado lifestyle, and there isn't really a golf brand that encompasses that," said co-founder Andrew Mikowski.
Moonshine Golf was founded by three childhood friends.
Mikowski does marketing for the brand and spends most of his time in Pennsylvania, visiting Colorado about once a month. His day job is working for ski and snowboard manufacturer Gilson Snow.
Rick Boccard lives in North Carolina and assists the company with the technical and software side of the business.
Justin Fowler is the only one of the three who works for Moonshine Golf full time, living in Denver. He manages the day-to-day operations and has a background working for the Rockies and Avalanche.
Mikowski said in today's golf apparel market, there are only really two niches: the old, established companies that your parents and grandparents wore, and then a younger segment. "You know, it's pink flamingos on your shirt and things like that," he said.
Moonshine Golf falls squarely in the middle, Mikowski said. The company's designs often contain camo print or outdoorsy or western elements which counteract a sport that he acknowledged can feel "stuffy."
"There's some things that definitely could help grow the game and one of those is just access for more people and for more people to feel comfortable on the course. And so that's really where Moonshine Golf came in. It's about a golf brand for people that like the outdoors and country music and supporting the military and is a more blue collar brand," Mikowski said.
Mikowski said Moonshine Golf's apparel stands out from competitors even beyond design. Many of the company's tops incorporate vents, either on the back or sides of the shirt. And the brand markets long sleeve tops for hot, sunny days.
"The thinking is that they learned a long time ago in the fishing industry that on hot days when the sun is out there's a lot of benefits to having long sleeves when you keep the material really breathable because it keeps sun rays off of you," Mikowski said.
The trio started the company because they felt like they didn't fit in well with any of the golf apparel brands on the market. The pause in life that the pandemic brought gave them time to dive head first into a new business.
The initial investment for the brand came from a yearly golf trip that the group participated in with about a dozen of their friends. Mikowski and his two partners pitched the idea to them and got the group to kick in some funds.
Revenue was in the six figures in Moonshine's first year, Mikowski said. Twenty percent of sales were in Colorado.
The company's gear is sold in the pro shops of 35 golf courses around the country. Scheels, a sporting goods store, also sells Moonshine Golf clothing at its location in Johnstown. Roughly 30 percent of Moonshine Golf sales come via wholesale, the rest comes from online sales directly to consumers.
"I think that shipping to 48 states in our first year is interesting. As we go from six to seven figures in revenue in the course of our first two years in business, I think it just shows that there is a sizable market for what we're doing and that people are really interested in what we have to offer," Mikowski said.
The company has sponsored several college golfers around the southeast. And the brand is also trying to break into the country music scene. So far, two artists have joined the company with an equity stake: Teddy Robb, who was born in Ohio but kicked his career off in Colorado, and Jameson Rodgers, who has a No. 1 hit with renowned country musician Luke Combs.
"We brought those two guys onto the team just because of their passions for golf. They're really at the intersection of outdoors, country music, golf and seemed like great partners," Mikowski said.
Moonshine Golf is searching for new investors who want to join in on the strategic side of the business.
"As we go from taking this company to six to seven to eight figures in sales, through those stages, I think bringing on investor partners that are strategic in terms of being able to be value-add investors is really important to us … as we grow in, not only the greater outdoor space but really becoming Colorado's golf brand," he said.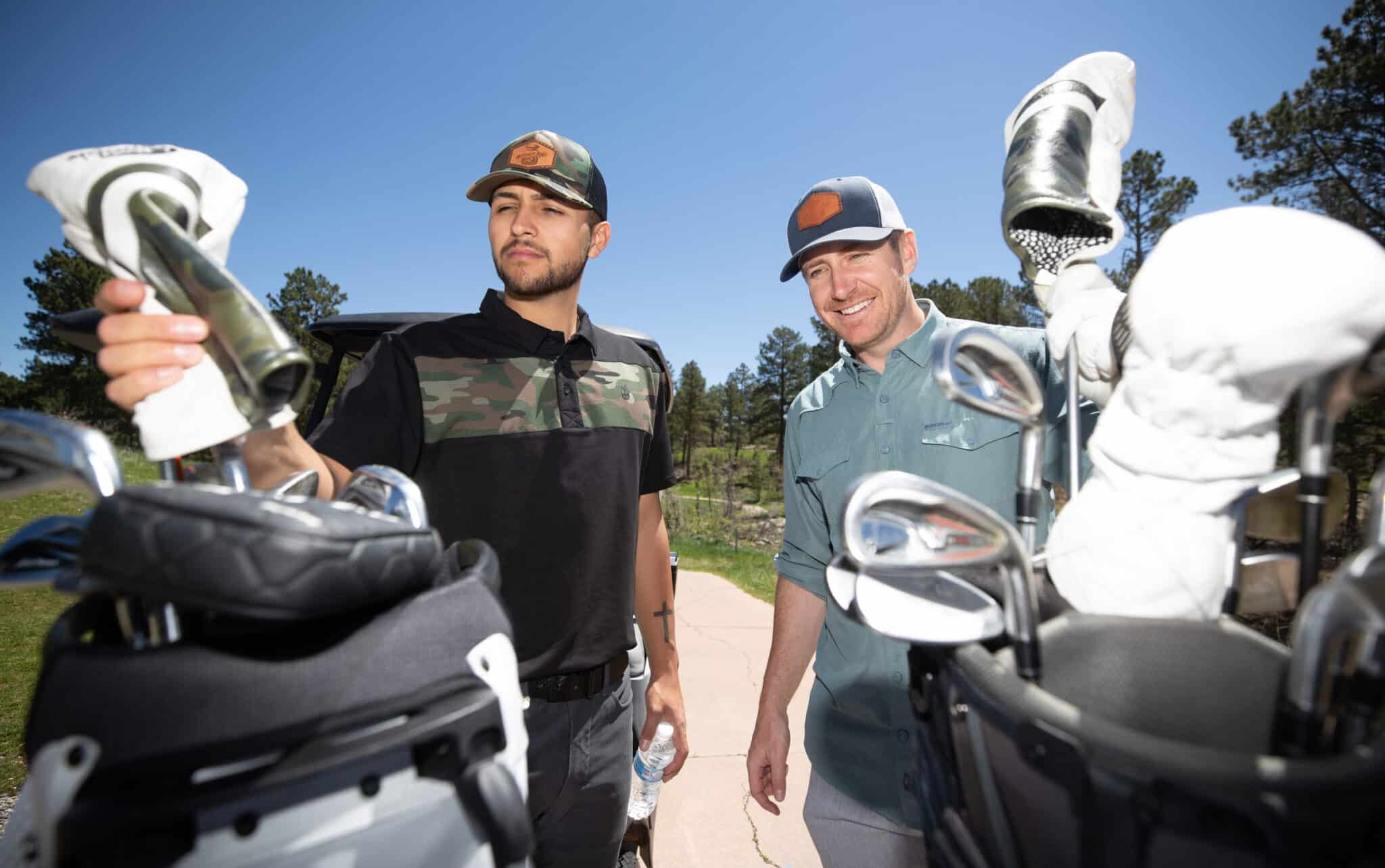 111383