Yana Vishnitsky Wolfe, who at the age of 30 fled Jewish persecution in Soviet Russia and later became CEO of the Denver nonprofit that resettled her here, died on June 8.
Vishnitsky, who led Jewish Family Service (JFS) from 2000 to 2016, passed away at 75 as a result of Parkinson's disease and cancer, according to her longtime friend Joyce Foster.
Vishnitsky came to Denver in 1978 with her then-husband and 4-year-old son, Vitaly. Her husband had a relative in Denver.
"I arrived in this country with $150 and a suitcase full of pillowcases and linens that my mother insisted I would need in America," Vishnitsky previously told JFS. "This didn't get me very far!"
After landing at Denver's Stapleton International Airport on a Friday night, JFS helped the new arrivals settle in furnished apartments and brought them to Temple Emanuel to attend their first Shabbat service.
JFS, founded in 1872, is a human services agency with offices in Denver and Boulder. It offers programs for vulnerable individuals and families, such as mental health counseling, job training and placement, community enrichment for people with disabilities, housing stability and food security.
Vishnitsky was a patent attorney and mechanical engineer in St. Petersburg. When she came to Denver, her degrees didn't mean much. But, she was fluent in English.
Foster, who was JFS' director of resource development and employment at the time, met Vishnitsky at Temple Emanuel, where Foster's husband was a rabbi, not long after she arrived.
Foster was desperate to hire a translator, and when she heard Vishnitsky's near-perfect English, she knew she would make a great fit for JFS. It was against the nonprofit's policy to hire clients, and Vishnitsky was the first exception.
"Ultimately, she was put on staff, and she never left," Foster said. "Her only job in the United States of America was at Jewish Family Service, and she went from translator to the director of Russian resettlement, and then CEO."
Her own experience helped her understand the plight of refugees and how she could help, Foster said. Vishnitsky helped her cousins, aunt, parents and brother settle in the Denver area over the years, Foster said.
"It was a terrible time in Russia, and it took a lot of guts for them to get out," Foster said. "It was hard, but Yana understood the plight, and she really rose to be creative at the agency. She made her contacts; she developed coalitions and was a part of them. She was really a force, and I miss her terribly. She was one of my closest friends."
While working full-time at JFS, Vishnitsky got a bachelor's degree in social work from Colorado State University. She then got a master's degree from Smith College in 1988 and completed her postgraduate training at the Denver Institute of Psychoanalysis.
She served as director of JFS' Russian resettlement department and associate executive director before becoming president and CEO in 2000.
One of Foster's favorite memories of Vishnitsky was when they were attempting to help a Russian man find a job as a mechanical engineer. Vishnitsky was translating and after speaking to the employer and the refugee, she pulled Foster aside.
"She turned to me and said, 'Joyce, he's an engineer like I'm a ballerina,'" Foster said. "After that, I bought her a cute ballerina pin to wear. She knew he wasn't an engineer because she was one. She was so perceptive and had a wonderful sense of humor, but don't try to pull the wool over her eyes. She was nobody's fool."
During her time as CEO, Vishnitsky helped JFS acquire its current headquarters at 3201 S. Tamarac Drive in 2003, as well as its Shalom Denver facility, which was sold last year. She also launched the Refugee Mental Health program, the KidSuccess program, where ​​trained JFS therapists work in Denver-area schools, and the Lunchbox Express program, a mobile food delivery system that distributes free lunch to kids during the summer.
"Yana didn't let any grass grow under her feet," Foster said. "She was a real leader. There are followers, troublemakers, and people that have vision, and she was a visionary."
At JFS, Vishnitsky also met her second husband, Jim Wolfe, who was the organization's head of accounting. She retired in 2016 as a result of her declining health. JFS held a Russian-themed gala in her honor that raised a record $1 million, and then-Gov. John Hickenlooper designated Dec. 10 as Yana Vishnitsky Day.
During her retirement, she went on many river cruises in Europe with her husband Jim and spent plenty of time with her son Vitaly and his two daughters, Zoe and Lexi. She even dressed up as a pirate for a Disney cruise before the pandemic with her granddaughters.
"One of the defining traits of my mom is she gave her all into whatever she did, whether that be work, friends or family," Vitaly Vishnitsky said. "She was a big presence in everyone's life. There's just a big hole that she used to fill with her presence, just being there to talk, ask for advice or listen to her gripe about her health and ailments."
Vitaly, now 48, said he and his mother visited Russia twice in recent years. She showed him his childhood home, where he was born and where she grew up.
"She had mixed feelings each time we went back," Vitaly said. "She was grateful to not be living there anymore, and happy she made the choice to come to America when she did, but there was a sense of nostalgia. There was a shift in her persona. She was very outspoken in America, but whenever we went to Russia, she would get quiet, almost as if the memories of being in Soviet Russia were too strong for her."
Aaron Hyatt, attorney at Brownstein Hyatt Farber Schreck and chairman of the board of directors at JFS, has known Vishnitsky his whole life.
"She was one of those humans who, when she walked into a room, she really lit it up," Hyatt said. "She was magnetic and attracted people to her. For me personally, she always kind of had that Jewish grandmother appeal to me."
About 10 years ago, Vishnitsky recruited him to get more involved with JFS, first as part of committees, then the board of directors.
"She really built that foundation to take it to the next level — the next century, if you will," Hyatt said.
JFS, which has 160 employees and more than 1,600 volunteers, had revenue of $13.4 million in 2020 and $11.6 million in 2019, according to public tax filings.
Linda Foster, unrelated to Joyce Foster, took over Vishnitsky's role as CEO. The two met for lunch many times over the years to discuss the nonprofit.
"I reached out to her because I felt I was coming into an organization where she had built a very solid human service agency for the community, and I felt she should be privy to that information," Linda Foster said. "I wanted to keep her up to date with what we were doing to build her legacy, and I wanted her wisdom and guidance."
Foster felt like she had known Vishnitsky her whole life and said she felt gypped that that wasn't the case.
"But the last time I saw her, she looked at me and said, 'Linda, we've known each other forever,'" Linda Foster said. "It was a very special moment."
JFS continues to resettle refugees, now focusing on those from Afghanistan.
"We have to remember that we all came from somewhere else, and we have to be here to care for other people that come here," Joyce Foster said. "Sometimes refugees come here, become very comfortable, and they forget about the next generation of refugees. Yana didn't forget about that next generation. She was quite amazing."
A memorial service for Vishnitsky has already been held. Donations can be made to Jewish Family Service of Colorado.
Justin Wingerter contributed to this report.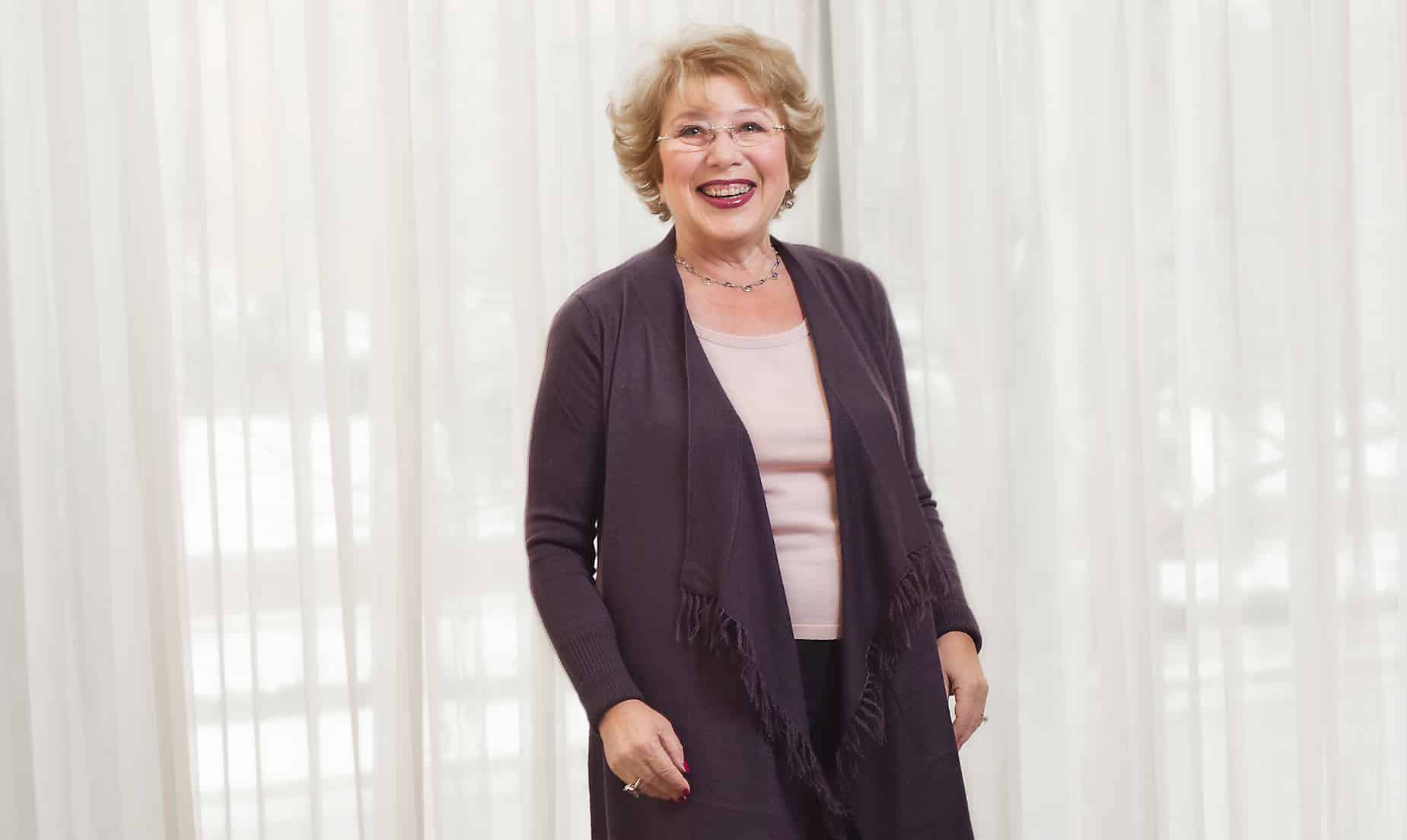 111017