A father-and-son duo from Aurora who own a company that sells hops have spent the past 18 months fighting two multinational financial institutions over $19,053 — an amount that they say poses an existential threat to their humble, dozen-year-old company.
Randy and Tase Flores are the only employees of U.S. Hop Source, which acts as a middleman between the small farmers who grow hops and the breweries that buy them. The Floreses were hop farmers in Montrose before moving to the Front Range and starting their business in 2010.
In 2020, as the once-ascendant craft brewing industry struggled mightily, U.S. Hop Source received a $19,053 online order on Nov. 5 from a man calling himself Marcos Estrada.
"The whole situation, on the surface, seemed completely legitimate," Randy Flores, 63, recalled in an interview last week. "I got an email with the hop varieties that they wanted, the quantities that they wanted and I replied to the emails. Nothing was unusual about the order."
"We were smack in the middle of the COVID situation, when the craft brewing industry fell on its face even further nationwide and around the world," he added. "So, we were glad to have the order. And then a month later we find out the whole thing was a scam."
Eighteen days after the order, the man claiming to be Estrada ordered $31,000 worth of hops from U.S. Hop Source using the same fake JP Morgan Chase credit card he had used for the first order, according to the Floreses. But this time, the British credit card processing company Paysafe stopped the order and determined the credit card was fraudulent, the Floreses say.
Only then, after they had purchased hops from a supplier and prepared it for shipping to Estrada, were they told that Estrada was a scammer, according to the Floreses.
On Dec. 10, 2020, Paysafe attempted to take back the $19,053 it had sent U.S. Hop Source from the first Estrada order, according to the Floreses. Eight days later, it terminated U.S. Hop Source's account, leaving them unable to receive online orders, the father and son say.
The Floreses reported Estrada to Aurora police, who suggested they contact the U.S. Department of Homeland Security instead. Randy and Tase say they were both interviewed by DHS. "The Homeland Security agent wasn't surprised" by the scam, Randy Flores said.
Earlier this year, the Floreses filed a lawsuit against Paysafe and JP Morgan Chase, alleging that Paysafe breached its contract with U.S. Hop Source when it approved the fraudulent transaction and JP Morgan Chase was negligent in approving that transaction. The lawsuit asked a judge to rule that U.S. Hop Source doesn't have to pay the $19,053 Paysafe wants.
Paysafe has acknowledged in court that it terminated the hop merchant's account and that it has tried to collect the money but denies breaching its contract or doing anything untoward. Spokespeople for Paysafe and JP Morgan Chase declined to comment on the lawsuit.
Last month, Arapahoe County District Court Judge Frederick Martinez dismissed the accusations against JP Morgan Chase. The judge ruled that JP Morgan Chase "does not owe any duty to a non-customer" and, therefore, can't be sued by U.S. Hop Source.
"I'm kind of pulling my hair out and I'm sure Tase is the same way," Randy Flores said last week, more than 18 months after the November 2020 online scam. "We just want it to go away."
His son, 32, agreed: "Yeah, we just want it to be done with at this point."
Eric Coakley, the Floreses' lawyer, claims that JP Morgan Chase spent more than $19,000 in attorney fees fighting their lawsuit, which he believes illustrates the case's absurdity.
"This is kind of our David and Goliath scenario," Randy Flores said. "We're just a two-man family business trying to fight two huge worldwide conglomerates for a measly $19,000, which is less than pocket change for them in the scheme of things."
"This definitely poses a real risk to our business," Tase Flores added. "We have slowed down quite substantially the last couple years and just been scraping by. So, if we have to pay them $19,000 — we don't have that kind of money anymore."
U.S. Hop Source, which does business as far away as Australia and Europe but does not buy Colorado hops, once averaged close to $1 million in annual gross revenue. By the time the pandemic arrived, it was taking in one-third of that. Then the pandemic locked down much of the craft beer industry and U.S. Hop Source's business dropped another 80 percent, Randy Flores said.
Tase recently acquired a real estate license, so he can provide for his family of four if a court sides against U.S. Hop Source and the company dissolves. Hops have been a big part of his life since he started growing them with his single father after high school, 14 years ago.
"Things have gotten tougher over the past few years and this is just sitting heavy on our shoulders," Randy Flores said of the legal dispute. "We're trying to survive."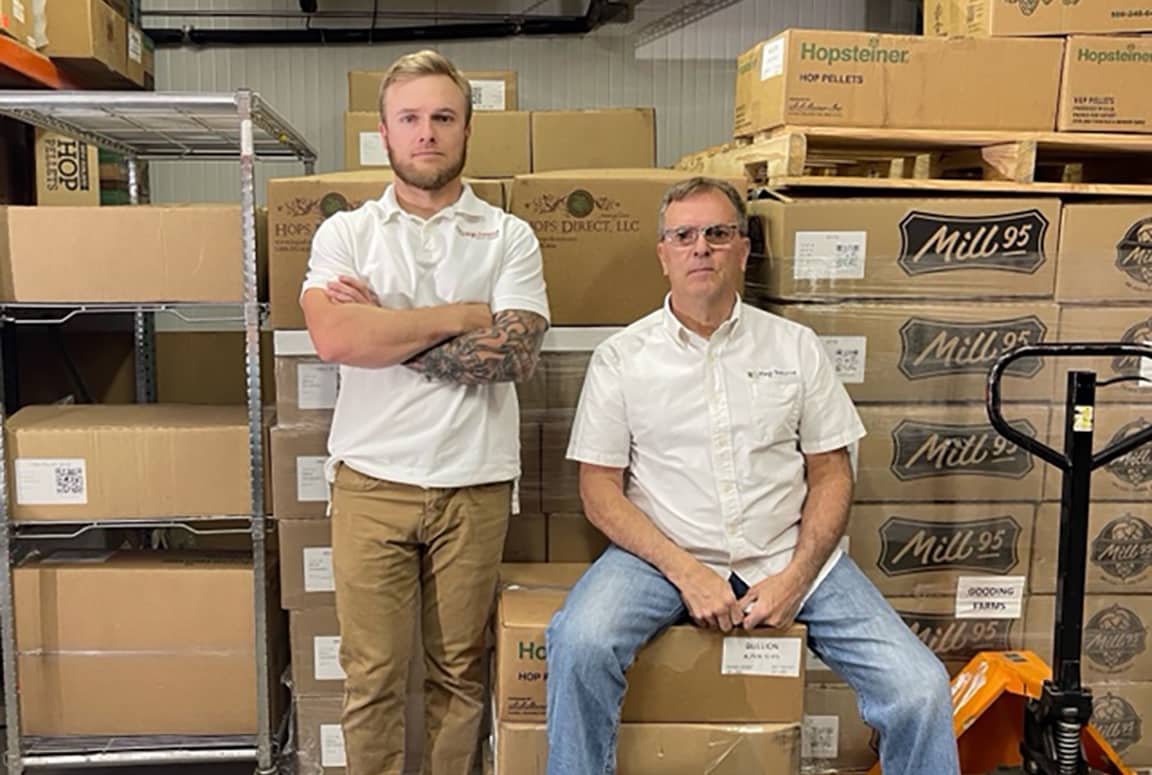 110692