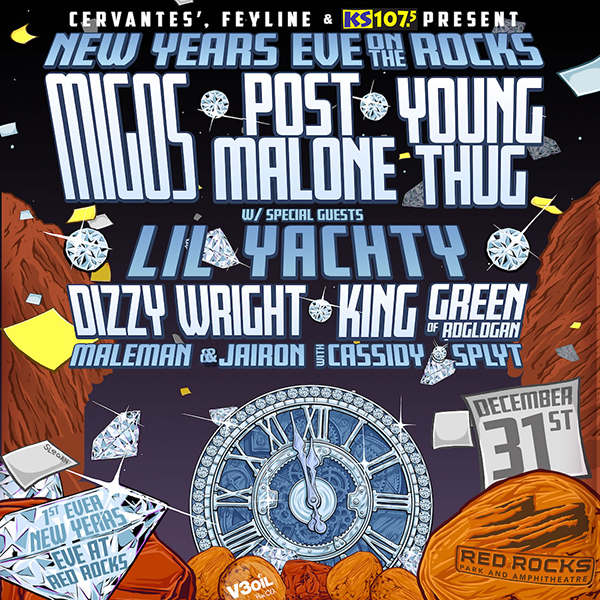 Four years after a lawsuit accused a concert promoter of using a flopped New Years Eve concert at Red Rocks to defraud an investor out of $360,000, an El Paso County judge ruled that the promoter did nothing wrong and ordered the investor to pay $285,000.
The ruling last month followed an unusual series of events, which began when the investor's attorney withdrew two months before the trial. The investor, representing himself, then attended the first day of the trial in protest and walked out as it began, citing concerns that he was dying. A dozen days later, the judge ruled that he committed fraud and breached a contract.
The legal dispute commenced in July of 2018, when the investor, Jason Huffer of Colorado Springs, filed a lawsuit that accused promoter Tyler Fey and Fey's company of a "conspiracy to defraud and steal their way to over $360,000" while organizing a concert called "New Year's Eve On The Rocks" that would feature the rappers Young Thug, Post Malone and Migos.
When weather concerns forced organizers to move the concert to a smaller, indoor venue, Huffer claimed he lost the money he invested and sued Fey. The lawsuit garnered headlines because Fey's late father, Barry Fey, was a famous rock promoter here in the 1960s and 70s.
In 2019, Tyler Fey countersued Huffer, claiming it was Huffer and his company, Making Entertainment Great Again, or MEGA, that committed fraud. Huffer overstated his lines of credit and lied about using his mother's credit card in place of his own, attorneys for Fey alleged.
After several delays due to COVID-19 and Huffer's poor health, a six-day trial was scheduled to begin April 11, 2022. In February, Denver attorney Livingston Keithley asked the judge in the case if he could withdraw due to a "breakdown in communication and strategy" between Huffer and Keithley "as well as billing and payment issues." Judge David Prince granted the request.
Huffer then repeatedly asked Prince to push back the trial, so he could find another attorney, and Prince repeatedly refused to do so. Huffer also accused Prince of being biased against him and tried to get Prince to withdraw from the case. The judge refused to do that as well.
So, on April 11, Huffer "appeared in protest" at the trial, according to an affidavit he filed May 6. He told the judge that he had suffered three heart attacks in the 18 months prior and therefore didn't have "the physical strength nor the acumen" to complete a six-day trial. He told the judge that his blood pressure was rising and that he was leaving so he wouldn't die in the courtroom.
Twelve days later, the judge dismissed all of Huffer and MEGA's claims against Fey and granted all of Fey's counterclaims against Huffer and MEGA. He ordered Huffer to pay Fey's company $284,521 plus interest.
"Everyone involved in the NYE concert, including the plaintiff, worked tirelessly to make it a success and we all wanted the best possible outcome," Fey said in an email Monday. "This lawsuit was baseless which is why for the last four years we remained adamant to prove our innocence as we knew we were exactly that, innocent."
On May 6, Huffer asked that Prince, the judge, render his verdict void and schedule a new trial. Prince has not yet ruled on the request. If Prince doesn't order a new trial, Huffer will appeal to the Colorado Court of Appeals, he said in an email Monday.
"While we respect the authority of the court, we strongly disagree with its findings," Huffer wrote in the email, referring to himself and MEGA. "This case is far from over and we intend to exercise our right to appeal. We have a strong claim, supported by facts, and look forward to having an opportunity to present those facts in a full and comprehensive manner."