If you want to send flowers to somebody in another city, you can jump on 1-800-Flowers.com and choose from nearly 200 bouquets.
Jesse and Ty Hiss, meanwhile, want you to consider the polar opposite.
Fresh Sends, the Denver-based company the pair founded in 2020, offers customers a single bouquet option on any given day, and doesn't include a picture on their website, although one is generally posted to social media. The bouquet changes every week.
"We keep things really simple," Ty said.
The model is working. The couple said Fresh Sends did $2 million in revenue last year and is on track for revenue of $6 million this year. That works out to about 40,000 orders since launching in 2020.
"You might not get to pick what's in your bouquet, but we found that a lot of people really send flowers for the sentiment behind it, rather than the actual flowers," Jesse said.
On March 28, Fresh Sends closed its first funding round of $550,000. The round was led by New York-based Sidera Labs with participation from angel investors that included Karelle Golda, co-founder of Denver-based ski apparel brand Halfdays; Priscilla Tsai, founder of skin care company Cocokind; and Jeremy Cai, CEO of online luxury retailer Italic. 
"In these last two years, we've been operationally capped," Jesse said. "We can't keep up with orders, so we really want to use this money to uncap operations. I mean our sales could have been probably five-fold what they were last year, but everything we do is handmade, so we want to figure out how to scale efficiently and profitably."
Fresh Sends sources flowers from farms in California and Washington, as well as Ecuador and Colombia. Bouquets, which are wrapped in Fresh Sends-branded newspaper, are assembled in a 6,000-square-foot warehouse the company leases at 3888 Forest St. in Park Hill. 
The weekly bouquet comes in two sizes. The smaller, with up to 18 flowers, costs $60, while the larger with up to 27 flowers is $95. On top of that, there's a flat fee of $25 for priority overnight shipping anywhere within the continental United States. 
Customers can add a card with a personalized message for no charge. But there's no other add-on options.
"You can go on 1-800-Flowers.com and scroll through pages of corny bouquets, but I don't know a single friend who wants to send something like that or a fruit basket or a laser-etched trinket," Jesse said. 
Ty, a 27-year-old Colorado native, fell in love with floral design after helping her sister plan her wedding and started a company right out of college in 2017. In 2019, she started delivering about five bouquets a day for $35 each, ranging from Aurora to Boulder, and put thousands of miles on her car.
"After doing some research about the floral delivery landscape, I realized that there is a lot of room to bring some more heart behind it," Ty said. "That's when Jesse joined, and we decided to put all of our eggs in one basket."
Jesse Hiss, a former CU football player, worked in commercial real estate for both JLL and HFF before leaving to focus on Fresh Sends with his wife. Before they leased the Park Hill warehouse, the couple moved out of their Highlands duplex in 2020 and into Ty's sister's basement so they could use their home as an assembly line.
Originally, the company offered two bouquet styles at a time: one where customers could see what it would look like and a second that would be a wildcard.
"We realized that ultimately our customers were not complaining about not being able to choose their arrangement, so it makes things simple for us on the back end to make sure we're focusing on freshness, seasonality and making sure the arrangement looks it's best, rather than making sure that a certain color or type of stem is in there. And we haven't looked back since."
Large companies like 1-800-Flowers.com, Teleflora and Florists' Transworld Delivery have had a hold on the floral delivery market for quite some time.
The couple said they plan to use their new capital to grow Fresh Send's staff of 18 and open two more assembly and distribution centers on the east and west coasts. The centers will allow them to reduce shipping costs by 30 percent, Ty said, since overnight shipping nationwide from one location has been astronomically expensive.
"We really see ourselves as playing on the same field as Farmgirl Flowers and UrbanStems, some of these newer companies that have already raised $20 plus million dollars, and before this, we've raised nothing," Jesse said. "We want to scale this on the least amount of money raised possible."
And the company does plan to expand its product offerings somewhat in the fourth-quarter, allowing customers to add on non-perishable gifts such as candles or oil diffusers.
"We want to focus on items that people will enjoy and use, not just throw away," Jesse said. "We want to expand Fresh Sends into the go-to gifting marketplace, where you can send great goods with a wonderful experience to recipients all over the country."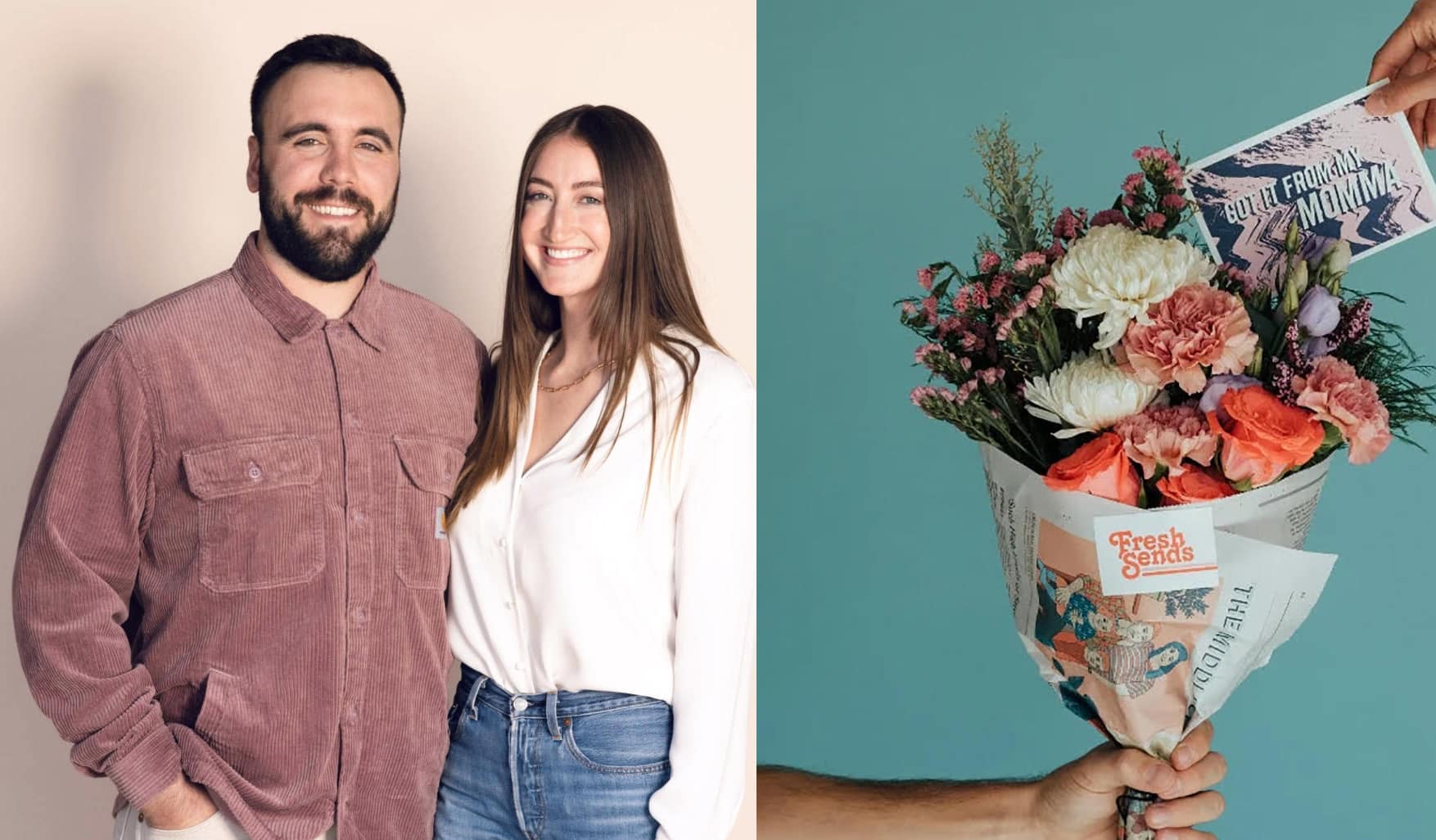 109881