A development firm is looking to keep on the Sunnyside of life with its latest planned apartment building.
Denver-based LCP Development is requesting a zoning change to build a five-story, 73-unit building at 4151 and 4155 N. Jason St. in the Sunnyside neighborhood.
The project site is in a largely industrial area that has been trending residential in recent years, thanks to a nearby bridge leading to an RTD rail station. Golden-based Confluence Cos. built a 434-unit apartment complex one block south, and Denver-based Prime West is currently constructing an eight-story apartment building across the street.
"Since the 41st and Fox Transit Station has opened, Sunnyside has seen a transformation of mixed-use, residential and commercial development," LCP associate Stacia Gebers said in an email to BusinessDen.
The 0.64-acre site where LCP wants to build is currently home to a warehouse and parking lot, and zoned for industrial mixed-use up to three stories. LCP has requested five-story zoning.
The property is currently owned by Plantek Distinctive Interiorscaping, which paid $545,000 for it in 2012, and is under contract to sell it to LCP. Representatives of the company did not respond to a request for comment.
A City Council committee forwarded the rezoning request on Tuesday to the full council for a future vote.
LCP's 82,000-square-foot building would include 2,750 square feet of ground-floor retail space, Gebers said.
LCP is offering to restrict six of the building's 73 units to those making up to 80 percent of the area median income, and another unit to 60 percent. While Denver has proposed requiring residential developers to incorporate income-restricted housing, it is voluntary for now.
The location is planned to have 63 parking spaces. Because the building is within a quarter-mile of a rail station, the property can have as few as .75 spaces per unit.
Gebers said LCP wants to salvage materials from the warehouse for possible use in the building, and said construction could start in spring 2023. A city planner told the council committee that the developer expects to reach a good neighbor agreement with the local neighborhood association, Sunnyside United Neighbors.
Projects that LCP has recently completed in the Denver area include the Shake Shack-anchored Larimer 30 project in RiNo, an apartment building at 777 Grant St. in Cap Hill and Edgewater Public Market, a food hall and retail complex in Edgewater.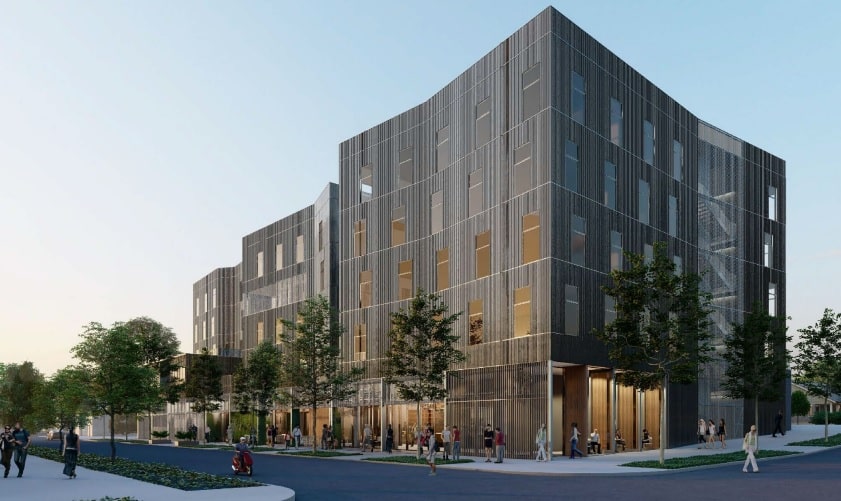 109041