Luke Bushek had plans to live out of his truck after buying a slide-in camper during the pandemic.
But after one trial run while camping, he decided the product was too heavy and cumbersome. So, he sold it and went back to the drawing board.
"The camper had a lot of bells and whistles, but it weighed at least 1,000 pounds," Bushek said. "It took a ton of time to get it in the truck, and it wasn't possible to drive around with it all the time."
He added, "I daily drive my truck, and with the camper in the back, I got terrible gas mileage and it was super heavy and wobbly. On top of that, once you pop it up and camp in it, you don't feel super protected. It still feels like you're in a tent because it's canvas."
The Denver resident then bought a hard-shell truck bed topper and built out a bed frame with sliding drawers underneath.
"But it's kind of small and claustrophobic, and you have to open your tailgate to let heat out at night and if you want to access your gear underneath in the sliding drawers," he said.
He searched for something in between the hard-shell topper and slide-in camper, but came up short. That's when he decided to build his own.
At the time, Bushek was working as a production supervisor and process engineer for Anthem Displays, a local digital billboard manufacturer, and was familiar with welding and fabricating products.
Last year, he built his first MoonLander prototype, a hard-shell topper that weighs 250 pounds with extended sides that can accommodate a sideways queen-size bed.
"My girlfriend and I took it to Yellowstone for a camping trip, and I got so much interest there that I decided to post a Craigslist ad and see what would happen," Bushek said. "The first two days, I got three orders. I had to shut the ad off because I wasn't prepared for that."
That was the start of Radica, Bushek's new adventure company for the modern nomad. The prototype is still on the back of his truck today.
The 29-year-old decided to quit his job after his previous company moved its factory operations to North Carolina and fully focus on his startup. He's self-funded the business so far and has been building each product on his own.
The MoonLander starts at $5,300. There are options for a mid-size shell for 5- and 6-foot truck beds, a full-size shell for 5.5- and 6.5-foot truck beds and a long-bed shell for 8-foot truck beds. Customization options, which range from $250 to $450, include a front/back window, a side sliding window, a vent fan, a queen-size, lofted bed frame, and a propane tank mount.
Bushek sold his first MoonLander, which the customer is now living out of, in September 2021 after building it in his 300-square-foot garage.
Last month, he signed a one-year lease for a 1,700-square-foot workshop at 1224 S. Bannock St. in the Overland neighborhood. Just like his first customers found him, he found the location on Craigslist.
Bushek said he has 11 MoonLanders on back order right now and is booked out until July. He's hired a welder and another employee to help him assemble the toppers.
"I don't plan to build these myself forever. I want to create an assembly line and hire people to help create an American manufacturing facility," Bushek said. "This space is going to allow me to not play Tetris every morning with all the stuff I had to move around. It'll give us more space for work stations, so we can have multiple MoonLanders being built at once and have a mini production line."
The entrepreneur wants to build up to 30 MoonLanders in his new space this year. If he does that, he hopes to move into a larger workshop and build up to 200 next year.
Next year, he plans to introduce a second product called RadRak, a dirt bike hitch carrier built for off-roading and fast loading, which will retail for $750.
"The pressure's on now," he said.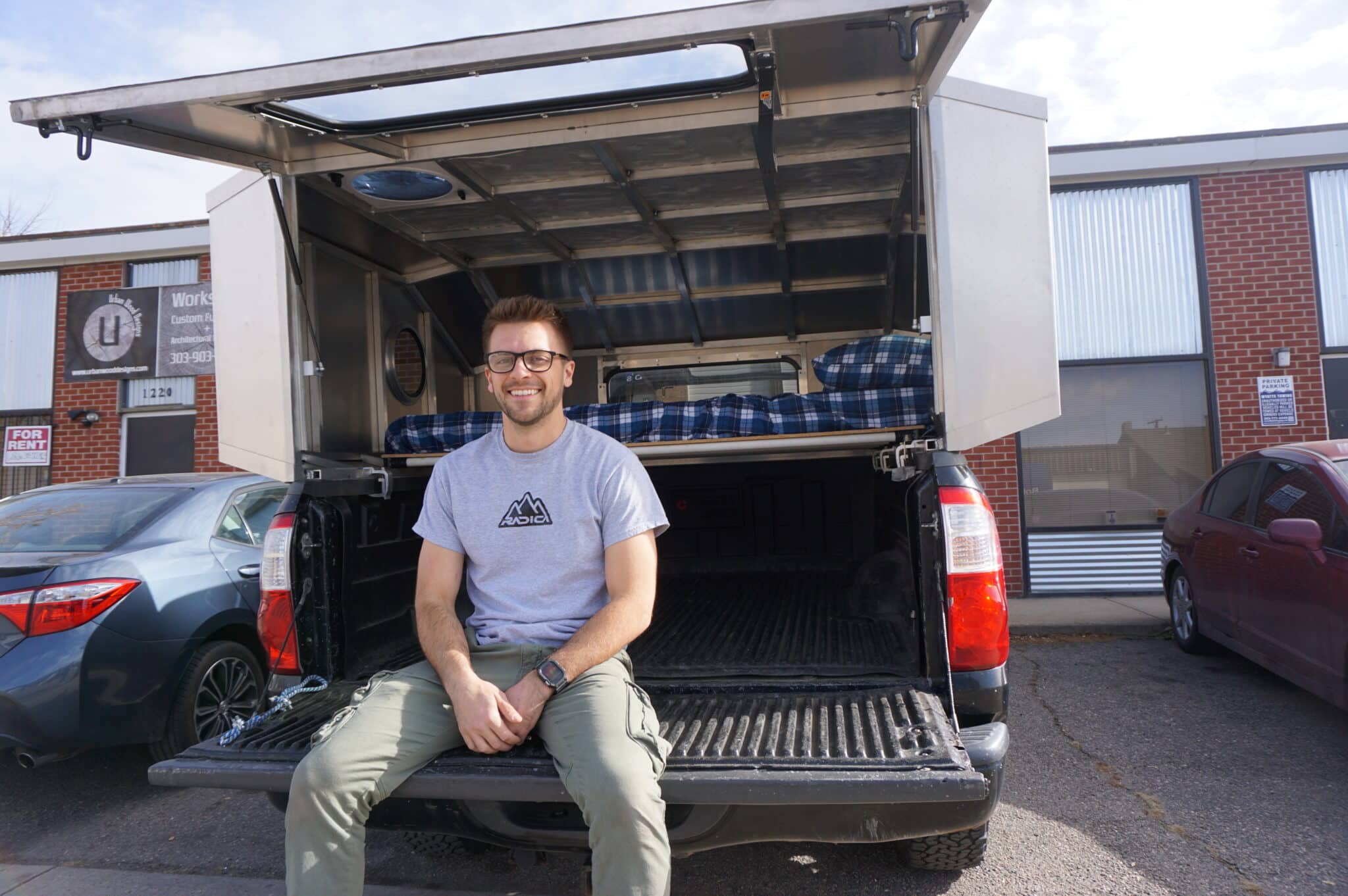 108748