The sellers of a 327-acre property in Golden have gone back to the drawing board, again.
John and Debra Medved — whose last name adorns area car dealerships — relisted Bear Mountain Ranch at 1154 S. Grapevine Road this month for the third time in two years, employing a new strategy to find buyers.
The Medveds originally listed the property's 17,000-square-foot main residence and 160 acres for $37 million with LIV Sotheby's International Realty in early 2020. A year later, it went back on the market with 167 additional acres, listed by Hall and Hall's Jeff Buerger for $25.75 million.
"When it was first listed it was frankly egregiously priced, and when Mr. Medved approached us at Hall and Hall, I feel he thought we could bring a different profile of buyer to the table," said Buerger. "We don't cater to a residential market. Our profile of buyers is a different animal, and so is our marketing."
This month, as the property again hit the market, Buerger is co-listing the property with Shawn Kelley with Compass- Denver and Re/Max Leaders broker Ronda Courtney.
The entire property is still listed for $25.7 million. But the Medveds have also gone to the effort to divide it into six different parcels, which are also listed for sale individually.
The cheapest parcel, 36 undeveloped acres, is listed for $2.5 million. The main residence on a 55-acre parcel is listed for $13.5 million.
"The idea behind the tri-listing is Hall and Hall's strength is in the ranch real estate market, and the other brokers involved bring a strong residential component to that," Buerger said. "This strategy will help the property receive maximum exposure, reduce its time frame on market, lessen the financial barrier to entry and increase the volume of buyers."
The family purchased the property in 1996, according to Jefferson County Records. It was previously home to Arapahoe East Ski Area from 1972 to 1984. To maximize their view, they removed the ski lifts and tree stumps and completed an extensive design and construction process in 1999.
"Mr. Medved appropriately titles his property as a 'tweener,' meaning it's not necessarily a ranch, but it's also not 10 acres and a home," Buerger said. "It's a unique place in the sense of its physical attributes, its rarity and characteristics. It has the best view of downtown Denver I've ever seen from any piece of private property, and there's a unique history with the Arapahoe East Ski Area."
From 1988 to 2020, John served as CEO of Medved Autoplex, and with Debra, he developed it into one of the largest multi-franchise automotive retail outlets in Colorado, according to the Colorado Automotive Hall of fame. The couple sold their six dealerships to Foundation Automotive Corp. of Canada in August 2020, according to previous coverage.
Sitting in the foothills of the Rocky Mountains just 19 minutes from downtown Denver, Bear Mountain Ranch was built to entertain the Medveds' six children. The 17,000-square-foot main residence includes dual offices, a ski room, a theater and a seven-car garage.
"If you have a big family, it's one of those properties that's perfectly turnkey to the point where you can just buy it, walk in, go to sleep and wake up and make breakfast for the kids in the morning," Buerger said.
On one individual parcel for sale, there's an equestrian barn with a bunkhouse, office, tack room and eight stalls, plus a 19,000-square-foot riding arena, a workshop with an attached 2,500-square-foot residence, a calf barn and a separate hay barn.
Another parcel includes a secondary 5,000-square-foot home for a caretaker or guests, where the Medveds' son used to live.
Wildlife, including elk, deer, and wild turkeys, call the ranch home.
"With 327 acres, the property is a great migration corridor for wildlife. John and his family killed three bull elk this year," Buerger said. "And if someone wanted to, they could get a snowcat and build their own private ski hill again."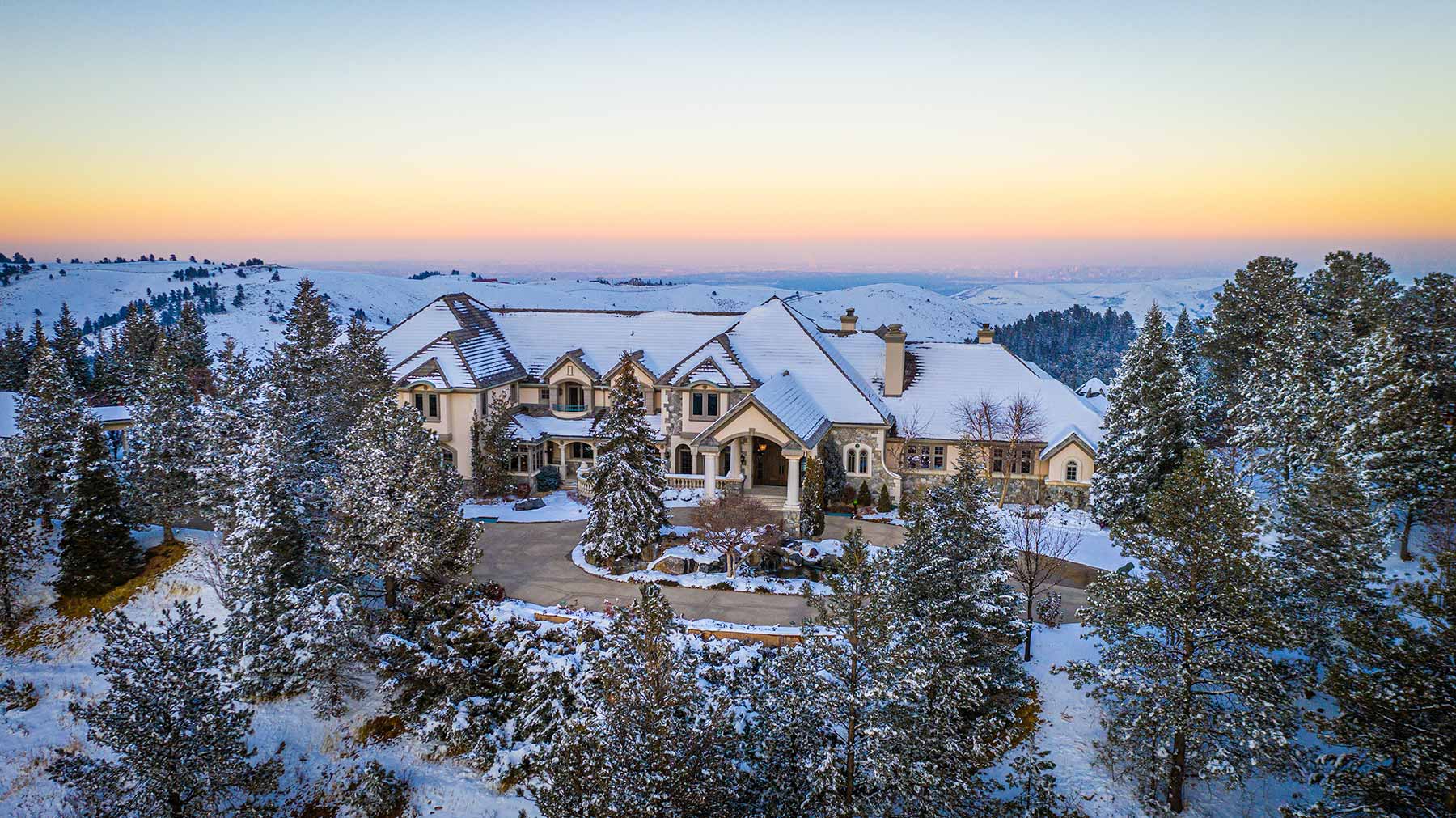 108419