When Ricardo Bottome was at camp as a kid one year, he fell through a treehouse with rotten wood and was scratched by a nail on his way down.
To prevent similar falls by others, he created TreePod — a hanging treehouse for kids — in 2015.
"I thought a treehouse you can take down when the kids grow would be convenient and safe, so that's how it started," Bottome said.
But he doesn't think hanging out in, or from, a tree is just for kids.
This month, he launched a Kickstarter campaign for his third iteration of TreePods for adults. The TreePod Canopy's patented design is a hybrid of a cabana and hammock. It features five windows and a six or 7.5-foot wide base that can hold up to 500 lbs.
To assemble, customers insert tent-like steel poles, secure the hanging rope to the canopy and pull to the desired height.
"Our customers are people looking for some backyard relaxation," Bottome said. "Anyone who enjoys a hammock will have a better experience in a TreePod. You can lay flat on your back and still enjoy the shade."
The Kickstarter campaign met its $20,000 goal in three hours. As of Thursday afternoon, the Boulder-based startup had raised $188,196 from 325 backers with 17 days to go.
Bottome said he plans to use the money to fund the first production run in China.
"It's good to have a first batch of product that already has customers," he said. "It makes it a lot easier to launch that first production, rather than make the full investment and sit on it until it starts selling. We can sell a significant portion, then get it made and help fund it, and that model works very well for us."
TreePod, which has three employees and an office at 5277 Manhattan Circle in Boulder, is a brand of Canaima Outdoors, which Bottome founded in 2009. The Boulder company previously owned Slacklines Industries, which sold slacklines, ziplines and hammocks. But Bottome sold that in 2019 to focus on TreePod.
Bottome also used Kickstarter to introduce his original TreePod product for kids, which raised $50,000 in 2015, and his first two TreePod products for adults. The TreePod Lounger and Cabana, both a more enclosed version of the Canopy, raised $307,638 in 2017.
"One of the things we had trouble with in the second campaign was we promised to ship to Europe, Australia and New Zealand, and it was difficult because 30 percent of sales were outside the U.S.," Bottome said. "Our product comes in a 30 pound box, so getting that shipped around the world was hard. This campaign was limited only to the U.S., so we thought we'd be happy if we matched the last campaign. But we've reached more than 50 percent of our last campaign in just over a week, and we hope to exceed it by a margin."
The six-foot TreePod Canopy will retail for $450 and the 7.5-foot Canopy will retail for $600. Bottome said he expects to start shipping the products in April.
Bottome said sales were originally slow for the TreePod Lounger, which is enclosed on all sides except for the opening, and the TreePod Cabana, which is enclosed in see-through mesh. Both retail for $400.
"It didn't perform well in traditional outdoor retailer sales channels," Bottome said. "We discovered it was more of a patio furniture item, and it's a big box that didn't show well in retail. I had the traditional brick-and-mortar, trade shows, space on the shelf mindset, and eventually, we opened up to websites that list our product. It turned out to be the right medium when you could see photos or videos of the products, and that's when sales started booming."
Sales doubled in both 2019 and 2020, and the startup is close to doubling again this year, but "we've had a bit of a hiccup because of production and shipping delays," Bottome said.
Bottome is a native of Venezuela, and said he originally started an outdoor product manufacturing and retail business there and grew it to 25 stores. But in 2009, he mothballed the business and left for Boulder in order to escape the country's ongoing socioeconomic and political crisis.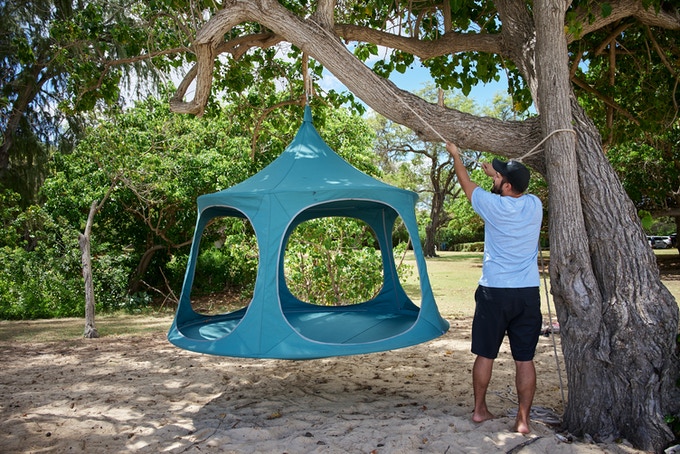 107186