With about two weeks before the city's deadline for its employees to be fully vaccinated, Denver may give bonuses to workers immunized or granted an exemption before Sept. 30.
But there are consequences for those who don't comply.
More than 14,000 employees are eligible for the proposed $400 bonuses. To be considered "completely vaccinated" from COVID-19, the city said employees should receive their final shot by Sept. 15 to allow for a two-week period before the deadline.
Employees seeking an exemption needed to have their request approved by Aug. 31. The vaccine mandate was issued Aug. 2 by Mayor Michael Hancock.
"The public health order requires all city employees (including on-calls, interns and volunteers) to be fully vaccinated by the deadline, unless they have received an exemption," said Jacqlin Davis, a spokeswoman for the City Attorney's Office. "The goal of the plan is to gain compliance through progressive discipline with employees who are receptive and enforcing the mandate against those who are not."
As of Sept. 6, the city recorded 8,365 employees as fully vaccinated or about 77 percent of the workforce. Another 747 employees filed for either religious or medical exemptions — 465 of those have been approved, 225 are under review and 57 have been denied.
But a City Council committee on Tuesday decided to delay action on a proposal that would provide a one-time bonus of $400 to employees who get fully vaccinated or receive a religious or medical exemption before the deadline. A total of $5.7 million is available for the bonuses.
Council members said they had legal questions and fairness concerns about the bonuses, and the committee will hear the issue again on Sept. 28.
Michael Strott, a spokesman for the mayor's office, said the city does not view the bonuses as an incentive because they are being offered after the deadline passes. He said the money is a reward for employees who comply.
Beginning Oct. 1, city departments and agencies will issue "contemplation of discipline" letters to employees who don't receive an exemption or provide their vaccine records by Sept. 30, according to the City Attorney's Office.
For employees who refuse to become fully vaccinated without an exemption, the City Attorney's Office said the "presumptive discipline" will be dismissal.
Other possible disciplinary action could be a 10-day suspension without pay, although those who are close to being fully vaccinated will not be punished. Employees who remain non-compliant past their 10-day suspension period could be dismissed.
According to the proposal, employees could receive their bonuses by Oct. 29.
"Our city employees have done incredible work under some of the most difficult circumstances over the course of the pandemic," Hancock said in a statement. "Complying with this public health order is another example of how they've stepped up for our city."
Employees with approved exemptions who don't wear masks or distance themselves from others while on the job could also face the same disciplinary consequences. Exempted employees must also submit to COVID-19 testing and "potentially other" safety protocols, the City Attorney's Office said.
On-call employees, interns and volunteers who fail to comply with the mandate will not be allowed to work for the city until they are fully vaccinated, the office said.
Private sector vaccinations
The public health mandate for employee vaccine requirements also extends to the private sector where people are working in close quarters, but the city cannot offer bonuses or dismiss those employees.
People who work in congregate-care settings such as nursing homes, shelters for people experiencing homelessness, hospitals, correctional facilities, teachers and school staff are all required to be vaccinated under the health order.
Denver Department of Public Health and Environment officials told BusinessDen they do not currently have data on the number of private sector employees in high-risk settings who have been vaccinated, but the department will investigate any violation claims starting in October.
"Ultimately, the city's goal is to achieve compliance, not to penalize employers," the department said in an email. "DDPHE is hopeful that impacted employers will work diligently to comply with the order. However, a potential outcome of failing to comply with the order is that the city may issue a citation to the employer for noncompliance, which could include fines and penalties."
On Thursday, in addition to mandating federal workers receive a vaccine by Nov. 22, President Joe Biden announced the Occupational Safety and Health Administration is developing a rule for all employers with 100 or more employees to ensure their workforce is fully vaccinated or require any workers who remain unvaccinated to produce a negative test result on at least a weekly basis before coming to work.
The requirement will affect more than 80 million workers in businesses with more than 100 employees, according to the White House.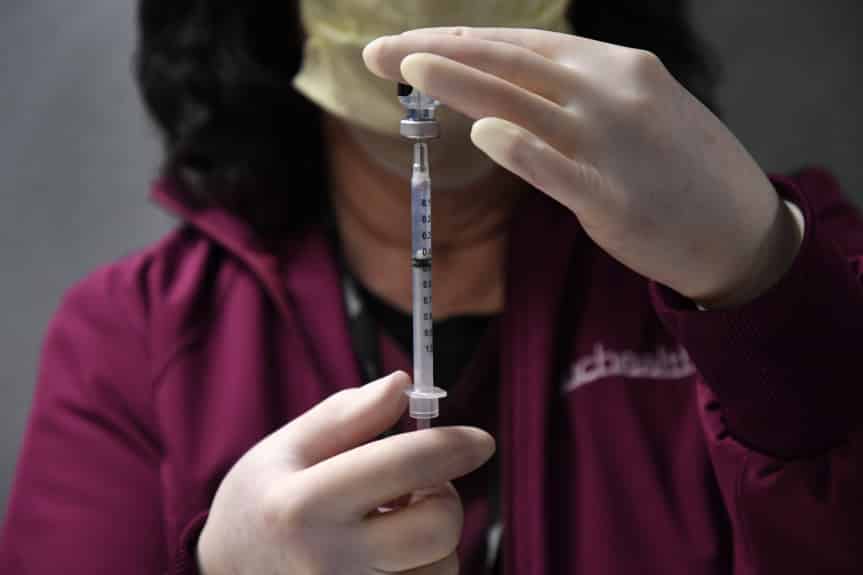 106554