Janelle Briggs and Ryan Egan are tired of hearing that millennials can't afford to buy a home.
So, they want to provide a solution for Denver residents who feel that next milestone is out of reach due to rising home prices — and they've settled on shipping containers.
The couple is gearing up to develop Stackhouse, a steel structure with slots for 62 of the containers, at 3425 W. Colfax Ave.
"People are looking for creative solutions to housing because really the only solution is finding a house and getting five roommates to help pay the mortgage," Briggs said. "That's the most flexibility our generation has access to is pooling our resources."
Stackhouse's seven-story building will feature 320-square-foot containers with 8.5-foot ceilings and at least 120 square feet of private outdoor space. Buyers will be able to choose from one-bedroom and studio layouts, paying between $110,000 and $130,000. Then they pay $200,000 to $350,000, depending on the floor and view, for a slot in the West Colfax building, which will also have shared common areas.
Residents will be able to customize their container using free design service from Denver-based Havenly. There's also a monthly $100 fee that covers WiFi, cable, trash, parking, water, electricity and property maintenance, like a condo HOA fee.
"We want to give people the opportunity to ditch that 30-year mortgage loan," Egan said.
Twenty-two of the containers in the West Colfax building will be set aside for short-term rentals, or a "try before you buy" period. Residents will be able to buy NFT shares in the Stackhouse corporation in exchange for a lease that allows them to live in a unit.
Stackhouse residents will have the option to remove their shipping container home from the tower at any time. A crane installed in the steel structure will make it possible if an owner wants to park the container on their own property, or transfer to one of the additional buildings that Stackhouse plans to erect in the future. If someone chooses to move their shipping container, they can then sell their slot.
"That way you never have to choose between a life opportunity and your housing," Egan said. "This can be your home for the rest of your life."
Egan and Briggs, who currently live in a model container home, said they are still under contract for the 0.27-acre West Colfax lot, which housed a car wash and was listed for $1.3 million. Broker Nathan Stern with Broad Street Realty is representing them in the deal.
The couple said they hope to break ground on the project next spring, and after 90 days of construction welcome residents in the fall of 2022.
"The city of Denver approved our concept in six months," Briggs said. "The way traditional builders work through the system is cumbersome, so we wanted to create a solution to build housing for more people faster."
The couple said they have received interest from more than 2,000 people after launching a waitlist in April, although no one has put down a deposit. The company will start accepting those in October.
"We have folks of all ages and backgrounds interested in Stackhouse, which I think speaks to the housing crisis we're in," Briggs said. "I mean there's a condo building right by us that's pegged as affordable and prices start at $450,000."
Egan and Briggs came up with the idea for Stackhouse in 2017. The couple, who used to live in Tucson, Arizona, met on the dating app Bumble.
Egan previously worked for an automotive repair company in Tucson that also bought mortgage notes on properties in California to supplement income, he said. He was working on a project in San Francisco that sat across the street from a shipping yard and was "staring at containers all day."
"That's when I got this crazy idea to live in an outfitted shipping container," Egan said. "I was sick of taking care of my 2,500-square-foot home in Arizona, so I asked Janelle if she was on board for the idea, and she quickly agreed. I immediately thought of the containers because it'd be easier to transport from one place to another, rather than driving a tiny home around."
Briggs had previously lived in a 36-foot travel trailer with her family while in high school, so this was nothing new. And they decided others would likely be interested.
"We are so excited to show Denver this new way to live," she said. "I'm living in the house I always wanted, and the kitchen I make coffee in every morning is the kitchen of my dreams."
So over the past two years, they quit their jobs, sold Egan's home in Tucson, raided their 401Ks and built a team to make their vision come to life. They've raised $200,000 in outside capital and will use pre-sales as a way to fund the development.
Originally, they had planned to build the first Stackhouse location in Tucson and the approval process stalled.
But last year, they submitted a development proposal to Denver, which proved easier than they expected. And after graduating from Techstars Anywhere Accelerator program this year, they said they received multiple suggestions to move the project to Denver, so "we decided to follow the signs," Egan said.
"We toured other cities for our proof of concept, but this is the first location of its kind in the world, so we knew we needed to be in a place where the city understood what we were trying to do and we had support, and all of that aligned for us in Denver," Briggs said.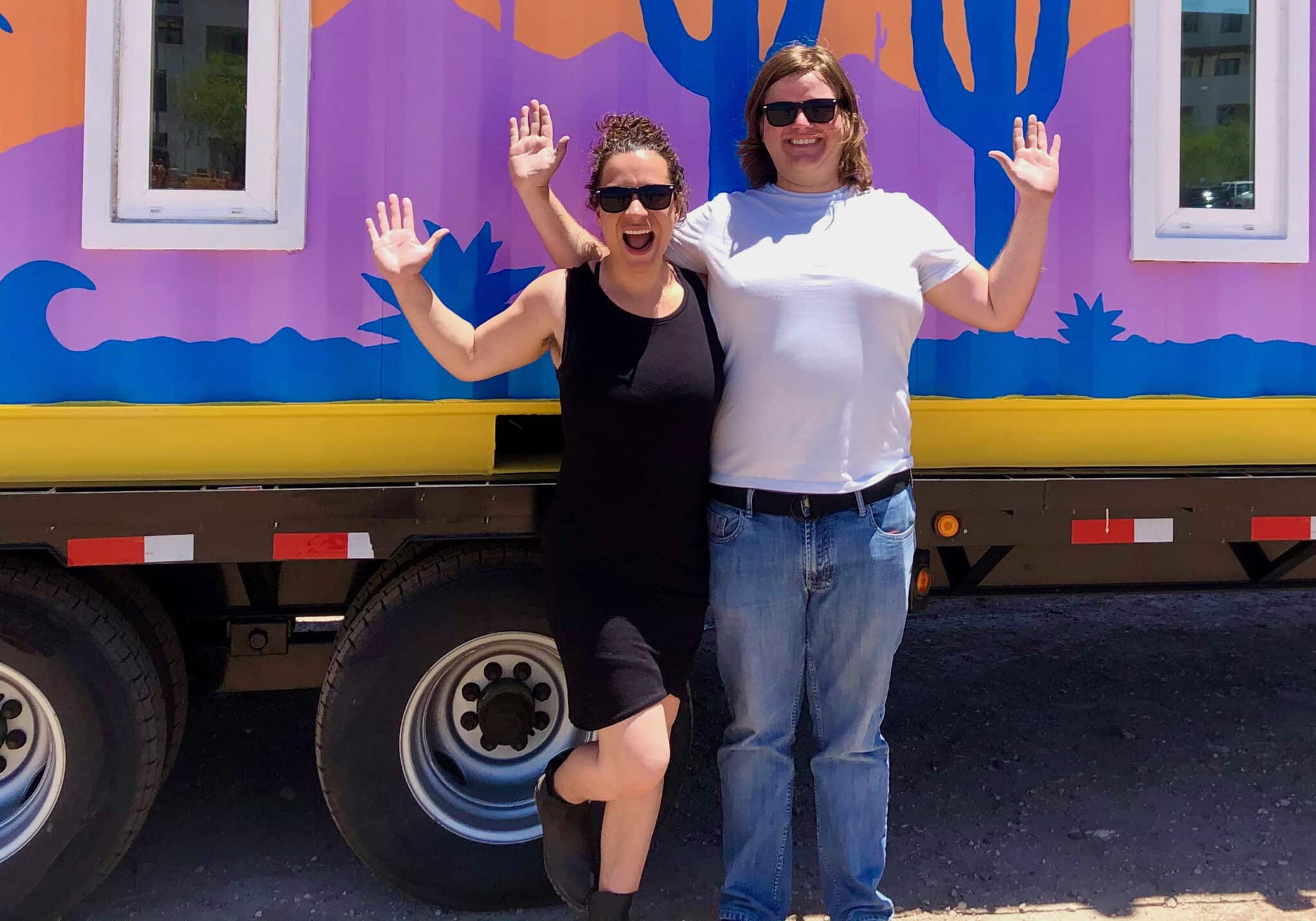 106257