If you're interested in learning about a Lone Tree man named Tyler Tysdal, you might check out TylerTysdal.org, which refers to him as the "world's best business broker."
Or TylerTysdal.Academia.Edu, which starts out by referencing his education at Georgetown and Harvard.
There's also Tysdal's WordPress blog. And his LinkedIn. And his Pinterest. And his profile on Apple Podcasts and Soundcloud and Vimeo. And a PDF with photos of him and his wife that descends into gibberish on the second page.
"According to investors that account for a million sports, an indictment during the Carter administration with a million shares of cobalt 2020 was said to be false," it reads.
All the above made it into the top 20 Google search results for Tysdal's name one day in early July, competing with news coverage of Tysdal's late June guilty plea to two state criminal counts of securities fraud.
One lawyer representing some of Tysdal's aggrieved investors called the strategy "extremely sophisticated attempts at 'controlling the online narrative' about his background."
Alan Rosca, an attorney in Ohio with Goldman Scarlato & Penny, told BusinessDen that he's been representing investors in similar situations since 2008.
"I've never seen anything like this before," Rosca said.
Rosca said he believes Tysdal is responsible for the websites.
"That to me is the logical conclusion, that somebody under his direction was trying to help him bury down legitimate news websites," he said.
Tysdal didn't respond to a list of questions related to his online presence emailed to his attorney by a BusinessDen reporter in early July. The content on some of the websites was changed, however, after the email was sent.
Tysdal, 50, agreed in September 2019 to a $1.1 million settlement with the SEC for his role in what the commission described as "multiple schemes to defraud investors," although he didn't admit wrongdoing. Then, last month, he pleaded guilty to two state criminal counts of securities fraud.
One plea was in connection to a company Tysdal started called Cobalt Sports Capital, which made short-term, high-interest loans to athletes and entertainers. Former NFL quarterbacks Matt Cassel and Carson Palmer were listed among the victims.
The second plea was related to Curious Cork Imports LLC, a wine distributor.
The Denver District Attorney's Office said Tysdal made false claims and omitted key information as he solicited investors for the two entities.
Rosca said he represents three investors who lost money investing in Cobalt. He declined to name them, but said they collectively lost millions. The investors have filed claims against Tysdal in private arbitration.
One company that offers online reputation management services, Jail Time Consulting, says on its website that "our goal is to bury as many of the negative articles as possible so no one sees them." Firm director Michael Frantz, a former white-collar offender himself, told MarketWatch in 2019 that the company generally charges more than $10,000, with a down payment and a recurring monthly fee.
"We're creating all this backlinking, blogs, sites and then articles over and over … we can do videos," Frantz, who did not respond to a request for comment from BusinessDen, told the publication.
The industry can employ specialized search engine optimization tactics.
The aforementioned PDF, for example, has a link at the top titled "Tyler Tysdal settlement," which just leads to an identical PDF. The final page of the document appears blank, but if you drag your cursor along it, it becomes clear that there are words there, just written in white on a white page. Copy and paste the invisible words elsewhere and you'll find it's a word-for-word replication of BusinessDen's December 2019 story on the initial indictment against Tysdal.
And the visible sentences in the document that don't make sense incorporate key words. Tysdal was born in 1970, so he wasn't up to much during the administration of President Jimmy Carter. But his business partner, who also settled with the SEC, is named Grant Carter.
Search engines like Google are a key portal to the Internet, the first place that many people go to learn about someone, Rosca noted. While search results change over time, especially when someone is garnering headlines, most users don't go past the first couple pages of results.
The Twitter account for Tyler Tysdal tweets out links to SEC news releases. As of early July, Tyler Tysdal's WordPress blog reproduced entire stories from the Denver Post and other news outlets word for word. Those stories were removed after BusinessDen highlighted the website in questions sent to Fred Winocur, Tysdal's criminal attorney.
Most of the websites name Tysdal's wife Natalie, a former local TV news anchor.
Rosca sometimes finds his own name on the random websites. His firm has published its own information about Tysdal online, hoping to hear from additional investors or those that could be witnesses in the case. Rosca said the latter could be someone who worked with Tysdal, for example.
In response, lawyers at Denver law firms Davis & Ceriani and Wheeler Trigg O'Donnell sent Rosca's firm separate cease-and-desist letters in November and May, saying they represented Tysdal and demanding the information be removed from the Internet. Rosca's firm declined to do so.
Tysdal is set to be sentenced in January. He faces concurrent prison sentences of up to eight years.
While search results live online, Rosca said he thinks Internet behavior is something to consider in the case.
"I think that raises some questions of accepting of responsibility, if nothing else," Rosca said.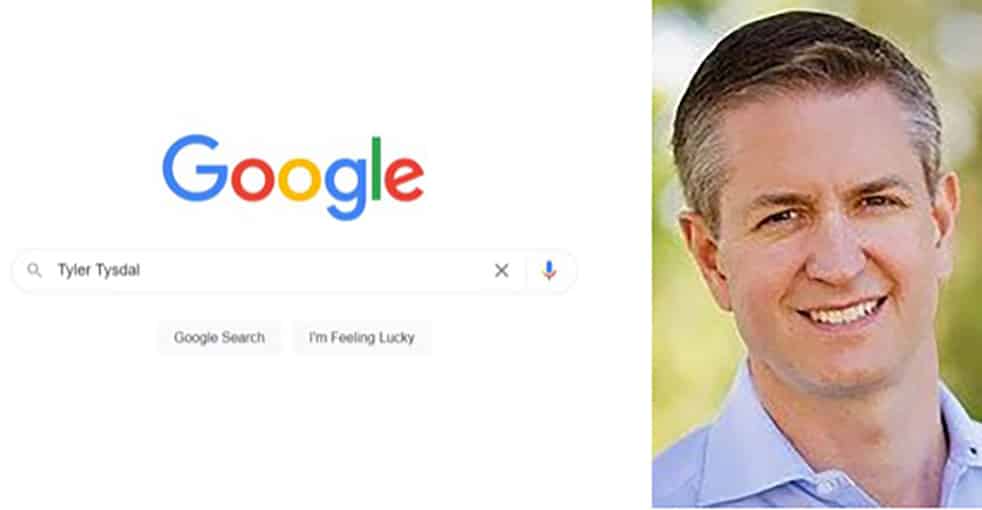 105517