The owners of Machete Tequila & Tacos like their drinks derecho — the Spanish word for "straight."
"Give it to me straight; give it to me quick," co-owner John (Wally) Wallrath said. "It kind of puts me off when I have to watch someone overthink the drink."
But Wallrath and his partner Dan Ohlson have had their fair share of margaritas, so they've decided to mix things up a bit.
Next year, the duo is planning to open a cocktail and wine bar called Derecho above Machete's Cherry Creek location at 2817 E. 3rd Ave., where Vinue Food and Wine Bar previously operated from 2011 to 2020.
Machete opened its first location in Cherry Creek in 2011. It has two more by Union Station at 1730 Wynkoop St., which opened in 2014, and in Congress Park at 3570 E. Colfax Ave., which opened in 2018.
Wallrath and Ohlson had been considering opening a new concept for a couple of years now, and tried to begin the process last year before the pandemic spoiled their plans. They signed a lease for the 1,800-square-foot space in April after the landlord approached them.
They are doing an extensive renovation, including two new bars and a private mezzanine, and hope to open in early 2022.
"We started serving tacos in Cherry Creek 10 years ago, and now there's one on every corner," Wallrath said. "So we thought a cool cocktail bar with a great wine list would give people a new option. The synergy between the two concepts will work because we want people who can't get into Machete or vice versa to have an easy spot to visit."
Derecho will serve a limited menu of food, a wide array of wine and classic cocktails such as Negronis and Hemingway daiquiris. Wallrath said they plan to open the bar starting at 3 p.m. during the week and 11 a.m. on the weekends.
Because the Machete owners have been in the building for 10 years, Wallrath said the landlord gave them a good deal. That will let them keep menu prices reasonable, because "costs are based on how much you're paying per square foot."
"Rather than a $26 New York-style cocktail, we're probably going to be a few dollars lower than everyone in town — which will give us an advantage," Wallrath said.
"We wanted to build something that the neighborhood didn't even know it needed," he added. "Every new hotel has a speakeasy or a fancy bar. And if you're in flip flops hanging out on a Sunday or on a bike ride, maybe you don't feel comfortable going to those places. So, we want to give everyone a comfortable option."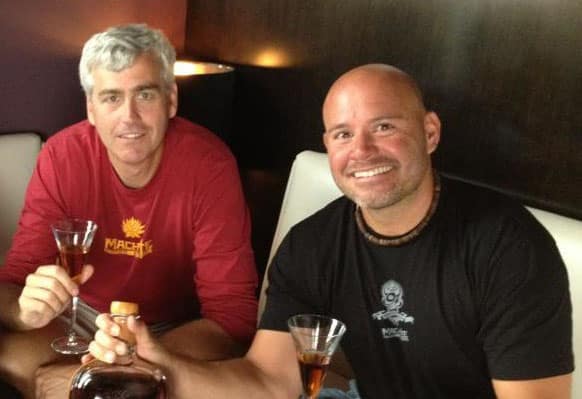 105410