Amy and Dave Nudelman were on a trip to Amsterdam in 2006 when the idea for cannabis-infused chewing gum popped into their heads.
Now, 15 years later, the couple has received a patent for Joygum, their THC and CBD-infused gum that has been on the market for three years now.
"It really wasn't that genius, and we're not the only ones to have thought of it," Amy Nudelman said. "However, we are one of very few who have been able to get a product up and running — hence our patent."
Joygum, which is sold in 175 LivWell, Green Solution and other dispensaries around the state, is a fast-acting edible that's quickly absorbed through the lining of your mouth and lasts around two hours.
Customers can choose from seven flavors, including bubblegum, watermelon, spearmint and blue raspberry lime. Joygum sells a 10-piece packet for $10 with 10 milligrams of THC in each tablet and another with 5 milligrams of THC per piece for $7.
There's also a CBD and THC-infused packet for $13 with 5 milligrams of each in each of the 10 pieces. For those who aren't looking for the "psychoactive effect," Joygum sells a packet with 10 milligrams of CBD and 1 milligram of THC in each piece.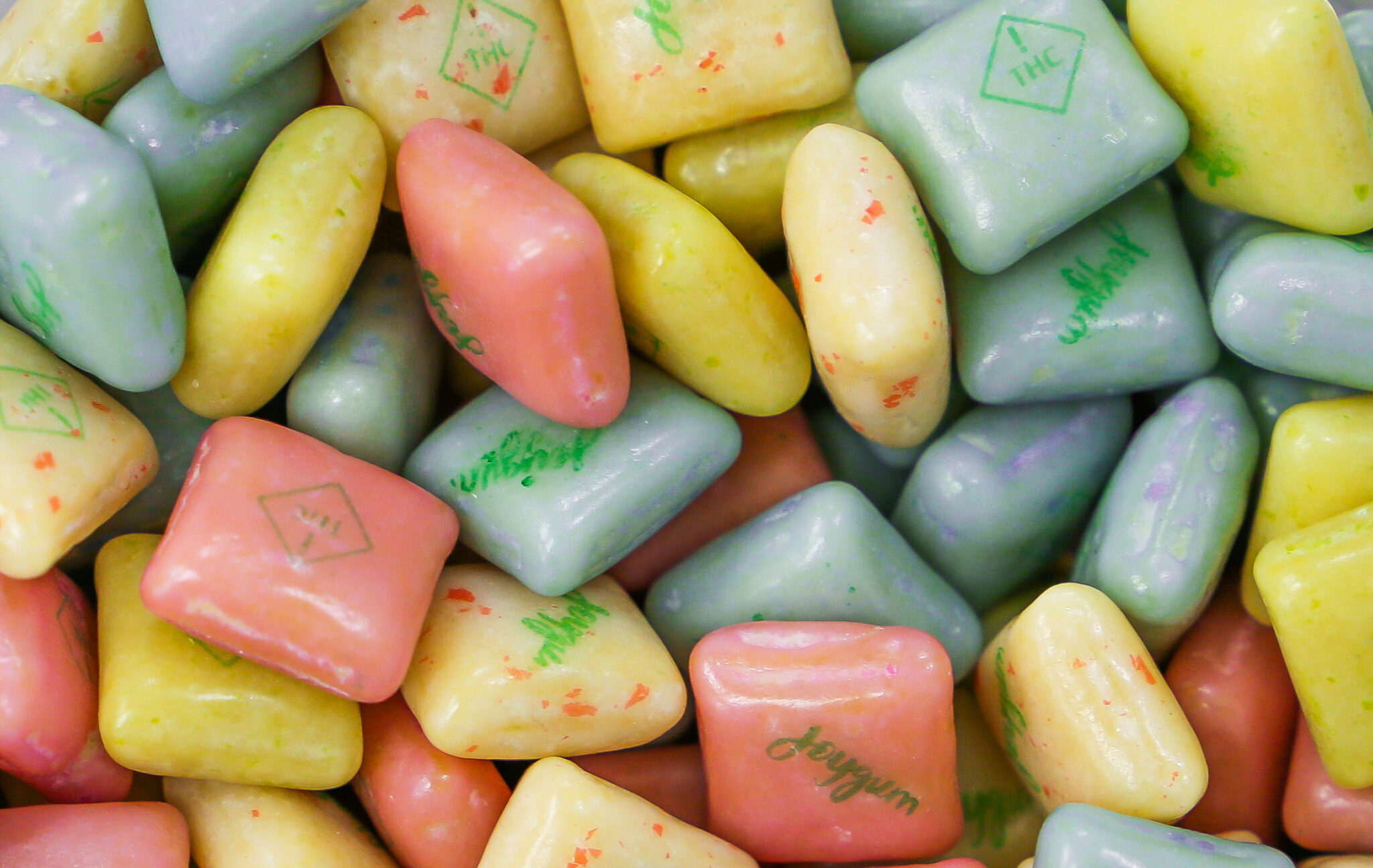 The patent the Nudelmans were granted at the end of March covers all chewing gum with "encapsulated cannabinoids," or THC that can be dissolved in water or saliva.
"We were so ecstatic," Nudelman said. "It's honestly a very broad patent. It covers all combinations, including CBD and THC, as long as it's encapsulated cannabis that's water soluble, which is the only way to really get it to come out of the gum other than some chemical compound I'm not aware of."
Joygum currently has no direct competitors within the state, although some have "come and gone," she said, because the formula is hard to perfect.
"We immediately feel comfortable to license the brand," Nudelman said. "We were really hesitant for a while because it is so unusual, and without a patent we were afraid to talk about it or teach other people how to do it."
She added, "We were manufacturing ourselves before, but now we can have more protection working with a partner here in Denver and take it to other states."
Dave has been working with chewing gum and nutraceutical-based products for 25 years and already had connections in the industry. The couple was visiting a friend's chewing gum base factory in Amsterdam when the idea came to Amy, who was visiting a local coffeeshop.
Amy, who had worked as a dental hygienist for 30 years, is a cannabis activist and enthusiast. Although medical marijuana wasn't even legalized in the state yet, she held onto the idea.
Using equipment Dave had gathered over the years, the duo began to formulate Joygum in 2014 but quickly realized that it wasn't as simple as they thought.
Most edibles on the market are made with an oil base, but the Nudelmans found that the oil and chewing gum were both too resinous to be mixed together. That's when they came up with the idea to use a water-soluble base.
"It took us 350 tries and a couple of years before we finally got the right formula," Amy said. "We got our first positive lab results back in December 2016, but it wasn't good enough yet for Colorado's picky market. We had to spend time making it taste good, too."
Joygum launched in September 2018, but Amy said they didn't perfect the final product until a few months later. The whole process cost an estimated $100,000, she said. The Nudelmans have funded 90 percent of their business and sought the other 10 percent from friends and family.
The couple originally filed for a patent in 2015, but ran into some issues with an attorney and dropped it. They picked it back up in 2017 and filed again with Denver-based Block45 Legal. The process was expensive and cost around $20,000, Amy said.
"After four years, we were honestly surprised to get it at all since it's so hard to get a patent for anything now-a-days in the cannabis industry," she added.
The Nudelmans were manufacturing Joygum themselves in a facility in Aurora. But after COVID hit, they decided not to renew their lease and moved out in March.
Now, thanks to protection from the patent, the couple hired Denver-based RMZ Colorado to help them ramp up production. They plan to expand distribution to another state this year and two next year, but would not disclose which ones.
Last year, Nudelman said, they sold 30,000 units of gum, which was similar to 2019 sales due to pandemic setbacks. The couple hopes to reach $600,000 in sales in 2021, she added.
In addition to Joygum, the duo is also planning to introduce a new product in July called JoyBombs, a coated candy chew with 2.5 milligrams of THC in each piece and 40 in each packet.
"Joygum is still an infant, but we're hoping to grow it so we can hang around as a small family company," Nudelman said. "The patent changes everything though and makes it a much more valuable product. So, we're excited to see where it can take us."