Time to delete the Bird app off your phone.
The Denver City Council voted to give Lyft and Lime five-year exclusive licenses to place shared scooters and e-bikes in the city on Monday night, after weeks of consternation in the earlier committee stage.
The resolutions passed in separate votes. The vote to license Lyft passed 8-4, with council members Amanda Sandoval, Chris Hinds, Candi CdeBaca and Jamie Torres voting no. Sandoval switched to the yes column as the resolution for Lime passed 9-3.
A spokeswoman for the city's Department of Transportation and Infrastructure told BusinessDen Tuesday that Bird and Spin, the two previously permitted operators that weren't selected for licenses, have two weeks to get their vehicles off the streets.
DOTI didn't alter its original license proposals despite concerns raised by council members in March and April. Councilwoman Robin Kniech voted in favor of the licenses, but highlighted that fact Monday night.
"Some pretty specific feedback was offered," Kniech said. "The term was too long — that feels specific — the request for greater investment in advertising and education — that feels specific. I get the idea that you felt you struck the best balance, but to have the contract come to this point with such a divided council, there is legal authority for the administration to plow forward without input, but it's not a requirement."
Hinds argued that the city is essentially counting on two private companies, Lyft and the partly Uber-owned Lime, to put aside their own best interests just because the city hopes they will.
"Transportation network companies who have subsidiaries or child companies, like Uber and Lyft do, will focus on shareholder values unless we document that they have to do otherwise," Hinds said.
Hinds noted that the license language only lightly references people with disabilities, requiring that the companies "shall endeavor" to provide accommodations for that group within the first year.
"Endeavor means to try," Hinds said. "We're going to request these companies try to make their offering for everyone in a year. If they don't try hard enough, well, no big deal? We have seen what happens in these industries when we aren't clear about requiring full inclusivity."
DOTI representatives insisted they'd gotten the best deal they could get out of the two vendors after an initial negotiation. Staff said renegotiating elements like the length of the license, or requiring more from the companies, would have required sacrifices in other parts of the deal.
Among the elements DOTI said it was seeking to protect in the deals: 10,560 free rides between the two companies (5,280 each) delivered over five years — or about 1,000 per company per year; reduced ride costs for need-based groups; and an assurance to distribute the vehicles even in "opportunity zones" where holders of free and subsidized ride vouchers are more likely to live or work.
DOTI representatives previously told BusinessDen that the department did not negotiate with companies other than Lyft and Lime, even though Bird and Spin tried to win the contracts.
Bird and Spin may be on their way out of Denver, but they might not leave the region entirely. Aurora welcomed Bird to its city this week.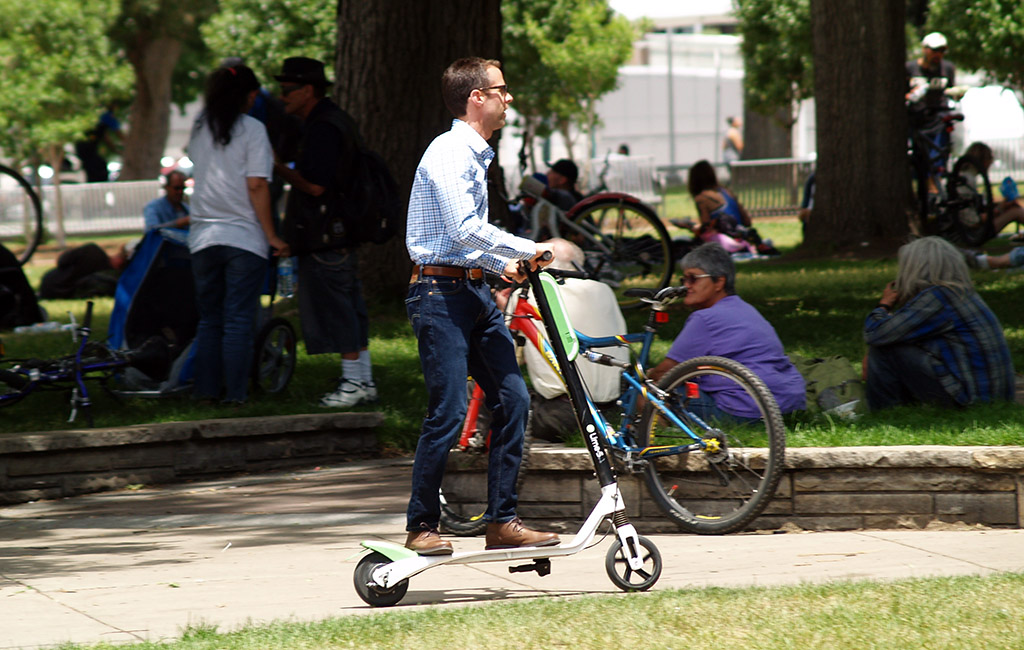 104587