Like Denver Broncos fans, Nathan Szklarski  wanted to find a place to unwind and scream at the TV. So last month Szklarski opened Horror Bar, a cocktail bar that screens scary movies every night.
"Sports bars have jerseys and TVs everywhere playing sports games, but I don't care about sports," he said. "I love horror and weird cult films, so I thought, 'Why not do the same thing for horror films?'"
Horror Bar is located at 5126 E. Colfax Ave. in the Hale neighborhood. It's open every day from 5 p.m. to 1 a.m.
In addition to screenings, the bar serves drinks inspired by horror films, such as the "May Queen" with a Swedish akvavit base and pear and lingonberry lemonade, inspired by the 2019 film "Midsommar." There's also "The Cheatin' Bitch," a J&B scotch cocktail inspired by the scene in one of Szklarski's favorite films "The Thing" when Kurt Russell's character pours a scotch on his computer after losing a game.
"One of my customers called us a dive craft cocktail bar, which I loved," Szklarski said. "Around 80 percent of our sales are cocktails we make in house."
Szklarski, a former bartender, lost his job at Osteria Marco downtown when the pandemic hit last year.
Ever since he was a kid, the 34-year-old said, he had a passion for horror.
"I remember getting my first copy of 'Frankenstein' at an old CD store that had a couple of VHS tapes," he said.
Szklarski had been mulling the idea for Horror Bar around for a year and decided to present it to his friend Josh Schmitz in September.
Schmitz owned Bellwether, the coffee shop and whiskey bar that previously operated where Horror Bar now does for six years. He also owns three new shops in Larimer Square: Ghost Coffee Saloon, Hidden Gems Ice Cream and Drunken Bakery.
Shortly after Halloween, Schmitz gave Szklarski the chance to test out Horror Bar as a pop-up concept in place of the whiskey bar. And it turned out to be a huge hit, filling up every night.
After two weeks, the second shutdown brought things to a pause. But the pop-up resumed in January and ran until Valentine's Day, when Schmitz decided it was time to give Szklarski full reins. He closed Bellwether in February, although he still owns the lease, and is now part-owner of Horror Bar, which opened March 5.
"Bellwether didn't close because of COVID, but sometimes you have to put an old dog down to get a puppy," Szklarski said.
Horror Bar is filled with decorations from Szklarski's house. It has 10 TVs and screens three different films for groups around the bar until the feature film comes on each night at 8 or 9 p.m. A schedule online previews each film for the week. The 2,600-square-foot space can usually fit 26 people with COVID regulations in mind.
"Film is important here, but it's still an interactive bar," Szklarski said. "Some people tune out the world when the movie is on, others continue on their conversations."
Every night since it opened, Szklarski said there's been a line out the door before they even open. So far, films Horror Bar has shown include "Ghostbusters," "Nosferatu" and "The Shining."
"When I opened this place, I had an idea of who I was catering to, you know, people like me," Szklarski said. "But people come here from all walks of life. We get a lot of customers who don't always feel comfortable going to a sports bar, nightclub or a fancy cocktail spot."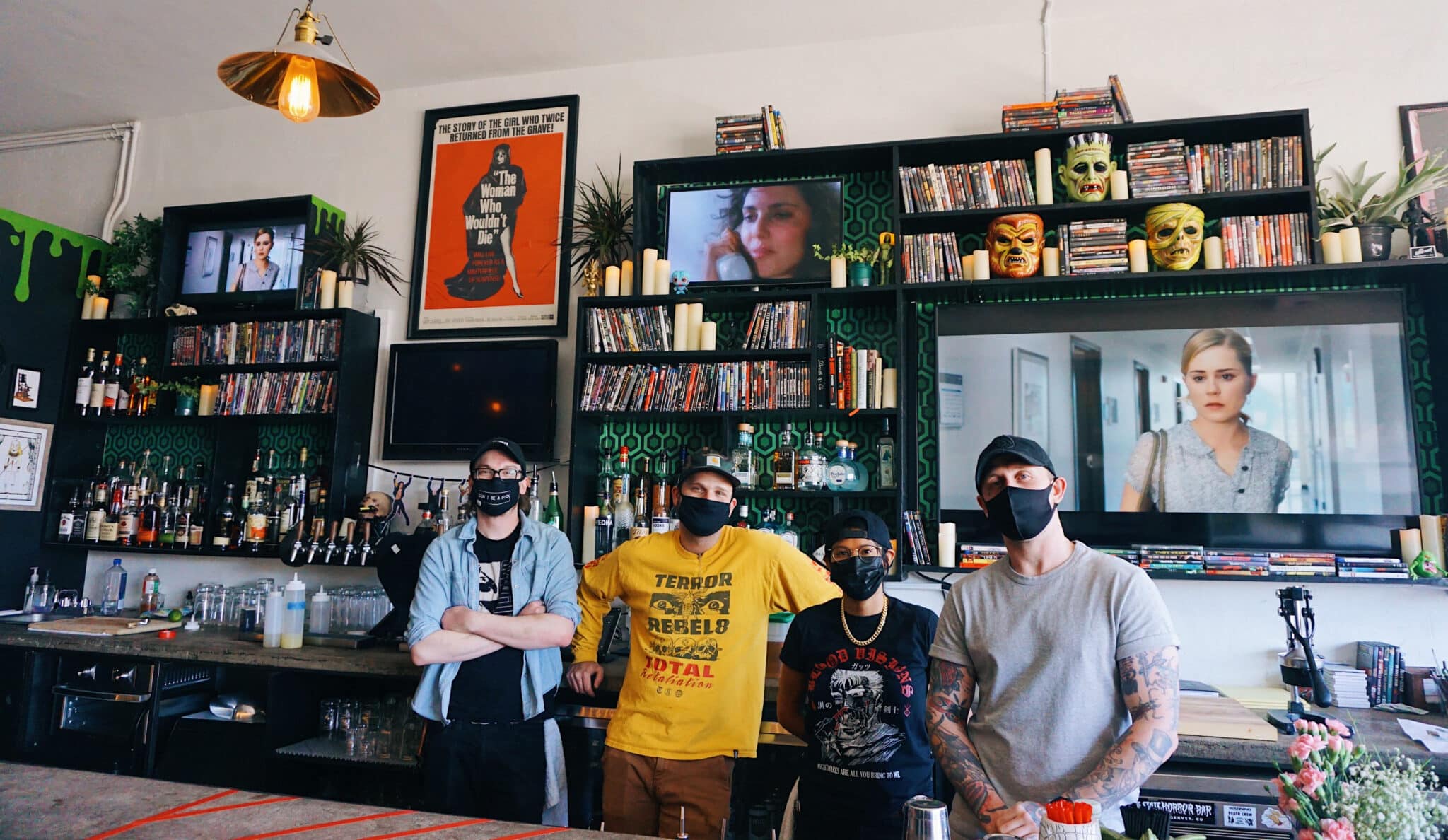 104160