Denver has run up a $27 million hotel tab renting out rooms at hotels for the homeless since last spring. And the nonprofit that runs the program is studying ways to keep it alive even as the pandemic recedes.
Starting in March 2020, the city has paid that money to the Colorado Coalition of the Homeless to lease 810 rooms at eight hotels and staff them. That comes out to about $34,000 per room so far.
The participating hotels are not open to other guests.
The current contract with the Coalition — which reported 2019 revenue of $80 million, according to its tax forms — runs through June 30. But while immunizations are increasing and government pandemic restrictions are easing, the program may be extended, according to the head of the nonprofit.
"We want to probably try to keep the activated respite motel available so we can still provide quarantine for folks who are not vaccinated and are testing positive," said John Parvensky, CEO of Colorado Coalition for the Homeless. "And probably, until shelter capacity has grown with the new shelters in place, we'd like to be keeping at least a couple of (the other facilities) operating past June 30. That's been the conversation with the city."
Parvensky said the city and nonprofit are exploring buying outright one or more facilities for long-term use. But the right opportunity hasn't arisen, he said.
The city is also talking with hotel owners about potential acquisitions.
"The new American Rescue Plan Act includes funding to address homelessness, including for purchase of motels for non-congregate shelter or longer-term housing," Parvensky wrote in an email. "We have been discussing possibilities of purchasing one or more motels. However, the pricing asked by many owners is not in line with actual post pandemic valuation. We will keep looking for reasonable opportunities."
Participating hotels span from downtown to interstate exits
The city and Coalition refused to provide a list of the hotels and motels involved, citing a confidentiality agreement with the operators of the facilities.
BusinessDen identified seven of the hotels through documents obtained by a Colorado Open Records Act request.
One hotel is two blocks from the Colorado Convention Center. A second is in Uptown. The others are generally right off Interstate 25 or Interstate 70.
• Aloft Hotel, 800 15th St.
• Hampton Inn, 1845 Sherman St.
• Comfort Inn, 401 E. 58th Ave.
• La Quinta Inn, 3500 Park Ave.
• Quality Inn, 2601 Zuni St.
• Comfort Inn, 4685 Quebec St.
• Western Motor Inn, 4757 Vasquez Blvd.
BusinessDen called each of the seven facilities and left messages with several, but did not receive a comment from any of them.
Parvensky told BusinessDen that the per-night room charge was less than the market rate, between $45 and $70 per room.
When the program began, the city expected 75 percent of the cost to be reimbursed by the federal government. It now expects to be fully reimbursed because of a change made by President Joe Biden's administration.
Some of the 810 rooms have been double occupancy at times, meaning as many as 1,100 people have been housed on a given night, according to the Coalition.
But more often, the rooms are single-occupancy, meaning a typical night involves about 800 of what is believed to be 5,000 homeless in the city. Parvensky said another roughly 1,400 people are typically sheltered in congregate settings.
Homeless individuals eligible to stay in the hotels are those who have tested positive for the virus, and those who have factors or conditions that make them considered high-risk. That includes being over 65 years old, lung disease or asthma, heart conditions, being immunocompromised, severe obesity, diabetes, chronic kidney disease, liver disease or pregnancy.
Those not eligible can stay in the city's homeless shelters.
Staffing, hotel concerns limited scope of program
Cost was a consideration preventing the Coalition from providing more rooms, Parvensky said, but not the primary one.
"We've found it's been challenging in terms of maintaining staffing for operating this type of program, particularly temporarily," Parvensky said. "Salvation Army provides meals and overnight services at some locations and they indicate similar challenges. You can't necessarily just scale it up, because it's difficult to find staffing."
Workers at the hotels in the program were also given early access to the vaccine, according to emails obtained by BusinessDen.
Additionally, Parvensky said, it was challenging to find hotels and motels that were willing to participate, even while essentially all their business was shut down.
"They were worried about the stigma of being a COVID hotel," Parvensky said. "What happens when they convert it back, and there were heavy requirements for cleaning, sterilization, other things in terms of returning the rooms. The burden of doing that is something we're still planning for."
Councilman Paul Kashmann said the program has "enabled us to do a bit better of a job of social distancing within our existing shelters."
"I don't think it's done a heck of a lot to redress the causes or the symptom of homelessness, but it has protected a whole bunch of folks who might otherwise have been outside in situations that are simply not conducive to the human spirit or the health of the body," he said.
Of the estimated 5,000 people who are homeless in Denver at any given time, Parvensky said that just nine — 0.18 percent — are believed to have died from COVID-19.
"That's much less than was projected at the beginning of the pandemic," he said.
Parvensky said some individuals have been in the hotel rooms for nine or 10 months, but the program can't continue at its current level forever.
"The challenge is once this is no longer a funded activity from FEMA, and you look at the cost of operating a motel for shelter as opposed to a congregate shelter, it's, I think, more costly to do it this way, even though there are better outcomes," Parvensky said. "We have to figure out what to do with these places shutting down as we work on rehousing strategies to get people into longer-term housing options."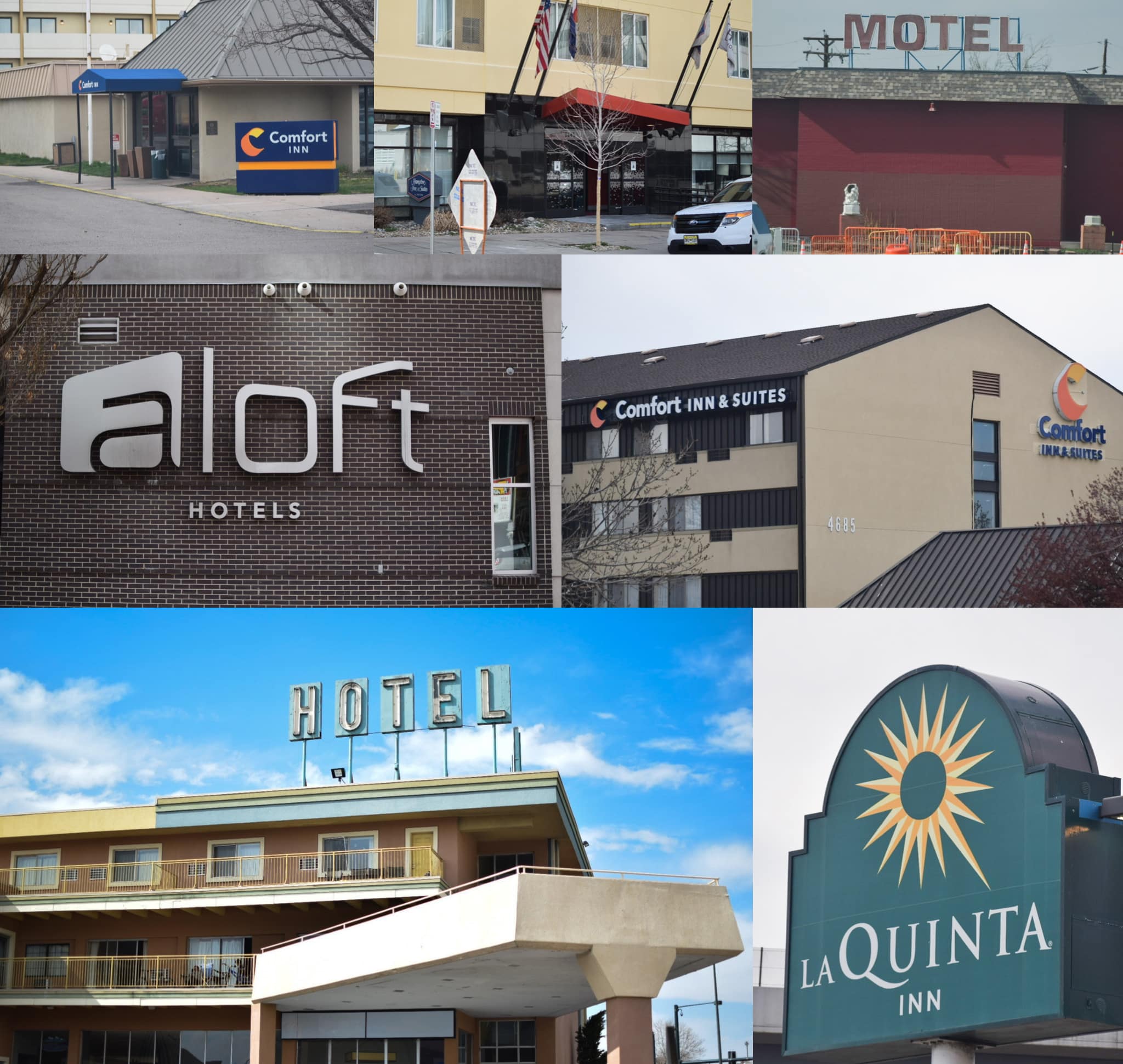 104155