Fresh out of the University of Denver, Salomon Marcos Garza Jr. was told he had three months to save Tivoli Brewing Co. when he took over in January.
The 22-year-old is the son of the brewery's majority stakeholder, Salomon Juan Marcos Villarreal, and had been working at Tivoli for six months before his promotion to replace former CEO Ken Hehir.
"I'm very young but I have the drive and the education," Garza told BusinessDen. "It's a team job and, I know I don't know a lot of stuff about the brewing side and selling side, but I've been working with my staff to learn. As one of the oldest breweries in Denver, we want to make it the best."
Tivoli's brewing facility and taproom is on the Auraria college campus in the Tivoli Student Union. The brewery is an independent business, although it acts as a teaching facility for students at Metropolitan State University of Denver.
Garza said Tivoli's board of directors told him at the start of this year that the business had been losing money for the last three years, and would be shut down at the end of March if things didn't change.
Since then, Garza has cut Tivoli's staff count from around 50 to nine, and slimmed down the brewery's products from more than 30 to four. He's also developing two new drinks geared toward younger customers, he said.
"We're canning and selling more beers than ever before, and our financial statements are improving after lowering our monthly cost by around 80 percent," Garza said.
At the end of March, when it was time for the brewery's board of directors to reevaluate the business, he said they were impressed by the improvements and have decided to let him move forward with his vision to revive the company.
"I don't know exactly how the job landed on my plate, but I took it head on and am learning along the way," Garza said. "I was going to work in Miami for a real estate development company. But when the board decided it was time to optimize the company and make it younger, they turned to me."
Tivoli's change in ownership through the years
Tivoli's roots go back to 1859, when it opened on what would become the Auraria Campus a year after Denver was founded. It continued to operate until 1969. In 2012, Corey Marshall and his wife Debbie decided to reignite the brand, and moved it back into the original location at Auraria three years later.
The Marshalls later brought on a group of investors, which included Garza's father, to help grow the brewery. Corey stepped down as president in 2018, but still remains on the board. Garza said there are currently around 80 investors.
Garza's father owns GD Holdings, a Denver-based real estate investment group, and is the third-generation chairman and CEO of Mexico-based Grupo Denim, which makes jeans and other textiles for major brands like Tommy Hilfiger and Wrangler. The financier is also part of the ownership group for the Four Seasons Hotel in Denver and the Ritz-Carlton in Beaver Creek.
In 2018, Tivoli's board of directors hired Ken Hehir, whose 30-year career in the brewing industry includes time with Chicago-based Molson Coors and Portland-based Pyramid Brewing, to replace Marshall.
Hehir said Tivoli was losing more than $2 million a month before he was hired, and that he focused on rebranding the brewery, transitioning production from bottles to cans and landing a new major distributor. He said he cut losses by 90 percent, and that the company was on track to break even before the pandemic.
The pandemic strikes
When the pandemic hit, shutting down bars and restaurants, a majority of the company's revenue stream dried up.
Hehir said 80 percent of Tivoli's revenue came from draft business and was lost overnight.
"But we adjusted accordingly," the former CEO said. "We made furloughs, ramped up our can business and reopened the taphouse in June, so we had a decent summer regaining business and were doing OK."
Garza said Tivoli also negotiated some of its bills.
"We owe a lot of money to vendors, so the first thing we did is reach out to them and explain our new strategy and negotiated deals," Garza said. "We have six-month or eight-month interest plans, but we're on track to pay all of our past debt from 2019 and 2020 by December 2022."
In June, when Tivoli received its first round of PPP funds, which was $292,000, the company had around 50 employees, Hehir said. He added that Tivoli received a second round of $490,000 in PPP funds with an additional $90,000 from a payroll tax credit.
"If we hadn't have gotten the PPP money, it would have been shut down already," Hehir said. "And once that runs out, they're on to the next crisis."
But the second shutdown in November brought things to a head, and the taproom has been closed ever since. The company also paused its brewing at its small location inside the Westin hotel at Denver International Airport.
Major layoffs started in December, beginning with Hehir. The board offered him the opportunity to stay on month-to-month, helping Garza transition into his new role. Hehir declined.
"The majority investor essentially ran out of patience and wanted to try something different," Hehir said. "I had proposed several scenarios of how to scale down and ride out the pandemic until things got back to normal, which I said would be the summer. That's not what they wanted to hear, so they put their own plan into place."
Lots of layoffs 
All of Tivoli's taproom employees, around 30, were laid off when it closed a second time around in November, according to Garza.
In addition to Hehir, Tivoli's board also laid off the brewery's director, general manager, and all of the sales team except for one person, Garza said. Two brewers also quit when the layoffs began.
Now, Tivoli's staff consists of Garza, three brewers, two people in sales, a warehouse manager, and a financial team of two.
"COVID hit us really hard, so we were in a tough financial situation, and the way things were going, we didn't see a future," Garza said. "We need to get a return on our investment, and even though we took a hit on our brewing team, we are selling and making more cans with a three-man team than ever before."
The staff cuts were quick and without warning, done over email and the phone, according to former employees. No one received severance.
"When we were told Sal Jr. was taking over the business with zero experience in the field, we were concerned about how we were going to be treated," said Kyle Warren, Tivoli's former head brewer. "The previous leadership team was always looking out for us and took care of us, and what happened was exactly our worst fears, where they only cared about the (board) members and not the people."
Warren, who worked for Tivoli for a little more than three years, is also a sergeant in the Army National Guard. He was put on orders for COVID support and temporarily left his position at the brewery to help with vaccination and testing sites around Jefferson County.
Before he went on leave for three months in December, he was promoted to director of brewery operations, he said.
"I kept in touch with him those three months, tried to get a picture of what was going on, but I started to hear less and less, so I got a bad feeling and figured something was going to happen," Warren said.
Two weeks before he was expected to return, he hadn't heard anything from the company yet. So in March, he emailed Garza, who called and said that, although Warren accepted the position, it was no longer available.
Instead, he offered Warren a shared position as head brewer with two other employees at 35 hours per week. Warren declined and is now working full-time for the National Guard.
"When Sal called me, he blamed it on the investors, and I had asked him why he waited so long to let me know," Warren said. "I asked him directly, 'So I'm not getting this position since I was gone for my military service? Had I walked into it day one after I accepted the position, we wouldn't be having this conversation.' He asked me not to put words in his mouth, but that was my assessment of the situation."
Westword reported in January about Tivoli's layoffs and interviewed Heather Chantler, the now former sales director, who, at the time, was defending the company.
Three months later, she was also fired, she said.
"It came out of nowhere and was a sucker punch," Chantler said.
Chantler, who has 15 years of experience in the brewing industry, started at Tivoli in January 2020 and was promoted to sales director in December after Hehir left. She said she helped with the development of the brewery's two new beverages, a light lager and seltzer.
"The company turned a profit for the first time in three years during the first month I was sales director," Chantler said. "But I guess I just wasn't moving fast enough for Sal and the board."
Chantler was replaced last month by Justin Gwin, previously director of sales for Seattle-based Fremont Brewing Company.
"We needed more experience," Garza said. "Justin managed a 50,000-barrel facility in Seattle, so we think he fits better with our future."
Future of Tivoli 
In addition to major staff cuts, Garza has narrowed down Tivoli's core beers to four: the Mountain Squeeze juicy IPA, the Helles lager, the Bohemian Girl pilsner and the Mile Hi hefeweizen.
Before, he said, the company was selling more than 30, which included seasonals and year-round beers like the Brut-Iful IPA and Roadrunner Red. Those will still be served in the taproom, which Garza said will reopen at the end of July in preparation for the return of students. Tivoli is also planning to lease its kitchen out to a local burger joint, he said.
Tivoli will still brew and distribute the Slam Dunkel in November and She's My Cherry Pie lager in September.
Although the staff only has three brewers, Garza said production has ramped up with the focus on the four core brands.
"We plan to hire more brewers eventually, but the goal is to have the same team as before and produce three times more," he said.
In January 2020, Tivoli canned 1,500 cases of beer and produced around 300 barrels of beer, according to Garza. This January, he said Tivoli canned more than 4,000 cases and produced 450 barrels of beer, growing production by 50 percent.
Overall, Tivoli produced 4,000 barrels of beer in 2020, and Garza said the company is hoping to double that this year.
Warren, Tivoli's former head brewer, said the facility needs to produce somewhere around 12,000 barrels a year to be profitable, "which has never been done and would more than max out the 30-barrel facility's capability."
"That brewery needs a decently sized staff," Warren said. "It's not built to be a mom-and-pop brewery. It's a production facility to a degree. It's a 30-barrel facility that you can turn over three times a day, so that's almost 2,000 gallons and takes about 22 hours, which is no easy task, plus distribution and the 17 tanks they have."
Tivoli contracted with Denver-based Sleeping Giant Brewing Co. for two production runs last year, but put a pause on it when the pandemic hit. Garza said Denver's Great Divide Brewing Co. will contract brew one of Tivoli's new beers.
Eventually, Garza is hoping to add a 20,000 to 40,000-square-foot warehouse facility to boost production, since the old brewery's layout isn't as efficient as it used to be, he said.
"That was the original plan five years ago, and even though it will take some extra money, that's the goal," Garza said.
With bars and restaurants opening up again, Tivoli's draft business has started to pick back up, but Garza said it is still down 30 percent compared to pre-pandemic numbers.
Garza said he wants to change Tivoli's overall brand to be geared more toward college students, rather than "hardcore craft beer drinkers." In the third quarter of this year, Tivoli plans to introduce Rocky Mountain Outlaw, a 4.2 percent ABV American-style light lager.
"Similar to Montucky or PBR, we imagine it will be the perfect light, crisp beer for game days and day drinking," Garza said.
The quarter after that, the brewery plans to introduce a yet-to-be-named seltzer at around 6 percent ABV. Tivoli is working with a beverage consultant in Kentucky called Flavorman to develop the flavors.
"We're adapting better late than never to this new trend of making beer younger and modern with the same old school recipes," Garza said.
He has also hired Atlanta-based Get Engaged Media to help with its marketing efforts, focusing on social media users with large followings.
"We want to make the brand younger. But if nobody knows it's young, it's not going to be successful," Garza said.
Garza also plans to expand Tivoli's distribution outside of Colorado to Arizona and Texas. The brewery is on track to break even this year for the first time in three years, "which will put us in a very good position for us to grow by 2022," he said.
"I'm looking forward to walking in and showing our investors that we've made our goals at the end of the year," Garza said. "The board believes in me, and I trust in myself, and I think these changes will benefit Tivoli in the long run."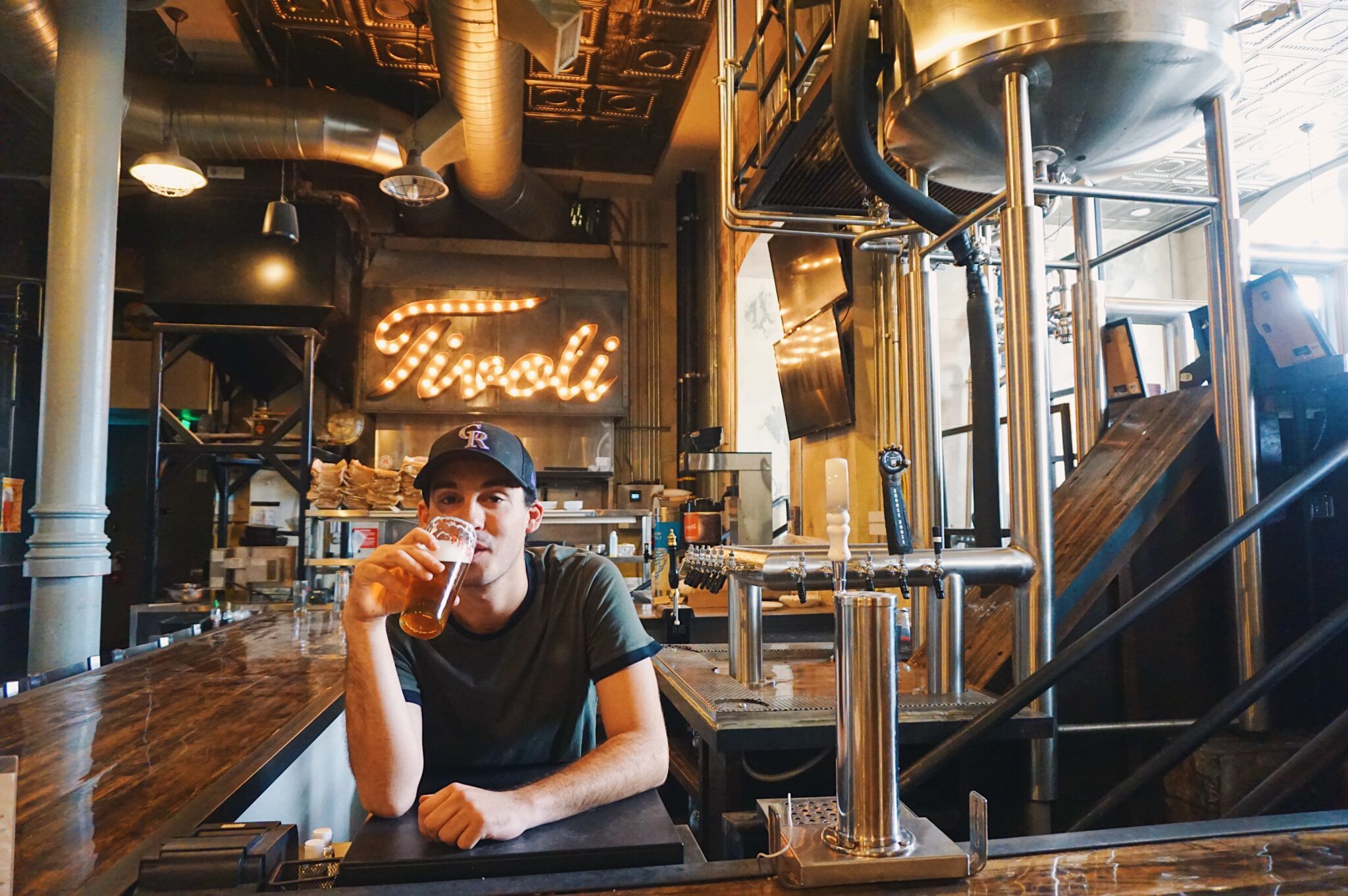 104000