Denver's plan to allow alcohol vendors to apply to create areas of the city where people can take their drinks outside beyond the individual establishment itself — but within designated boundaries — might be getting accelerated.
When the city's liquor common consumption license ordinance was passed earlier this month, it came with a 90-day review period before the city would accept applications. But the city's Excise and License Department is asking the City Council to approve a shorter time period of 45 days to get the party started sooner.
That could mean that, by summer, Denverites would have the chance to get out and enjoy Denver's summer nightlife in a way that folks in the city haven't been able to before — under the open air.
The ordinance, which passed with all its many rules intact April 15, came 10 years after the state opened the option to municipalities to allow common consumption: licensed areas where patrons can carry their alcohol from one establishment to another and anywhere in between.
Cities like Aurora, Fort Collins, Greeley and Telluride have already implemented common consumption area licenses. But Denver took a wait-and-see approach to the ordinance, said Erica Rogers of Excise and License at the committee meeting that forwarded the 45-day adjustment to the council.
"Denver monitored other jurisdictions using this for several years," Rogers said. "Then in late 2019, the City Council approved a pilot project that would not become effective until rulemaking was finished."
That was supposed to happen last spring, but COVID-19 got in the way. That's why it's now, a year later and a decade after the state first allowed it, that the city is finally about to make common consumption possible in Denver.
"We're very happy that the program is being rolled out," said Don Cloutier, general manager of LoDo's Dairy Block. "Denver didn't want to be the leader in this initiative, which was obvious. But now they're rolling it out and Dairy Block wants to be the tip of the spear to showcase how this type of operation can be wonderful for everyone."
Cloutier, whose LoDo block features eight liquor-licensed establishments that he said would be interested in pursuing a common consumption area license, feels Dairy Block, which has a shared "activated alleyway," is absolutely ideal for the program to be maximized.
"With offices coming back after the pandemic, Monday through Friday during the day is so vibrant in LoDo," he said. "And then weekends, nights, ballgames. I'm really thrilled about the opportunity and I think business is trending in that direction already. This helps us remain ahead of the curve."
Common consumption, Denver officials make explicitly clear, is not open consumption. It does not allow wandering through the streets sipping on open alcohol containers. A license requires a number of layers of steps and approvals, and only permits carrying alcohol within tightly designated geographic confines.
In order to obtain a license, three things have to happen. First, at least two liquor-licensed establishments must form a "promotional association" that is certified by Excise and License.
Then, if it isn't already — and since they don't exist yet, in the beginning this will be required of all applicants — an "entertainment district" must be created. Creating one of these districts in the city, which must be between 20,000-square feet and 100 acres, requires direct approval from the City Council. But once one is established, this step can be skipped for license applicants within one.
Then, the promotional association can apply for a Common Consumption Area license. That's approved by Excise and License.
"There's no changes to serving hours, no changes to noise ordinances," Cloutier said. "In a way, this is really a license to act like an adult."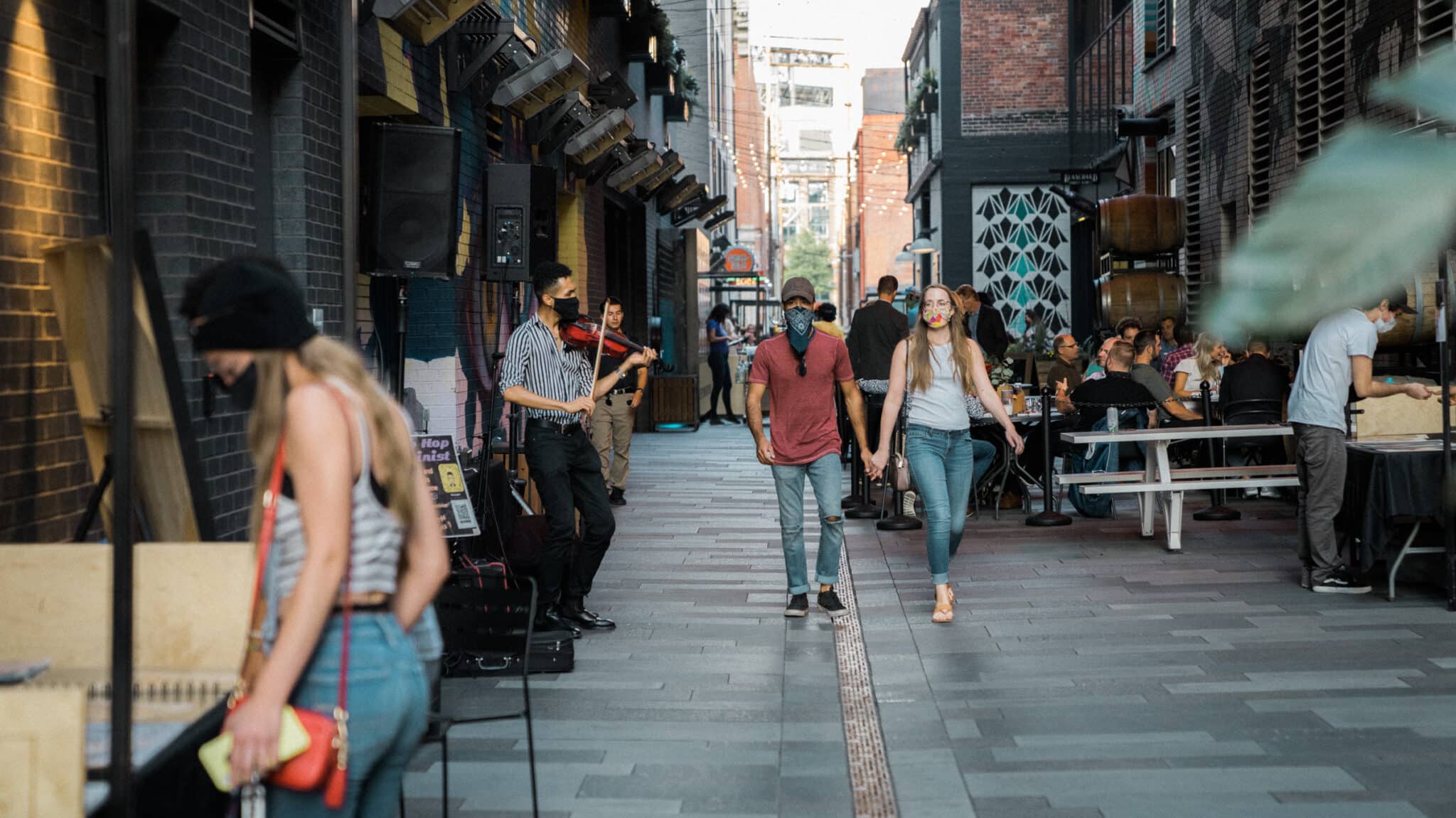 103886