Powderhorn Mountain Resort has undergone some big changes since it sold in 2011.
But when it comes to adding lodging to the resort outside Grand Junction for the first time, the owners are thinking small.
Later this year, Powderhorn, which is owned by former Vail Resorts executive Andy Daly and the Gart family, will start construction on more than 50 tiny homes as part of a new development plan for the base's 800 unfinished acres.
"The tiny homes will serve as a base camp, not only for the resort but also for the top of the Grand Mesa, which is an incredible resource for outdoor recreation like hiking, mountain biking, hunting, fishing and more," said Ryan Robinson, the resort's marketing director.
Daly and the Gart family, which sold its sporting goods chain to Sports Authority and now owns prominent real estate around Denver, purchased the 1,600-acre ski area for $1.4 million in 2011. They have since invested more than $800,000 into improvements around the mountain, including a new high-speed chairlift, expanded snowmaking operations, improved bike trails and additional grooming equipment.
Robinson, a Grand Junction local, has been skiing at Powderhorn since he was 2 years old. He said the 54-year-old resort came to life again after Daly and the Garts acquired it.
"Throughout the late '80s and '90s, there was a series of turnovers in ownership of the resort with varying success, and it eventually ended up at auction," Robinson said. "Because of all the different owners, there was a lot of distrust amongst our fairly tight knit community on the western slope, and organizations like Powderhorn matter a lot to folks here."
"There were all sorts of grand plans that never came to fruition and not a lot of focus on the ski experience," he added. "But everyone in the community took note of the investment that Andy and the Garts made right away, and it was really important to restore that relationship."
Over the last few years, the new owners have also focused on making the resort, and skiing in general, more affordable. In 2018, they cut the price of season passes in half for those who bought one for the upcoming season before April 1. Passes under the "Mission: Affordable" program are $259 for adults and $149 for children.
Evan Gart, director of acquisitions and administration for Gart Properties, said passholders have increased by 80 percent since the program started. The resort, which opened on Nov. 27, sold a record amount of passes this season, he said.
Powderhorn also introduced a free learn-to-ski program two years ago. Beginners can get three free days of lessons and free rental equipment, and then pay $80 for a pass for their first season.
"Historically, Powderhorn's reason to exist was because of its proximity to other towns on the Western Slope, so because of that we were very much a local ski area," Gart said. "But the introduction of this affordable program gives people, potentially even individuals from the Front Rage, a reason to drive that much further because of the value of the product we offer."
In 2018, Daly and the Garts hired Utah-based Pacific Group Resorts to run the day-to-day operations at Powderhorn, according to Gart. Powderhorn also brought in Denver's Zoma Capital, which is the investment arm of Walmart heirs Ben and Lucy Walton, as an equity partner.
With more capital, the owners decided to look at further developing the mountain's base. While there are condo complexes in surrounding towns, Powderhorn had never offered its own sleeping accommodations to skiers before.
Last year, Daly and the Garts launched the first phase of a "tiny home project," Gart said. They hired four tiny home manufacturers around the country, including Denver-based SteelGenix, and built six rental units on the base of the mountain 50 feet away from the high-speed lift.
The tiny homes are seen as a way to extend the focus on affordability to lodging.  Each unit differs in size but can fit a minimum of four people and maximum of eight. Rental prices depend on peak season prices, but range from $100 to $300 a night.
"Powderhorn's base area is largely completely undeveloped, and we own around 800 acres or so of undeveloped wilderness," Gart said. "If you knocked all those trees and woods down, it wouldn't have the same feeling. So, we thought we would offer tiny homes at a very low price point to fit our core values. It's also a unique product that no other ski resort can offer because they have to focus on high density to get value out of the land."
The initial six rental units were a way to test the tiny home concept and gauge interest, Gart said. The results were good enough to launch the second phase of development this year.
Powderhorn plans to construct more than 50 tiny homes and 100-plus RV and glamping sites on around 15 to 20 acres of the resort. The owners also plan to build a recreational center to anchor the property and provide concierge services and activities.
Once they get approval from Mesa County, Daly and the Garts plan to sell the units for around $75,000 to $100,000 and work with the buyers to create a custom buildout of the tiny homes.
RV and glamping prices have not been set yet, but they do plan to allow RVs to park in Powderhorn's parking lot over the summer to get a feel for the project.
"You can buy a quarter of a share at big resorts for a tiny little condo, but this is an extremely affordable full-time vacation home that people can stay in or rent out if they please," Gart said.
"And a giant hotel just wouldn't fit with our core values," Robinson added.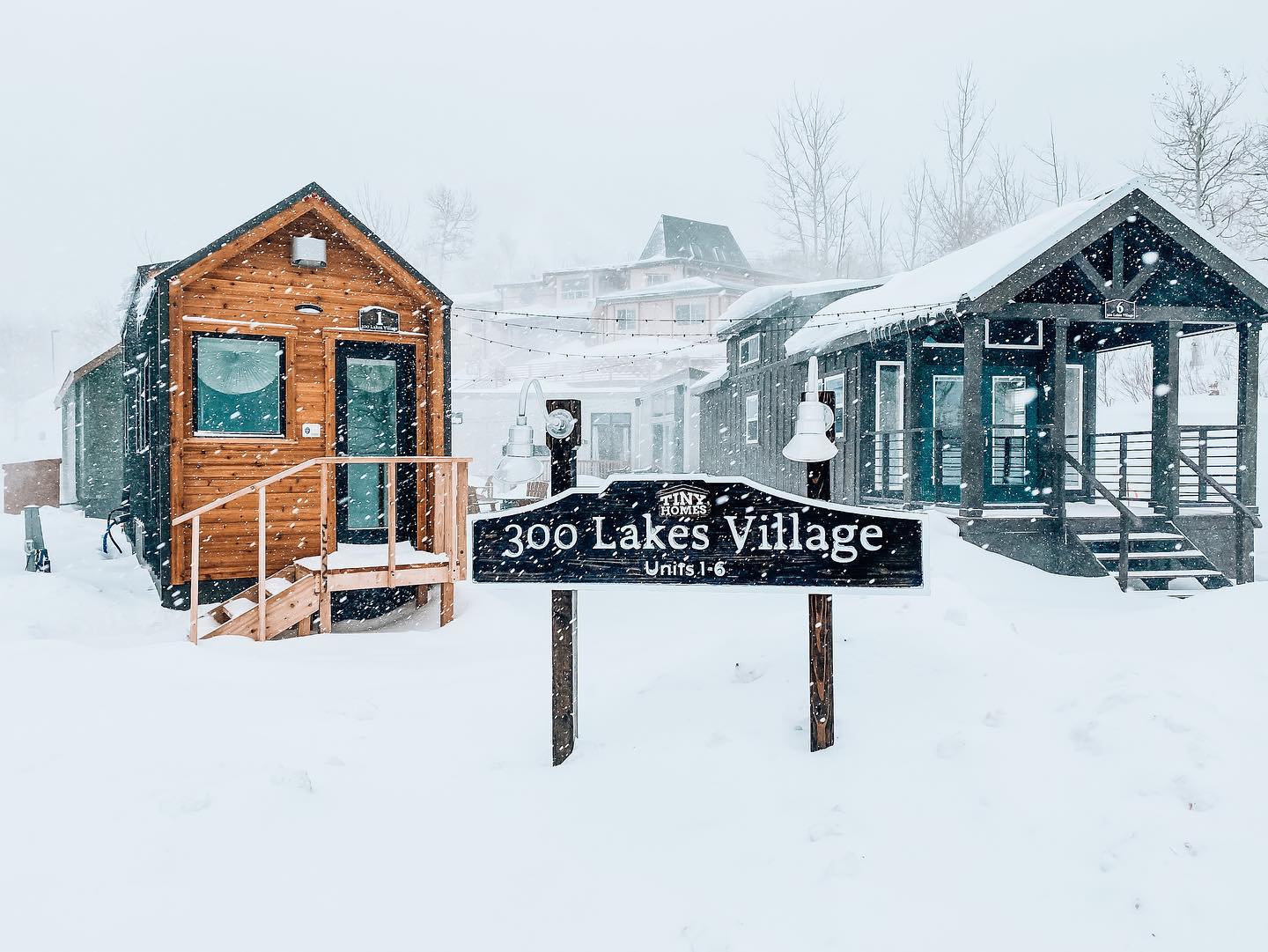 100773