Vectra Bank CEO Bruce Alexander estimates that 85 percent of his employees are still working remotely, particularly those based out of a branch.
But that's not stopping his firm from beginning a major office upgrade.
Next week, the company will hold a virtual groundbreaking ceremony, marking the start of construction on a nine-story building in the Denver Tech Center that will serve as the company's headquarters.
The building at the southwest corner of Quebec Street and Layton Avenue, within the master-planned Belleview Station zone, isn't expected to be completed until December 2022, when the pandemic should be history.
Alexander said he thinks workers are sick of video calls, and offices are valuable.
"It's just so important in our business and our culture to have people together … spending time with customers in person is a big part of our industry," he said.
Elsewhere in town, particularly RiNo, multiple office projects are on hold. But Alexander noted the circumstances of Vectra's project are a bit different.
"Because we are going to occupy most of it ourselves, and because of our cost of capital as a financial institution … this still is really going to be a good investment for us," he said.
The Vectra Corporate Center will be about 127,000 square feet, which includes ground-floor retail space and four floors of office space. In between will be four floors of parking. The structure is going up on a 0.95-acre lot that Alexander said Vectra purchased earlier this month for about $7 million. It's across the street from a light rail station.
Alexander said the new building will allow it to vacate about three different offices that are leased, including its current headquarters in Lincoln Property Co.'s Colorado Center at I-25 and Colorado Boulevard.
"That was really part of the concept, was trying to get everyone over to one campus," he said.
Essentially all the company's non-branch staff will move to the building, with the exception of Vectra's mortgage servicing employees, who will move to a recently-renovated structure the company owns at 1650 S. Colorado Blvd.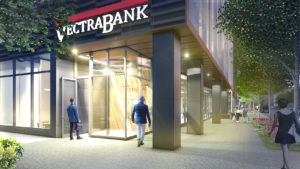 Alexander said that Vectra couldn't take more space at Colorado Center. The bank looked at 30 to 40 buildings around town before executives "became more enamored of owning our own building and controlling our destiny."

Vectra expects to initially occupy three of the office floors and find another tenant for the fourth.

"We've been growing about 8-10 percent a year, so we felt it was necessary to build some space to grow into over time," Alexander said.

A branch will take up part, but not all, of the ground-floor retail space.

Open Studio Architecture is the project architect. Denver-based Confluent Development is overseeing the development. Weitz is the general contractor.

While the pandemic didn't prompt Vectra to rethink its need for office space, it did prompt changes to some of the building details. Vectra upgraded its planned HVAC system. And it made touchless doors desirable, as opposed to the stereotypical glass revolving door.

"We upgraded a fair amount of that kind of stuff," Alexander said.

And while the groundbreaking ceremony will be virtual, Vectra is eager to get to some in-person fanfare in the future.

"We're hopeful that COVID will be behind us once we get to the topping-out ceremony," he said.

46683