When the pandemic arrived, and the economy dipped, Britt Douglas expected his business to take a toll.
As one of the owners of Worldwide Vintage Autos, he sells classic cars ranging from the 1950s to the late '80s.
"Classic cars are a want, not a need," Douglas said. "So, I anticipated people would hold on to their assets. But the complete opposite has happened and we're seeing more cars and buyers than ever."
The dealership, which both sells and consigns vintage vehicles, typically sells around 100 cars each month. But since the pandemic, the company has consistently sold around 115 a month, and did a record 124 cars in May.
Douglas said revenue is up 10 percent over the last six months. The vast majority of transactions — 90 percent— are done online.
"As far as overall volume, we are one of the largest classic car dealerships in the country," Douglas said. "And we hold the most inventory out of any classic car dealership in the country right now."
Classic car sales in general have been on the rise since the pandemic, despite large auctions such as Monterey Car Week and the Pebble Beach Concours d'Elegance being cancelled.
Online auctions are paving the way.
RM Sotheby's auction company racked up $13.7 million in sales and a 69 percent sell-through rate, roughly equal what it sees at a live auction, at an online auction in March, according to The New York Times. And BringaTrailer.com, the website that sells vintage cars online in weekly auctions, recorded more than $26 million in sales in April, up by some 64 percent over 2019.
Since opening in 2011, Worldwide Vintage Autos has sold around 7,000 vintage cars, Douglas said. His three business partners started collecting and selling old cars as a hobby in 2009 and later opened up shop when the side gig grew out of hand.
Douglas, who is 26 years old and has been a car lover since he was a kid, was hired as one of the first salesmen in 2014 and quickly worked his way up the ladder. This is his first year as part owner and CEO of Worldwide Vintage Autos.
"When I was 15 and 16 years old, I started flipping cars on my own," Douglas said. "I didn't have a job in high school, so I would buy and sell a car or two a month. By the time I was 20 years old I had done numerous deals, and I just continued to do that. I'd buy a car, drive it for a month or so and then I'd move on. Through that I met one of the business owners, and it was just fate."
Worldwide Vintage Autos has grown substantially since launching nearly a decade ago. In 2018, the company doubled its square footage when it left a 40,000-square-foot warehouse at 3801 Race St. in Cole for its current 80,000 square feet. Douglas said over the last three years, the vintage car dealership has seen a consistent 10 percent increase in revenue each year, and cars typically sell in under 30 days.
The classic car dealership is known for its 4×4 vehicles and is one of the largest Ford Bronco dealerships in the country. Douglas said their best selling vehicles are old Ford Broncos, Jeeps and International Harvester Scouts. But they still offer a small portion of unique muscle cars as well.
"We've almost changed the market for certain vehicles, like International Harvester Scouts," Douglas said. "We send our buyer agents and consignment team out and try to get as many of them in here as possible, and I'd like to say we've raised the overall value of them just by selling so many."
Most of Worldwide Vintage Autos' vehicles are acquired domestically, although buyers come from all over the world, Douglas said. The company has a team of three buyers' agents and a consignment team that scouts vintage cars for sale online or at auctions and pulls them into the dealership from there, whether that's towing them from the seller's location or using a shipping container.
"We prefer to consign," Douglas said. "Those cars make up most of our inventory here, and we take pride in saying that we're a consignment dealership. We've had as many as 15 or 20 cars from the same collection at the same time, which was fun."
Once the vintage car is in the shop, the dealership's team conducts a 30-point inspection to make sure the vehicle is safe to drive and completes any work that's necessary. The car is detailed, and the company's photographer takes pictures to upload on the dealership's website. The vehicles are also listed on five other websites, like eBay and Craigslist.
"The photos are arguably the most important part since we're an online dealership," Douglas said. "We have to make sure that we're extremely precise in what we show. We also try to disclose every imperfection we find, and that goes hand-in-hand with the 30-point inspection before. So people really know what product they're buying and they can buy from multiple states away. And when it shows up, it's exactly what they expected."
Worldwide Vintage Autos is popular among classic car lovers for being affordable, Douglas said. The most expensive car they've sold was a fully restored Chevy Nova with a twin-turbo engine for $200,000.
"We have a few competitors, but all are a little different than what we do," Douglas said. "We're the most reasonably priced classic car dealership in the country. Other dealerships may have more expensive cars, but they don't hold the volume that we do. They also don't have the variety we do. Some specialize in muscle cars, some in 4x4s, but we do it all. None have really been a direct issue for us."
The average Worldwide Vintage Auto customer is between 30 and 50 years old, and most are looking to relive their youth, Douglas said.
"We deal a lot with the weekend warrior guys who want something to tinker with on the weekends," Douglas said. "A lot of them are folks that want to relive their experience of their first vehicle. They had a Jeep CJ or a Ford Bronco when they were in high school and they want to drive one again."

He said they also recently saw a slight increase in people buying a car as an investment.
"Something they can drive for a few years, and sell again later down the road," Douglas said. "A lot of our customers return to have us consign the vehicle, and we assist in selling and liquidating it. Sometimes, we even have people who bought it from us for a certain price and they come back and get more in their pocket than they purchased it for."
Worldwide Vintage once sold a Cadillac customized by Shaquille O'Neal and a Land Rover Defender originally owned by Janet Jackson, Douglas said. Peyton Manning recently bought an old Tennessee cop car with the logo and sirens still intact, he said.
"That's really the beauty of the business is that we can bring odd cars in and really be the only person in the country selling that certain genre of vehicle, which has played well for us," Douglas said.
Speaking to a reporter, Douglas walked around the showroom with a smile on his face pointing out a few of his favorites. His first car was a 1991 Jeep Cherokee, and the company happened to recently acquire one with 36,000 miles.
"Mine was a bit rustier than this one," he laughed.
Douglas then showed off a Ford Bronco with a Corvette motor in it.
"Honestly, it changes every month," he said of his favorite.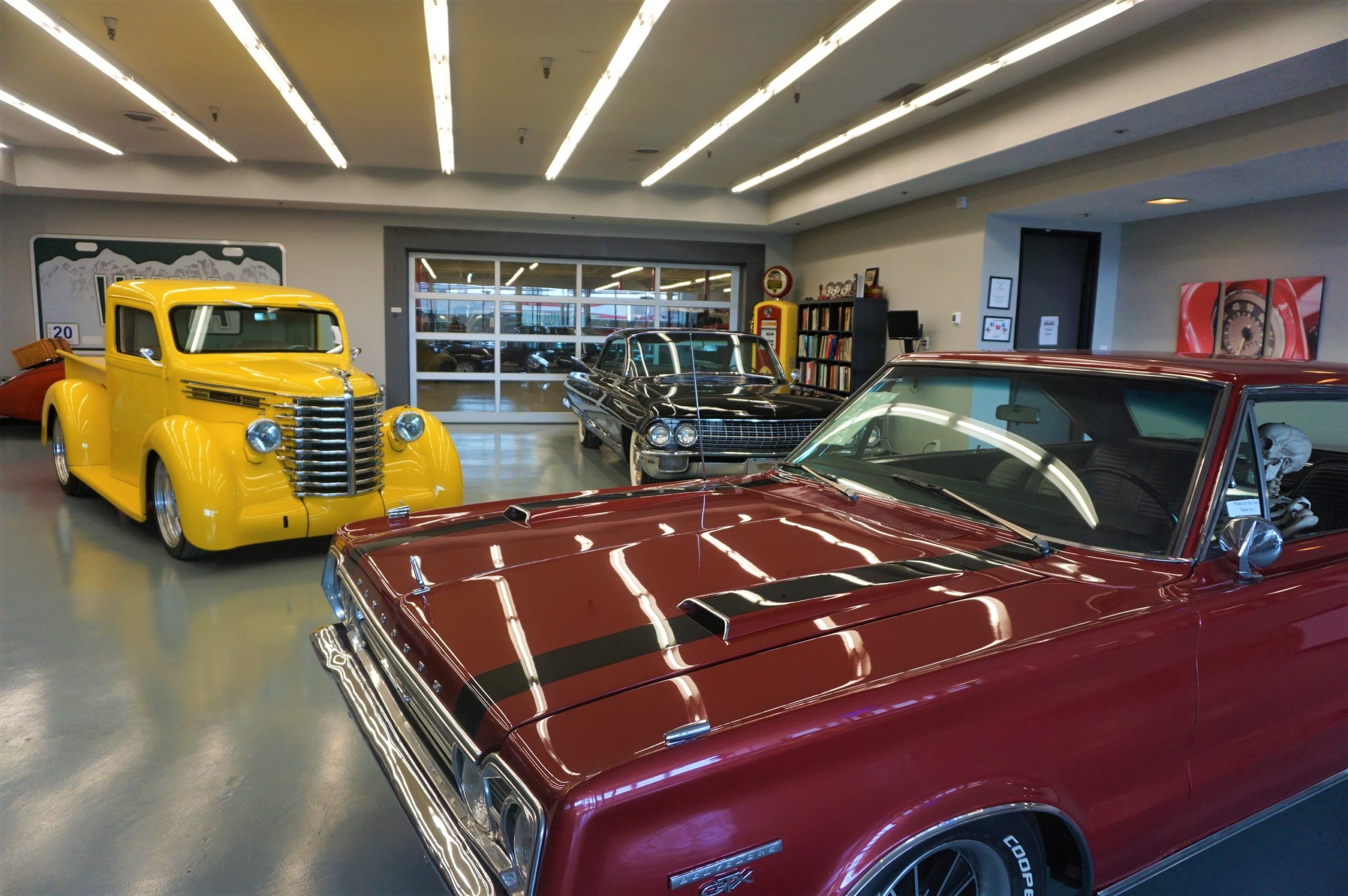 43693