Bad Axe Throwing is carving out a second Denver location along Colfax Avenue.
The national chain of ax-throwing bars plans to open the 5,000-square-foot space at 1505 N. Ogden St. in Uptown as soon as November.
Founder Mario Zelaya signed a five-year lease for the downtown spot about a year ago and originally hoped to open this summer. He said that was pushed back in part due to construction delays as a result of the pandemic, but mainly because of massive property damage to the windows and doors after crowds of protestors flooded downtown to speak out against police violence.
"The landlord had to replace the glass that was broken, and it's been strange because we've received our liquor license. But unfortunately, the work still isn't done yet, and we're waiting for the landlord's contractors to finalize the construction, but we're ready to move ahead," Zelaya said.
He added, "We've been told six weeks for the last six months, so it's hard to say. But we're hoping by the end of October it's ready to turn over to us and we can take it over."
The new location right off Colfax will feature 16 targets, a full bar stocked with beer and wine and a basement lounge. Zelaya has been wanting to expand within the Denver market for two years now. He chose the spot because it sits between the Ogden Theater and Alpine Dog Brewery.
"We've been getting a lot of inquiries for a downtown facility, and we think having one off Colfax closer to the downtown core, where there are more people and, at the time we leased it, more nightlife, was just a perfect fit," Zelaya said. "Our hope is that the Ogden Theater comes back strong and the brewery survives the pandemic, so we can work together and complement each other's businesses."
Bad Axe's first area location, which was the chain's third in the U.S., opened in 2017 at 845 E. 73rd Ave., north of Denver. It moved to a bigger space at 7338 Washington St., the northeast corner of I-25 and I-270, five months later.
That location closed in March as a result of the statewide shutdown and reopened two months ago. Zelaya said traffic is slower and sales aren't quite where they used to be pre-pandemic, but business is improving week-to-week. Since each throwing lane is 12-feet wide, the sport is naturally built for social distancing, he said.
Bad Axe first opened in Ontario, Canada, in 2014. Since then, the chain has opened U.S. venues in Chicago, Indianapolis, Atlanta, Oklahoma City, San Francisco, Washington, D.C., Denver and more.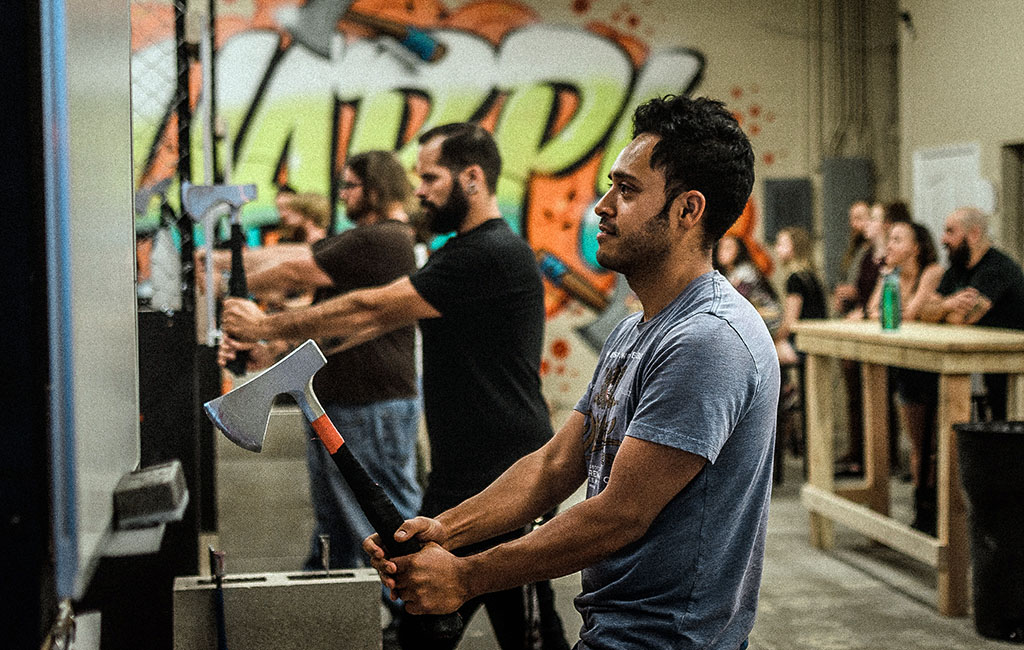 43404