Niya and Grant Gingerich don't expect their business to survive through the winter.
So the couple has decided to end the party at Local 46 Bar and Biergarten a little earlier than planned.
Although their lease was slated to run through December 2021, the couple worked out a plan with their landlord and will be shutting down at 4586 Tennyson St. at the end of October.
"Our sales are at about 40 percent right now, and it's been somewhat sustainable. But winter is coming," Niya said. "We've got that big outdoor space that can seat 120 people with social distancing, which is all going to be compromised once the weather shifts."
The single-story building that Local 46 occupies is owned by Berkeley Park Partners LLC, which in May received a certification of demolition eligibility for the property from the city. That designation makes it easy to demolish a structure within five years.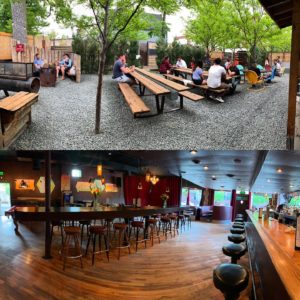 Berkeley Park Partners does not plan to demolish the property but will market it for sale once Local 46 leaves, managing member Jeff Laws said Monday.

"The next buyer can do what they want with it," Laws said.

Niya said that since their revenue stream can no longer cover rent, the landlord suggested the couple end their lease early.

"We are not looking for a new tenant," Laws said. "We had a great one. We allowed Local 46 to terminate because the business is not viable. That is, they cannot honor the lease terms and operate at a profit. Layer on the liability of a virus outbreak and it was not worth it to either party to continue. The building is not a viable structure in the current environment."

Berkeley Park Partners also owns the two buildings to the south of Local 46. The property at 4568 Tennyson is home to Berkeley Running Company, and 4556 Tennyson has been leased to Rollins Productions from Golden.

The couple opened Local 46 in 2012, replacing popular karaoke spot Music Bar. The restaurant serves upscale bar food and hosts weekly karaoke nights, an open-mic night and live music four nights a week.

"I'm going to miss having a place that feels like home or a safe space for so many people who relied on us to be their landing pad for so many things, whether it was celebrations, birthdays

or memorials," Niya said. "There's going to be a hole in the community and in my heart for sure."

Over the years, the bar has tried a few different tweaks. The backyard biergarten opened on the restaurant's first anniversary. The couple tried to run a juice bar called Juice Mon out of the space during the day. The next year, they tried running coffee shop Cafe 46. Both were short-lived.

Local 46 reopened in June after the statewide prohibition on dine-in service. For its final weeks, the restaurant will get back to its roots and host live music on weekend nights, as well as a tribute night for regular customers, Niya said.

Niya and Grant also own the El Camino Tavern in Highland, where they met, but their general manager handles operations.

For now, the couple plans on focusing on their 2-year-old daughter. But they've learned enough lessons over the past eight-and-a-half years to know one thing about the next round.

"We definitely will not do a lease ever again," Niya said. "If we do another restaurant it will only be if we own the real estate because it's heart-wrenching to work so hard for nearly 10 years and have no financial value to show for it or a business to sell."

We'll add Local 46 to our list of restaurants that have permanently closed in recent months.

43261