The agency that administers retirement plans for most public employees in Colorado has sued a similarly named Las Vegas-based entity, accusing it of engaging "in a deceitful marketing campaign."
Colorado Public Employees' Retirement Association, commonly known as PERA, sued PERA LLC in state court in Denver on Sept. 3, accusing it of violating the Colorado Consumer Protection Act.
"This case involves the precise situation of a party deceiving PERA members by using a similar name and suggesting it is a related, affiliated entity in a ploy for members to share their personal financial information and, upon information and belief, move their accounts from PERA when it may not be in the best interests of the member," the lawsuit reads.
The Vegas PERA was acquired last month by Henderson, Nevada-based Grow Capital Inc.
"We are researching the claims and unable to comment on pending legal matters," a Grow Capital spokeswoman said.
Colorado PERA, which declined to comment, has more than 620,000 members and benefit recipients, according to its lawsuit. Approximately 411 public employers in the state are affiliated with PERA to provide their employees with pension and other benefits.
PERA LLC, meanwhile, does business as Public Employee Retirement Assistance. The firm bills itself on its website as "a third-party marketing organization that facilitates meetings between state-licensed representatives and public employees who have individual retirement related questions."
According to the lawsuit, the Vegas entity has emailed thousands of employees of Colorado school districts, including Jefferson County School District, Boulder Valley School District, Falcon School District and Cheyenne Mountain School District. The emails imply that the company is affiliated with the state and offers consultations to discuss retirement questions.
Colorado PERA accuses the Vegas entity of having a similar logo and relying on its similar name to generate leads.
"Its business model relies on confusion and deception, copying PERA's name, imitating PERA's logo, relying on PERA's reputation, and falsely claiming its salesforce is approved by PERA or the PERA employer when it is not," the lawsuit states.
Colorado PERA said it sent a letter about its concerns in May to Chris Murphy, founder of the Vegas entity, but received no response. Murphy's LinkedIn page indicates the company was founded in 2015.
Colorado PERA asks the court to prohibit the Vegas entity from soliciting its members and the profits made as a result of the Vegas entity's actions, as well as other damages.
Attorneys Caleb Durling and Maureen Carroll of the Denver office of Fox Rothschild are representing Colorado PERA in the litigation.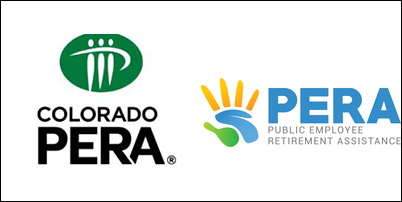 43215