A Denver-based athletic chalk maker has a new product that it hopes will get climbers back in gyms as the nation grapples with the COVID-19 pandemic.
FrictionLabs developed a hygienic liquid grip chalk that's been found to kill the novel coronavirus, tests from the University of Colorado School of Medicine and the CU Anschutz Medical Campus found.
After applying a bit of the chalk on hands and rubbing, the alcohol evaporates in seconds, leaving hands white and grippy for climbing, weightlifting, CrossFit or high-intensity interval training workouts.
"It's almost like a magic trick," co-founder Keah Kalantari said.
The company's Secret Stuff Hygienic consists of 80 percent ethanol, like FDA-approved hand sanitizers, though the chalk doesn't carry that label because of the compounds it's made of. FrictionLabs hopes to restore confidence in climbers and gyms, which have to navigate reopening safely and staying afloat.
"When the pandemic hit, it felt like we went into survival mode," Kalantari said. "We really just recognized the need to innovate, and it was really clear from our numbers that the product assortment that we had was just not going to cut it for the expectations we had for the business. We thought, 'What would the best chalk company in the world do?' And it seemed like the answer to that was we would create a
product that gives both great grip and cleans your hands."
After coming up with the idea, it was a 10-week sprint to develop the product based on guidance from the CDC and get it ready to ship, Kalantari said. A 75 ml bottle of Secret Stuff sells for $19 on FrictionLabs' website and Amazon, as well as at gyms and other specialty retailers.
Kalantari and Brown started FrictionLabs in 2013 in Brown's basement. The two met as co-workers at PaySimple, a Denver-based payment processor, and then bonded over rock climbing. They soon set out to make better chalk for rock climbers.
The two met with scientists who taught them about chemical properties of chalk and, after plenty of product testing, they reached a formula consisting of chalk, alcohol and other ingredients.
FrictionLabs was a side hustle for the next year or two, Kalantari said. Brown left his full-time job first in October 2014, and Kalantari followed suit after a few months.
Virtually all climbing chalk is made in China and Taiwan, Brown said, adding that he doesn't know of any other American chalk manufacturers. He said FrictionLabs makes the only product that's been lab-tested and proven to kill viruses.
All climbing chalk adds grip to hands for recreational activities, but Kalantari said there are three ways to apply it: liquid, loose powder and a chalk ball. Kalantari said liquid chalk was more fringe before the pandemic. But now, germ-conscious athletes and gyms have embraced Secret Stuff Hygienic.
Like many companies, especially in the recreation industry, FrictionLabs was crippled by the pandemic after closures of REI and climbing gyms, which generate a significant part of the company's revenue. April was the company's worst month, Brown said, adding that he and Kalantari burned through their own savings waiting for Paycheck Protection Program money from the government.
Brown said he held an all-hands-on-deck meeting with his team and trained his production employees to be salespeople who'd call CrossFit gyms to try and drum up business. Loose chalk had been the company's bread and butter, but that business was decimated, Brown said. He compared the pivot to McDonald's selling just salads instead of Big Macs.
When the company developed its new product, it didn't have time to wait for new bottles. Instead, it held a four-day "sticker party" marathon, Brown said, where all seven employees worked 10- and 12-hour days putting new labels on over 20,000 bottles, which were then sent to gyms.
Business was up about 20 percent year-over-year through July, said Kevin Brown, co-founder and CEO. He attributed the success in recent months to the new product.
With Secret Stuff Hygienic, gyms have a stronger case when pleading to state and local governments for permission to reopen, Brown said.
Without the product, "we likely wouldn't be answering our emails because we'd likely be out of business," he said.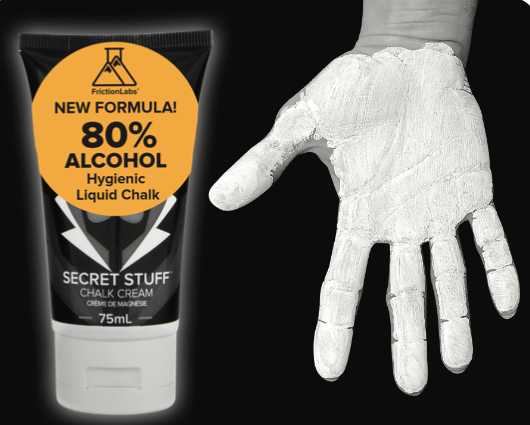 42970