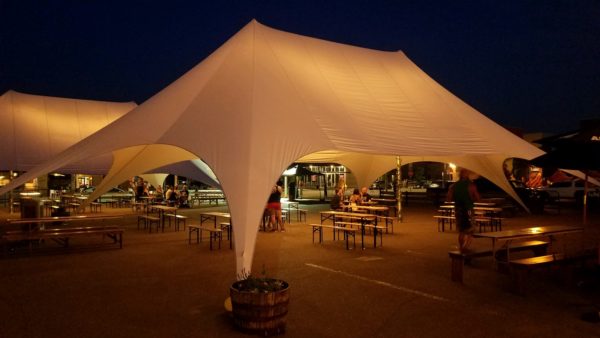 RiNo's Exdo Event Center is turning its parking lot into a sort of coronavirus-era food hall.
Exdo Managing Partner Andrew Feinstein said that, starting Wednesday, the parking lot at the corner of 35th and Larimer streets will welcome guests who will sit at tables under two large tents. They'll be able to order food from a rotating set of food trucks, as well as three restaurants located within half a block: Fish N Beer, Hop Alley and Bar Helix.
"We are their extra seats," Feinstein said.
Staff at the respective restaurants will deliver food to the parking lot. Patrons will be able to order alcoholic beverages from Exdo.
Exdo is calling the setup "RiNo Eats," reusing the moniker given last year to a farmer's market that set up shop in the parking lot on weekends.
The concept will extend into the alley behind LGBT nightclub Tracks, which is adjacent to the event center and which Feinstein's company also operates. That portion, designated "Rainbow Alley," will feature rainbow umbrellas overhead and a DJ at times.
RiNo Eats and Rainbow Alley will open at 5 p.m. Wednesday through Friday, and at 11 a.m. on Saturday and Sunday. Patrons will be able to make reservations through OpenTable, or just show up. The concepts are slated to operate through Labor Day.
While Tracks was already allowed to operate in its alley, Exdo got a permit from the city to turn its parking lot into a patio. The city started accepting permit applications last month, hoping that allowing additional outdoor seating will help the battered restaurant industry. Eight-five such permits had been issued as of last Wednesday, according to The Denver Post.
The situation in RiNo, however, is somewhat unique in that Exdo itself isn't a restaurant.
"The fact that we're partnering with local restaurants is a win-win," Feinstein said.
The patio is also one of a limited number of the newly allowed patios that are intended to provide seating for multiple eateries. Others include Larimer Street between 14th and 15th streets and Glenarm Place between 15th and 17th streets.
In Aurora, food hall Stanley Marketplace also has erected large tents to provide seating for its eateries.
Feinstein said seating hasn't been set up inside Exdo, because the hope is still that it can serve as an event space as that industry restarts. He said the event center and Tracks have been closed since early March, and that the businesses have not let go of any staff.