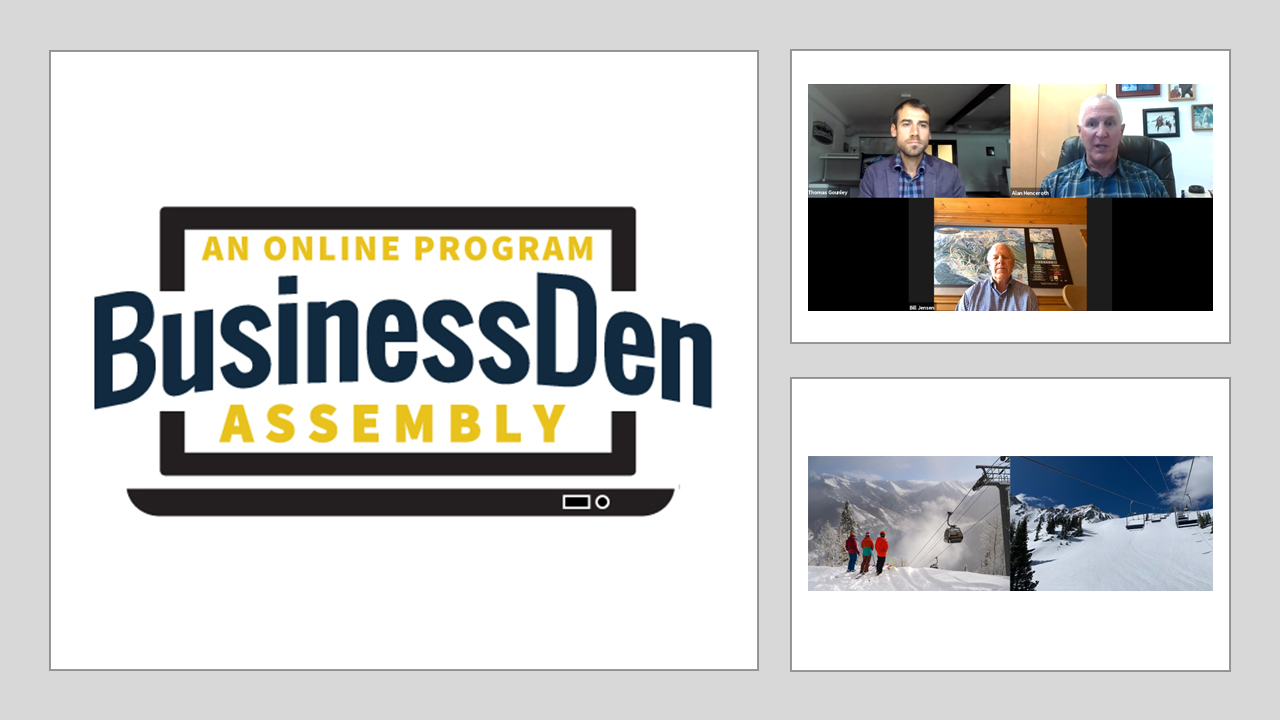 Colorado's bizarre ski season is wrapping up.
Arapahoe Basin, the sole ski area in the state to reopen following a mid-March mandate by the governor, will make Sunday its last day of operation, as rising temperatures decimate its snowpack.
The ski area reopened May 27, with a strict 600-per-day skier cap and various social distancing requirements.
"We've learned a lot, and if we do have to open with restrictions in October, I think we're much better poised for that than we would've been otherwise," said Al Henceroth, A-Basin's chief operating officer. "But we're going to have a lot to do this summer to be ready for the fall."
Henceroth and Bill Jensen, partner and CEO of Telluride Ski and Golf Resort, discussed this past season and the outlook for this coming winter on Thursday in the fifth BusinessDen Assembly, an online panel discussion series exploring how local industries are navigating the pandemic.
Regarding next year, Henceroth said that while the Basin's favorable proximity to the Front Range will help encourage local passholders to return, he's unsure about those skiers who have to plan and book their flights ahead of time.
"I know the hardcore group is going to come back and ski; I'm just unclear about who's too afraid to come back and try," Henceroth said.
Jensen noted that Telluride is a destination resort, with some 13 flights arriving in town each day during its peak season.
"We're just trying to figure out what our world's going to look like come December," Jensen said.
Chairlift lines intended to allow single skiers to join other groups on the chairlift may disappear, he said, and private ski school training could take precedence over group classes. But off the mountain, there's still the issue of how small mountain restaurants, such as Telluride's Alpino Vino, may need to reconfigure their model to meet social distancing requirements if those remain in place.
When Jensen learned on March 14 that the governor planned to order ski areas to close for eight days (an order that was later extended), he announced that the resort's season was over. It had been slated to run for another three weeks.
Those three weeks are usually some of its busiest and would have accounted for $15 million in revenue, he said.
"I will always remember those five to six hours in my career when we had to close things down," Jensen said. "It was an absolute shock to the community, guests and employees."
Henceroth said more than 7,000 people tried to reserve a spot for A-Basin's "reopening day" on March 27, crashing the ski area's website. Now, the 600 daily spots are issued by a lottery system.
Henceroth said about a third of those who end up winning a spot don't actually show, so A-Basin grants more than 600 reservations to make up for the gap.
"Another plus we learned is we can easily take care of 600 people next season, and we know we can do more than this while keeping everyone at a safe distance," Henceroth said.
A-Basin started pass sales for the 2020-21 season in early March. While sales went smoothly the week before the mandated closure, they evaporated once lifts stopped running. The resort relaunched in May with a discounted renewal rate for passholders and sales have increased by 30 percent in the last four weeks, Henceroth said.
Both execs said they're confident skiing will be back in some capacity.
"In my career, I've gone through things like 9/11 and financial downfalls, and when I first started in the ski industry there was a gas shortage," Jensen said. "But I love the sport, I'm incredibly passionate about the business, and it is one of the most satisfying things to provide people with this experience."
Signing off, Jensen told Henceroth to "make a couple turns for me."
"I'm going skiing this afternoon," Henceroth responded.