This story first ran in 2018. It is reprinted again below.
Larry Hall learned a lot on his first condo project.
For starters, the multimillionaire buyers of his "Survival Condo" – subterranean units built on 15 floors in a decommissioned Kansas nuclear missile silo – couldn't predict how much they'd dig the unorthodox flats.
Hall, 61, built and marketed them as a refuge from chaos (political or environmental). He said he's been getting a lot of calls lately from prospects in Hawaii after a volcano erupted.
The units cost $1.5 million for a half-floor, 900-square-foot space and $3 million for a full-floor unit that's around 1,800 square feet. The penthouses cost $4 million and are 3,600 square feet.
The units have concrete walls 3 to 9 feet thick and owners can stay underground with foodstuffs and water for five years off the grid. There is a protocol for everything, including group chores to prevent strife.
Hall provides beefy security and will whisk customers from nearby airports in armored cars.
But buyers didn't want to wait for the implosion of society. What's the fun in that? Plus there's indoor golf, rock climbing and a pool.
"They had no intention of coming here and spending a lot of time," Hall said, adding, "Now they think of it sort of as a second home and use it a lot more."
Hall puts on his psychologist hat as much as his contractor hard hat because he wants the condo community to function smoothly if the complex is ever put to the test. He said he did thousands of hours of interviews to figure out how to minimize group dysfunction.
And for his second complex, he's added more touches that make the units feel less claustrophobic. For example, digital screens can almost be windows and show a scene, as one customer requested, of the view of Central Park.
Hall said his ultra-high-net-worth clients appreciate the anonymity and security.
"They can let their hair down. Be normal," Hall said. "They keep telling me, 'I like this more than I thought I would.'"
The Lone Tree resident has poured $5 million into his second stab at a niche he pretty much invented. He paid $250,000 for the 9 acres that included the missile silo, which he said the U.S. government built in the 1960s to house an Atlas ballistic missile during the Cold War.
He said about half the units are under contract. Buyers have to pay cash, he said, because banks won't lend. And he's not writing offers contingent on the customer selling another property. That caused him too much heartache on the first project when buyers backed out.
Hall drives the seven hours from Denver to Kansas for weeks at a time as general contractor on the construction, which he said is about half completed.
Hall said one of the biggest tweaks he's made this time around is requiring buyers to come see the site. That way they know what they're getting into.
"Ultra-high-net-worth people are really busy," he said. "And they're doing it for peace of mind. But I don't want flippers. I want them to know what they're getting into."
Hall said he bought his first silo thinking he would build highly secure data centers. That was more of his background.
"Then I thought, maybe there was a market for protecting people instead of data."
Hall, who has five full-time employees, said he has options to buy a few other former military sites. And he now gets calls from customers inquiring about building bunkers on their properties. Hall said he's done two feasibility studies for landowners, and the cost to build one from scratch is around $1,100 per square foot. Using a missile silo gets that down to $500 psf, Hall said.
Read more:
Doomsday Prep for the Super-Rich  (The New Yorker )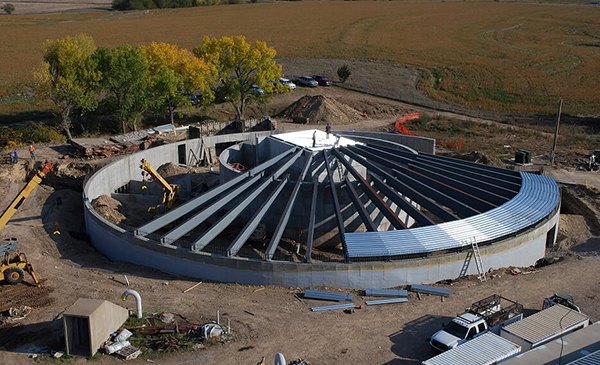 26942